Cardi B's Video Of Kulture Saying "Mama" Is The Cutest Thing You'll See All Day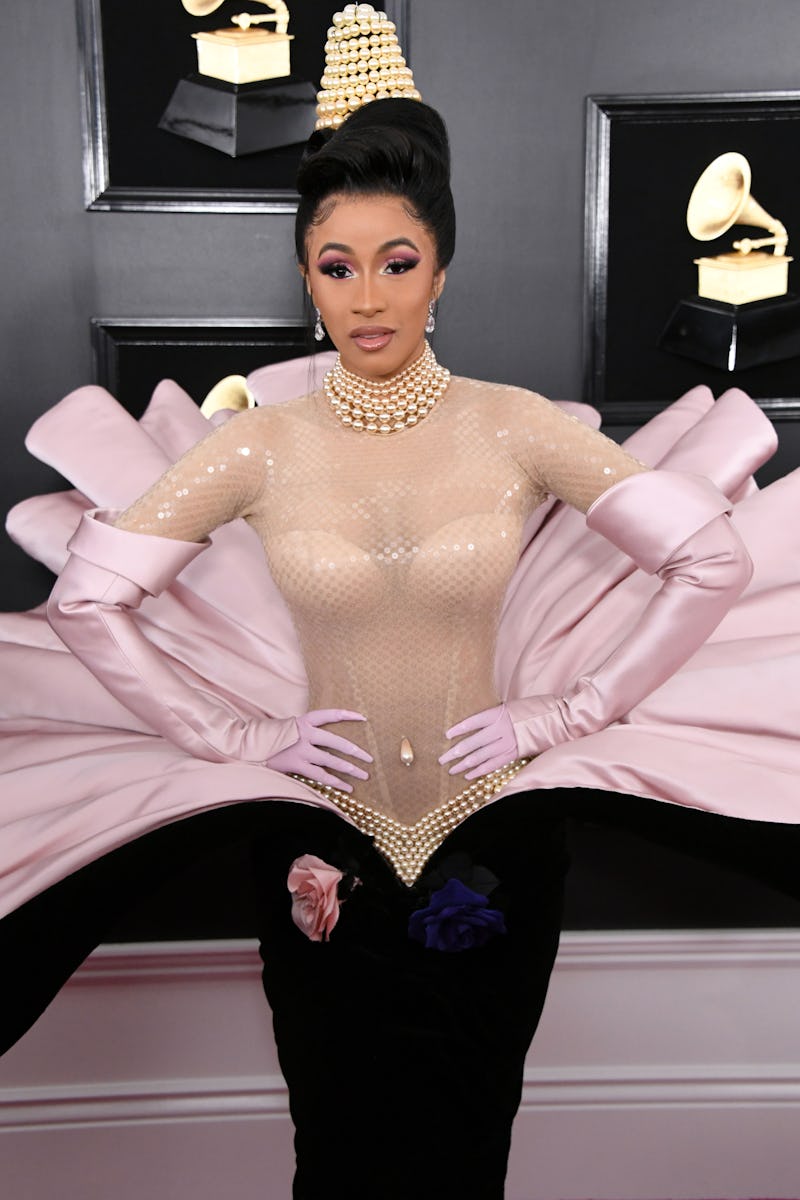 Jon Kopaloff/Getty Images Entertainment/Getty Images
Hot on the heels of her history-making Grammy win, Cardi B has yet another milestone moment to celebrate. As E! News noted, the rapper's daughter said "mama" for the first time. And Cardi B's video of Kulture saying "mama" is so cute, she shared it with all her followers on Instagram.
Shortly after the Grammys, which took place on Feb. 10, Cardi took to Instagram to show off her daughter Kulture's latest, and cutest, milestone. In the video, Kulture, whose face is covered by a heart-eyed emoji for the sake of privacy, can be heard saying one of her first words, "mama." Based on Cardi's caption for the clip, in which she wrote that Kulture has already called her father, Offset, "papa," this moment was a long time coming for the "I Like It" singer. She wrote:
"After a week of only saying papa !She saying mama! Happy 7 months Kulture ! We love you."
While Kulture's "mama" moment is undeniably adorable, the best part of the clip may just be Cardi's reaction to it. The Grammy winner is, understandably, so moved to hear her daughter saying "mama," and it's just so lovely to see her experiencing such joy over the major moment.
As previously mentioned, this adorable family update came shortly after Cardi won a Grammy award for Best Rap Album for Invasion of Privacy (becoming the first solo woman to do so). During her acceptance speech, the rapper made sure to thank her daughter, according to E! News:
"I want to thank my daughter. I'm not just saying thank you because she's my daughter. It's because, when I found out I was pregnant, my album was not complete. We were like, 'We have to get this album done, so I could still do videos while I'm still not showing. And it was very long nights."
Of course, this isn't the first time that Cardi has highlighted just how much baby Kulture has impacted her life, nor is it the first time that she's posted an incredibly cute moment featuring her daughter on Instagram.
On Dec. 5, Cardi posted the first photo of Kulture on Instagram, which was a major move from the singer. Prior to this reveal, she made it clear that she would not be showing photos of her child, as she told Apple Music's Ebro Darden in October, per People. But, clearly, Cardi decided to share this one, oh-so-adorable snap of her daughter, in which she can be seen wearing a rather chic bib with her name on it.
In November, Cardi shared another video of her daughter, providing for another instantly-sweet family moment in the process. However, like many of the photos and videos she had posted before featuring her little one, Kulture's face could not be seen in the clip. This video, which she posted on her Instagram Story, featured her baby wearing a onesie that read, "50% Kiari" (Kiari being Offset's actual first name), "50% Cardi" and "100% Kulture," according to ELLE. Talk about adorable.
Cardi obviously has a lot to celebrate after her exciting night at the Grammys. And, clearly, the singer has one more sweet moment to celebrate after hearing her daughter call her "mama" for the very first time.