Cardi B's Message To Fans After Giving Birth Will Definitely Touch Your Heart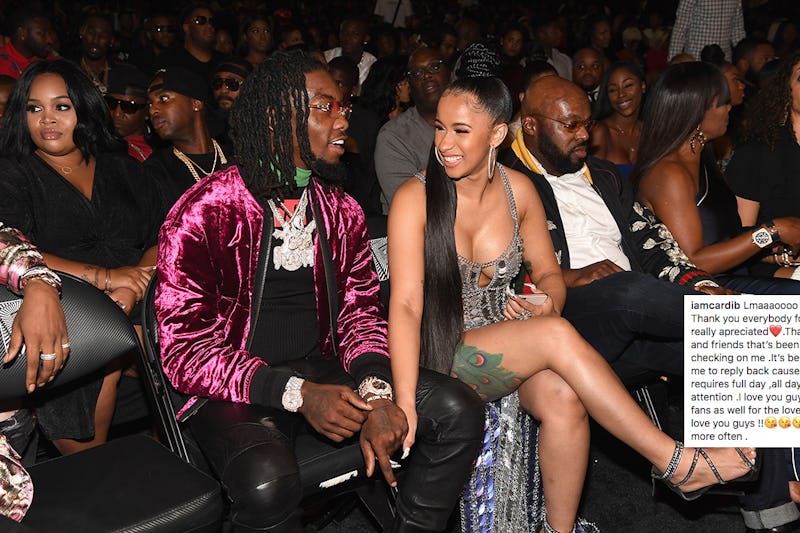 Paras Griffin/Getty Images Entertainment/Getty Images; iamcarbi/Instagram; Bustle/Screenshot
Rappers Cardi B and Offset welcomed their first child, baby Kulture Kiari Cephus into the world Tuesday, July 10, and since announcing the birth on Instagram Wednesday, July 11, the pair have been lying pretty low. The "Bodak Yellow" singer's slight social media absence, though totally understandable, was broken when Cardi B posted an Instagram message to her fans after giving birth, thanking her for their love and support on Saturday, July 14. The message accompanied her repost of a hilarious parody fan video of actors playing Cardi B and Offset as parents.
After laughing at, seemingly, the uncanniness of the video parody, the Invasion of Privacy superstar wrote,
"Thank you for the congrats we really appreciated. thatnk you to family and friends that's been hitting me up checking on me. It's been a little hard for me to reply back cause this mommy job requires full day, all day, all night attention. I love you guys."
Although what was technically one of her first social media posts since giving birth wasn't a photo introducing baby Kulture to her followers, the parody video she chose to share was seriously the next best thing. It's safe to bet that there are a lot of fans wishing they could be a fly on the wall right about now. You know, to witness Cardi B and Offset showering their newborn with love, and to watch their reactions when having to change their first batches of dirty diapers.
The hilarious video does that and more, however, and will probably be the funniest thing you see on the internet today.
Decked out in their best Cardi B and Offset guise, Instagrammers @NatalieFriedman and @Sidssoul gave the world a peek into the world of new parents, doing everything from changing dirty diapers, taking turns waking up in the middle of the night to tend to the baby, as well as the magically moment that the pair chose baby Kulture's name. It was definitely a hilarious dig at the couple's superstardom, but Cardi B, as well as fans in the comments, took the parody in stride.
From the outside looking in, this past year has been a total whirlwind for Cardi B. From breaking Billboard records with her radio and club hits, to secretly getting married to Offset, and, now, giving birth to her first child, Cardi B has been experiencing so many changes. Through it all, however, her fans have stood by her, sending a ton of love and support her way. Continuing with her adorable July 14 message to all of those Cardi B enthusiasts out there, the rapper wrote,
"Thanking all my fans as well for the love and support. I love you you guys!! I'll try to post more often."
Yes, you read that right. Cardi B just said that she's going to make an attempt to post more often. She didn't say what she plans to share, or even when she plans to post, for that matter, but betting that pictures of baby Kulture are on the way wouldn't be too far fetched — if Cardi B chooses to do so.
Before reaching the momentous amount of success she has today, Cardi B was known for sharing a lot of her life with her followers on social media. But, as she's garnered even more fame, the entertainer decided to pull back the reigns a bit, keeping a lot of intimate details to herself. It's all warranted, however — especially when taking into consideration the amount of negativity and pushback the star has encountered when just trying to be herself.
Here's to hoping that Cardi B decides to those rooting for her best interest in a bit more soon, and additionally, that this means first looks of baby Kulture are on her agenda, if she so chooses.