Carrie Fisher's Toxicology Report Reveals She Had Drugs In Her System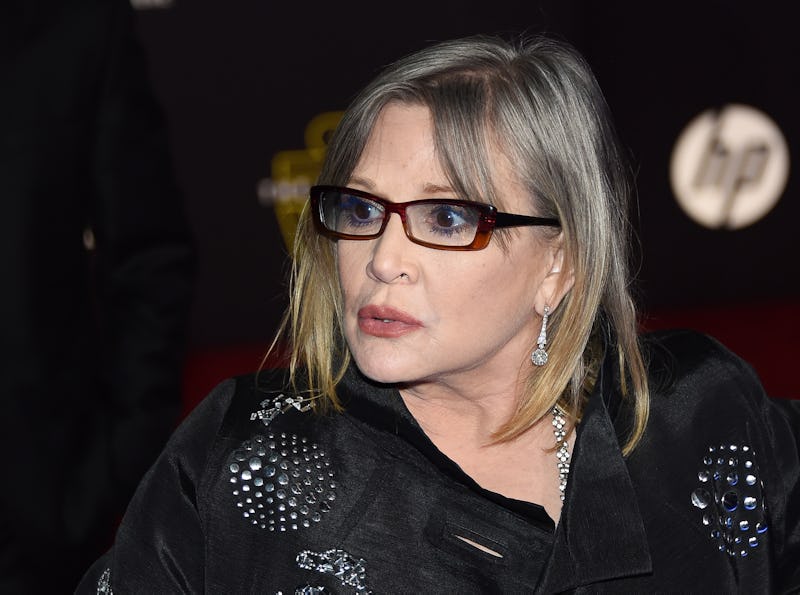 Ethan Miller/Getty Images Entertainment/Getty Images
According to People, a toxicology report from the Los Angeles County coroner's office shows that Carrie Fisher had cocaine and heroine in her system when she passed away. Fisher suffered a massive heart attack while on a flight in December 2016, and the results of her autopsy recently revealed that Fisher's death was caused by sleep apnea and other factors, that investigators could not pinpoint. As the coroner's documents claim, it's unclear whether or not drug use contributed to her passing.
"Based on the available toxicological information," the document states, according to People, "we cannot establish the significance of the multiple substances that were detected in Ms. Fisher's blood and tissue, with regard to the cause of death." Bustle has reached out to the coroner's office, but did not immediately receive a response.
TMZ reports that Fisher had cocaine, heroin, morphine, codeine, oxycodone, and small amounts of MDMA (ecstasy) in her system when she was hospitalized following her heart attack. According to the coroner's report, via People, Fisher's exposure to cocaine occurred within 72 hours before her death.
Fisher was known for being incredibly open about her battles with mental illness and addiction. Her bravery and honesty spoke to the stigma that surrounded these issues and inspired people to feel less ashamed about their own struggles.
Following the release of Fisher's autopsy report on Friday, her daughter, Billie Lourd, released a statement encouraging fans to remember her mother's openness about her struggles.
"She talked about the shame that torments people and their families confronted by these diseases," Lourd said in a statement to People. "I know my Mom, she'd want her death to encourage people to be open about their struggles. Seek help, fight for government funding for mental health programs. Shame and those social stigmas are the enemies of progress to solutions and ultimately a cure."
It's absolutely commendable that Lourd is continuing her mother's mission to reduce the stigma that is often associated with drug addiction and mental health issues. Fisher was an amazing woman, and her bravery will never be forgotten.