Billie Lourd's Statement About Carrie Fisher Is So Important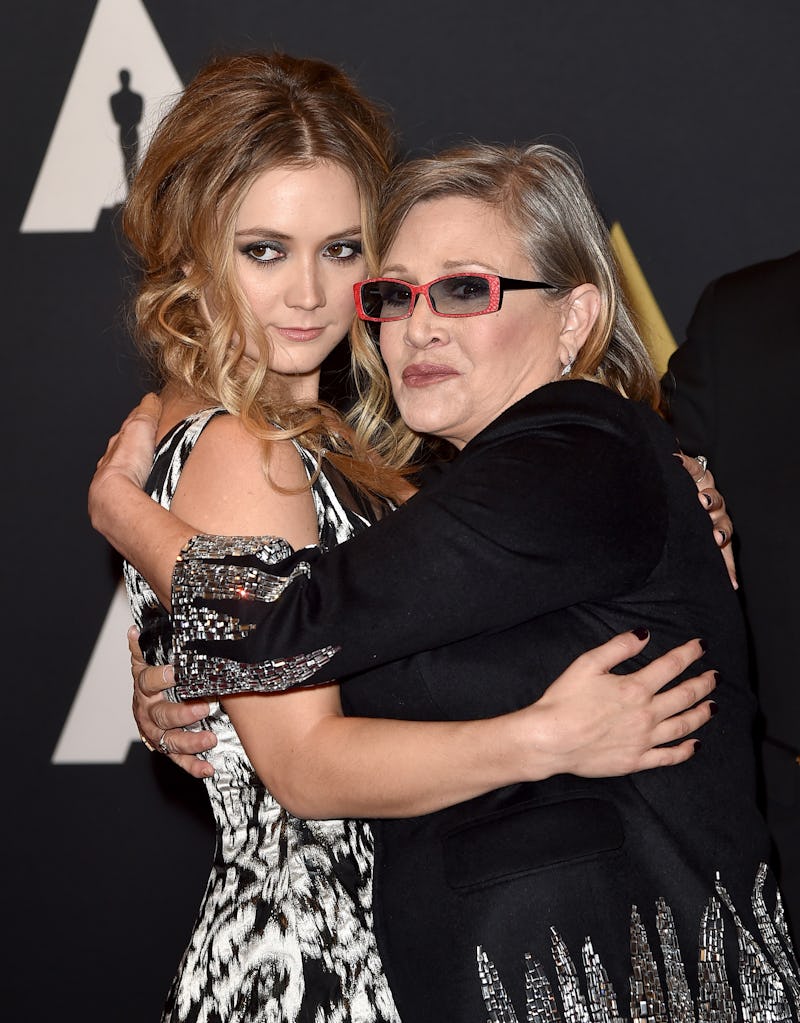 Kevin Winter/Getty Images Entertainment/Getty Images
The Star Wars universe changed forever when actor Carrie Fisher died in December after going into cardiac arrest aboard a flight. The devastating news was made all the more tragic when her mother, Debbie Reynolds, passed away just a day later. While months have passed, there may finally be a bit more closure. Fisher's cause of death was revealed on Friday night, along with a heartfelt statement to People, where Fisher's daughter, Billie Lourd, explained why it's something people should be discussing.
According to the Associated Press, who cites coroner's officials as their source, Fisher's death was caused by sleep apnea and other factors, which investigators could not pinpoint. Coroners also found signs that the actor had reportedly taken "multiple drugs," but it's unclear whether they contributed to her death, AP reported. Ultimately, the manner of death will be listed as "undetermined."
During her lifetime, Fisher was incredibly open about her battles — whether it be drug addiction or bipolar disorder. And that openness is exactly what her daughter wants fans to remember. "My mom battled drug addiction and mental illness her entire life," Lourd told People in an exclusive statement. "She ultimately died of it. She was purposefully open in all of her work about the social stigmas surrounding these diseases."
Her statement to People continued,
"She talked about the shame that torments people and their families confronted by these diseases. I know my Mom, she'd want her death to encourage people to be open about their struggles. Seek help, fight for government funding for mental health programs. Shame and those social stigmas are the enemies of progress to solutions and ultimately a cure. Love you Momby."
While I can't imagine it's easy, Lourd's openness is not only important, but commendable. She didn't have to release a statement about the news, but in speaking out on her mom's behalf, the Scream Queens star is doing the very thing Fisher did — helping to lessen the social stigma. The message that Fisher would want to "encourage people to be open about their struggles" is a powerful takeaway, along with the nudge to "seek help" if you need it.
I already had infinite respect for how Fisher openly and bravely shared her struggles with the world, and now an equal amount for her daughter, who's continuing that legacy of deflecting shame and advocating for mental health.