'Vanity Fair's' Carrie Fisher Cover Will Make You Miss Her Even More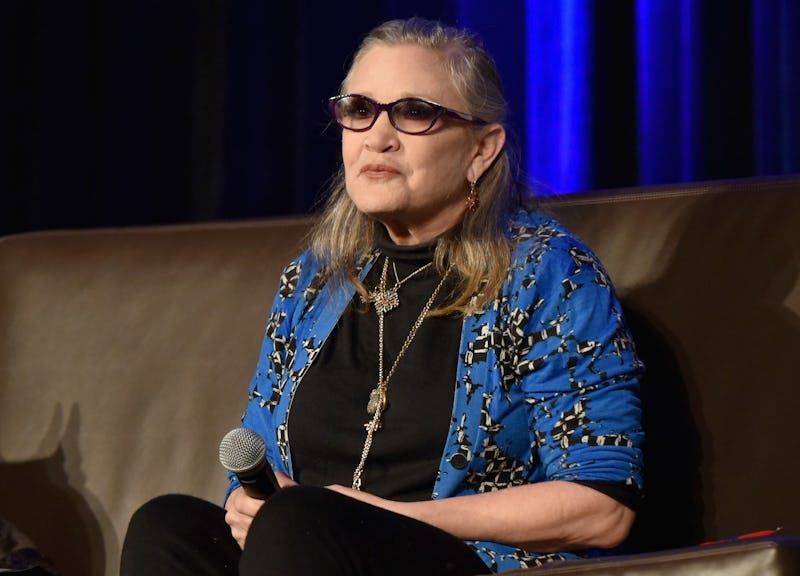 Daniel Boczarski/Getty Images Entertainment/Getty Images
Vanity Fair's newest issue is celebrating the upcoming 40-year anniversary of Star Wars with exclusive photos and secrets from the set, including four covers featuring stars of Star Wars Episode VIII: The Last Jedi. One version stars Captain Phasma, Kylo Ren, and General Hux (Gwendoline Christie, Adam Driver and Domhall Gleeson); the second, Finn, Poe Dameron and new character Rose Tico (John Boyega, Oscar Isaac and Kelly Marie Tran); and the third, Rey and Luke Skywalker (Daisy Ridley and the legend Mark Hamill). But it's the fourth cover that's the most memorable, as it's a beautiful tribute to the late Carrie Fisher. standing strong and alone as General Leia Organa. It's a gorgeous image, and it'll make you miss the rebel space princess all over again.
On the cover, photographed by Annie Leibowitz, Fisher wears an amazing, powerful cape with a stand-up collar that says quite clearly that she's a force to be reckoned with. She's got a powerful, resolute look on her face like she's just daring her enemies to step to her, but it's a bemused expression, too, like, "Really? This won't end well for you." The cover is a lovely celebration of and ode to the actor behind the famous general, who passed away at the age of 60 on December 27, 2016 from cardiac arrest. As fans will remember, Fisher's tragic death was compounded when her mother and best friend Debbie Reynolds died the day afterwards. Both actors' losses were huge, not only in Hollywood but for women everywhere, including fans of Fisher's writing, and people with mental illness who looked to her for strength and inspiration.
Fisher's Star Wars castmates mourned her and remembered her as a fiery, strong, quick-witted, and self-deprecating person as kind as she was funny. Somehow all of that feels captured in this photo of her on the Vanity Fair cover. She and Princess, now General, Leia Organa always felt like one in the same to many fans, and Fisher herself had admitted that the conflation of herself and her character had some truth in it. "I got into character and I never got out of it," she told Amy Robach on Good Morning America in 2015 Seeing her on the Vanity Fair cover is a reminder that Leia is forever with us, even if Fisher is not.
In his tribute to his good friend and screen-sister at the Star Wars Celebration in Orlando this past April, Mark Hamill shared many sweet and sad memories of his long, intimate friendship with Fisher. As Bustle reports, he said:
"When I think of her, she's looking down from the celestial stratosphere with those big brown eyes, that sly smile on her face, as she lovingly extends me the middle finger."
In a way, the Vanity Fair cover of Fisher has that same spirit. It's General Leia Organa, giving the middle finger to the universe forever.