Carrie Underwood's First Song After Her Accident Is Guaranteed To Make Fans Emotional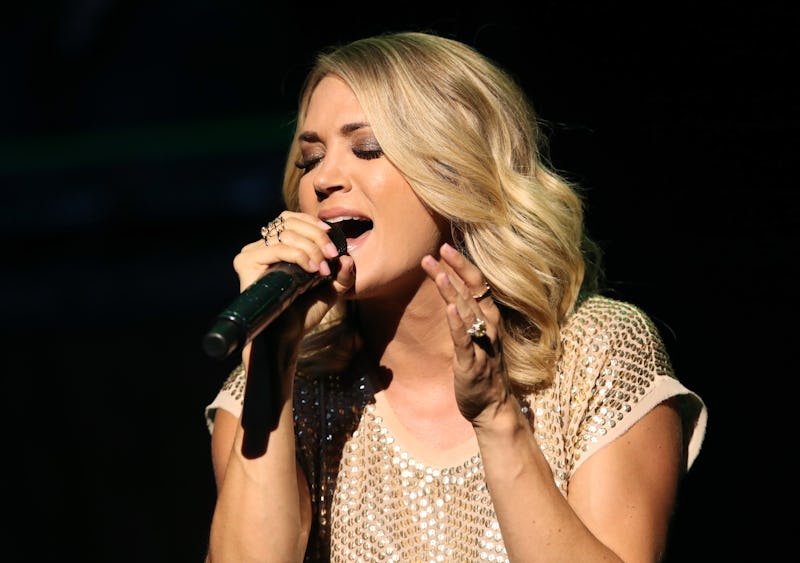 Christopher Polk/Getty Images Entertainment/Getty Images
Five months after a bad accident, Carrie Underwood is back with a new song, and her voice — and message — are as strong as ever. On Wednesday morning, Underwood released her ballad "Cry Pretty." The single is a return to form for the singer as she belts crazy high notes and conveys a deep emotion throughout, though it is the raw, relatable lyrics that might grab many fans' attention.
As People points out, Underwood explained the impetus for the song on her website. "The title refers to when emotions take over and you just can't hold them back," the "Jesus, Take the Wheel" artist wrote. "It really speaks to a lot of things that have happened in the past year and I hope when you hear it, you can relate those feelings to those times in your life. It's emotional. It's real. And it ROCKS!"
Last November, Underwood tripped and took a bad tumble, which resulted in a broken wrist and over 40 stitched in her face. Now the Grammy Award winner seems to be opening up about the experience through the song's words. In "Cry Pretty," she sings about not being able to always hide her pain while struggling through hardship.
The song begins with a slow, raw crescendo. Underwood sings, "I'm sorry, but I'm just a girl / Not usually the kind to show my heart to the world / I'm pretty good at keeping it together / I hold my composure, for worse or for better." Yet, despite attempting to smile through pain, she explains, "You can't hide it, you can't fight what the truth is."
She then unleashes the full power of her voice on the chorus. She belts,
"You can't pretty lie and says it's OK
You can't pretty smile, and just walk
Pretty much make your way through anything
But you can't cry pretty"
For fans familiar with the struggles she went through after her accident, and her temporary retreat from public life, the lyrics seem to address her own feelings as she recovered from an accident that left her badly injured.
Underwood avoided appearing much in the public in the months after her fall. The normally active on social media musician, did not post as much in the weeks immediately following her accident. In early January she told her faithful followers in a fan letter (obtained by People) about what had occurred:
"In addition to breaking my wrist, I somehow managed to injure my face as well. I'll spare you the gruesome details, but when I came out of surgery the night of my fall, the doctor told Mike [her husband, Mike Fisher] that he had put in 40-50 stitches in. Now, here we are 7 weeks later, and even though I've had the best people helping me, I'm still healing and not quite looking the same."
Not looking "quite the same" after an accident would be tough on any person. During her recovery, Underwood generally shared pictures on Instagram of her son, dog, or only of her partial face. That was until Friday, April 6, when she posted her reported first full face photo on Instagram. The picture caught the singer wailing on a microphone, rehearsing a song with her band.
Underwood told her fans through the aforementioned update on her website, "I'm doing pretty darn good these days! My wrist is almost back to normal, about 90% there…and the docs say that last 10% will come in time. And my face has been healing pretty nicely as well." She explained that during her recovery she spent a lot of time with her child, Isaiah, and husband, ice hockey player Mike Fisher. She also found plenty of inspiration in the music studio.
"I've been in the studio writing and singing a TON, but I've also been able to be creative in a way that I've never been before, which has been very fulfilling and empowering," she wrote. She added that "Cry Pretty" was written with the help of "three incredible women," who write together under the name Love Junkies (Hillary Lindsey, Liz Rose, and Lori McKenna).
According to Billboard, Underwood is currently working on her sixth studio album. She is also returning to performing in public for the first time since the accident in a big way, during this Sunday's ACM Awards. If the rest of the album, and her performance, is anything like "Cry Pretty" fans are in for an empowering, emotional journey.