Catt Sadler Is Returning To TV After Leaving E! Over Equal Pay & You'll Want To Tune In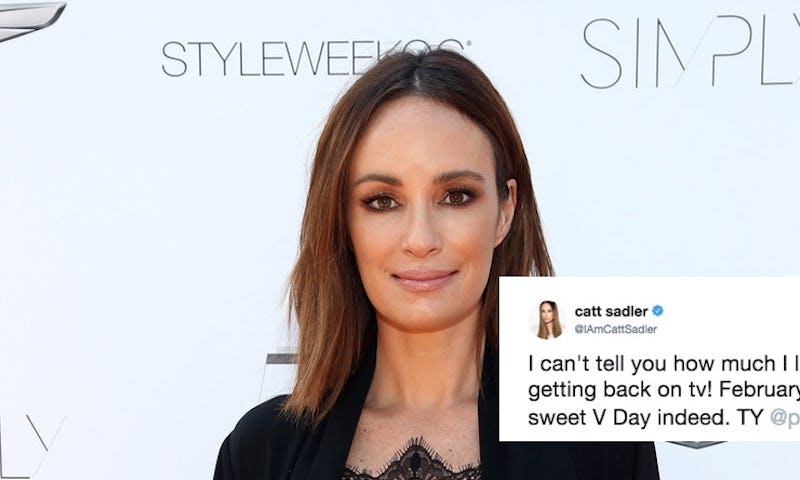 Tommaso Boddi/Getty Images Entertainment/Getty Images; Catt Sadler/Twitter
Following the surprising announcement that she left E! over a reported pay disparity involving co-host Jason Kennedy, Catt Sadler is returning to TV as a guest-host on The View. After standing her ground, this will likely be just the beginning of the opportunities coming her way. The upcoming appearance, which will ultimately mark Sadler's first time in front of cameras since leaving E! late last year, is said to be a one-time gig for the former Daily Pop host that will air on Wednesday, Feb. 14, according to People.
On Monday, Sadler tweeted her excitement:
"I can't tell you how much I look forward to getting back on tv! February 14th. An extra sweet V Day indeed."
It sounds like a well-deserved gig for Sadler, who notably stood up for equality in the workplace after claiming she learned co-host Kennedy had been earning "close to double" her salary, although they both joined the network around the same time and reportedly shared similar roles in the company. Of her decision to part ways with E! in December 2017, Sadler wrote on her website,
"More recently, when E reached out to renew and extend my deal, I learned that he wasn't just making a little more than I was. In fact, he was making close to double my salary for the past several years."
In light of Sadler's claims, an E! spokesperson told Bustle:
"E! compensates employees fairly and appropriately based on their roles, regardless of gender. We appreciate Catt Sadler's many contributions at E! News and wish her all the best following her decision to leave the network."
As a true veteran in the TV journalism game with more than a decade of on-air reporting at E! under her belt, Sadler's history of conducting entertaining interviews while serving alongside a panel of fellow co-hosts will certainly help her fit right into The View.
Though the show — which features an all-women round table that includes Whoopi Goldberg, Joy Behar, Sara Haines, Sunny Hostin and Meghan McCain — may be a bit different from her past experience with E!, the new opportunity is most certainly a step in the right direction for Sadler who seems eager to get back to work. The 43-year-old on-screen personality gushed about the opportunity to People. She said,
"I'm genuinely so excited to get back on TV for the first time on The View! And to get to co-host alongside such incredible women — what a treat that will be."
A whistle blower in the fight for pay equality, Sadler has undoubtedly become an advocate in the current Hollywood feminist movement, which seeks to protect and empower the rights of women in the workplace. Amid her decision to sever ties with E!, Sadler received a huge outpouring of support and encouragement from celebrities, such as Debra Messing, Jessica Chastain, Brie Larson, Amber Tamblyn, Laura Dern, Eva Longoria, Ellen Pompeo, Sarah Jessica Parker, Natalie Portman, and Amy Schumer. Messing notably used her platform on the Golden Globes Red Carpet to call the E! network out for their reported mistreatment of Sadler. Speaking directly to the red carpet host Giuliana Rancic, Messing expressed her dismay:
"We want diversity, we want intersectional gender parity, and we want equal pay... I was so shocked to hear E! doesn't believe in paying their female co-hosts the same as their male co-hosts. I miss Catt Sadler. We stand with her."
As for E!'s response to the pay disparity accusations, the president of Lifestyle Networks at NBCUniversal Cable Entertainment Frances Berwick explained to Variety:
"Catt Sadler and Jason Kennedy had different roles and therefore different salaries. Catt was focused on daytime. Jason Kennedy is on primetime evening news, plus red carpet. Our employee's salaries are based on their roles and their expertise regardless of gender. We wish Catt well, but I hope that sets the record straight on that."
With all of the drama now seemingly behind her, Sadler appears to be headed onto bigger and better things. And hopefully, any upcoming opportunities will compensate her in the way that she most certainly deserves.