These Photos Of Celebrities Participating In The National Walkout Are So Moving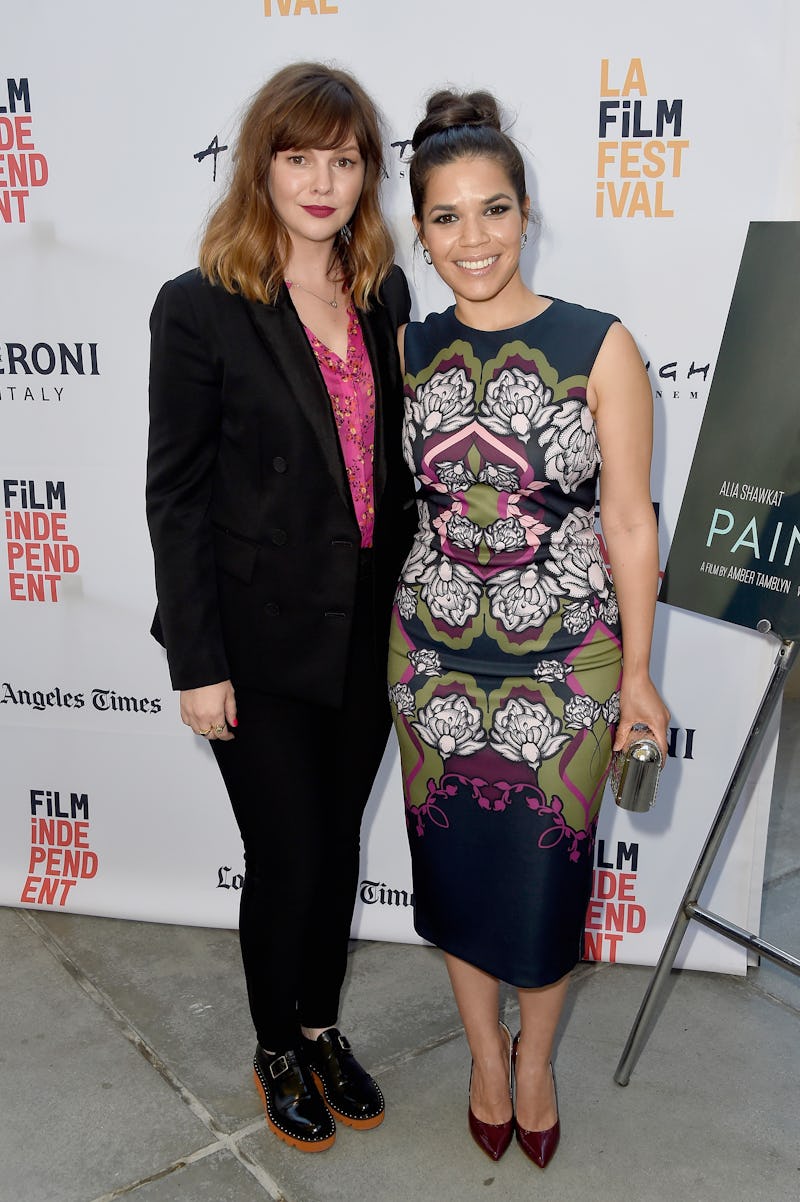 Frazer Harrison/Getty Images Entertainment/Getty Images
In a powerful effort on Monday, Sept. 24 at 1 p.m. ET, many celebrities participated in the national walkout, standing in solidarity with Christine Blasey Ford and Deborah Ramirez. The movement brought together supporters from all over the country wearing black and showing that they stand side by side with Ford and Ramirez, the women who came forward with allegations of sexual misconduct against Brett Kavanaugh. Donald Trump's Supreme Court nominee has denied these allegations.
In July, Ford wrote a letter to Senator Dianne Feinstein and alleged that Kavanaugh "physically and sexually assaulted" her at a party that she and Kavanaugh attended while they were both in high school in the 1980s. As reported by NBC News, Kavanaugh has denied Ford's allegation and said in a statement, "I categorically and unequivocally deny this allegation. I did not do this back in high school or at any time." Ford is also slated to testify about her allegations against Kavanaugh on Thursday during her scheduled Senate Judiciary Committee hearing.
As for Ramirez, she came forward on Sept. 23 and told The New Yorker that she attended Yale with Kavanaugh. Ramirez alleged Kavanaugh exposed himself to her at a party during their freshman year of college, the 1983-1984 school year. Kavanaugh has denied Ramirez's allegations. In a statement given to The New Yorker, Kavanaugh said,
"This alleged event from 35 years ago did not happen. The people who knew me then know that this did not happen, and have said so. This is a smear, plain and simple. I look forward to testifying on Thursday about the truth, and defending my good name—and the reputation for character and integrity I have spent a lifetime building—against these last-minute allegations."
According to the national walkout's Facebook page, the event was hosted by 23 different organizations. As stated on the movement's page, "Help spread the word: we believe Dr. Blasey Ford. We believe Deborah Ramirez. We believe survivors. And we won't stand for Senate Republicans' despicable attempts to strong-arm a sexual assault survivor."
Many people, including celebrities, showed that they believe Ford and Ramirez by taking part in the national walkout. Here are just handful of photos of the celebs who powerfully stood with the two women.