Chadwick Boseman Honored A Real Life Hero At The MTV Movie & TV Awards & It Will Make You Cry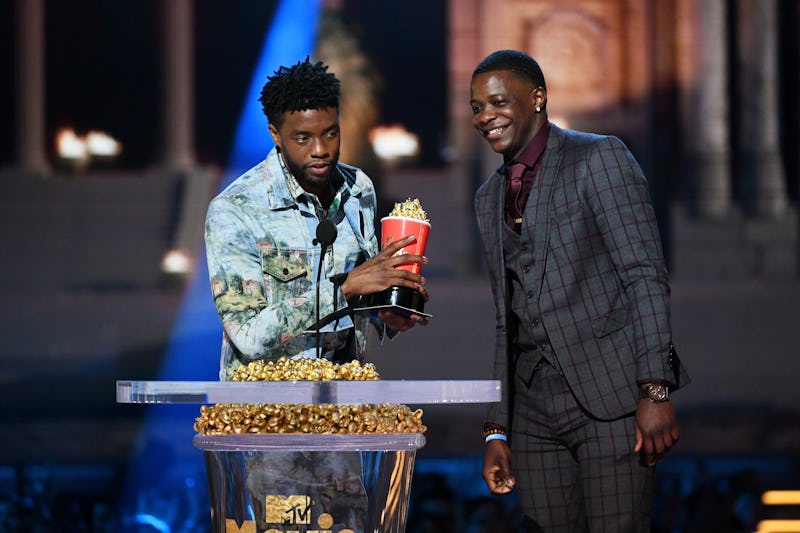 Kevin Winter/Getty Images Entertainment/Getty Images
At the 2018 MTV Movie & TV Awards on Monday night, Chadwick Boseman won for Best Hero and gave his award to a real hero. The Black Panther actor dedicated his golden popcorn prize to James Shaw Jr., who stopped a gunman at a Waffle House in Tennessee this past April.
When receiving the honor of Best Hero, Boseman started by thanking the fans, who made Black Panther the third highest-grossing movie of all time in the U.S., passing Titanic back in April. "You made this movie special. You made this moment special," he said. But, what Boseman really wanted to do was make this moment special for a real life hero. "Receiving an award for playing a superhero is amazing," he told the crowd. "But it's even greater to acknowledge the heroes that we have in real life."
Boseman went on to acknowledge Shaw, who was in the room on Saturday night when the award show was taped. Boseman called out to Shaw and asked him to stand up, and that look of shock on Shaw's face was definitely real. "You didn't even know we were about to do this," Boseman said, only to have Shaw shake his head no. But Boseman felt it was important for the crowd to know who a real hero is. "If you don't know who James Shaw, Jr. is," Boseman said. "He fought off a gunman in Antioch, Tennessee at a Waffle House. He saved lives," he said.
To end his speech, Boseman called Shaw up to the stage and handed him his prize. "So this is gonna live at your house," Boseman told him. Following the award show, Boseman tweeted that he was "honored to meet @JamesShawJr9. He saved countless lives by tackling a gunman who opened fire on people in Antioch, Tennessee in April. He's a true hero that walks among us."
In April, Shaw confronted a shooter at the Waffle House who took the lives of four people and injured two others. Shaw, along with a friend, was sitting in the restaurant when he heard gunshots followed by fellow customers falling to the ground. When the shooter stopped to reload his weapon, Shaw tackled the shooter, wrestling his gun away from him. While wrestling the assault-style rifle away from the shooter, Shaw was grazed by a bullet and burned his right hand grabbing the barrel of the weapon. Shaw later started a GoFundMe to help the victims of the shooting, which has raised nearly $250,000 to cover funeral costs and other related expenses. He has been dubbed the "Waffle House Hero" by the media and has joined forces with other victims of gun violence, including the students of Marjory Stoneman Douglas High School in Parkland.
Shaw has previously said he doesn't see himself as a hero, but he thanked MTV for asking him to attend the awards. "Thank you @mtv for the invite," he wrote on Instagram, "and the tremendous love you all showed me, it was greatly appreciated."
It was a moment that fans also appreciated. "This was an uplifting moment right when America really needed it," Adam Best, founder of The Left, tweeted. "Gotta love both of those dudes!" Another fan, @sexxxylisa, responded to Boseman's tweet with an all-caps message: "THE BEST TV MOMENT OF 2018, A HERO RECOGNIZING A HERO."
This celebration of Shaw is one that President Trump was slow to acknowledge. Following the Waffle House incident, Trump did not reach out to Shaw. Last month, 22 days after the attack, Trump finally did call Shaw, who seemed less than impressed by the president. Shaw told TMZ that Trump called him and thanked him for his "heroic actions and quick thinking." While Shaw appreciated the gesture, he described his talk with Trump as "lackluster." But, he said, "I know he's very busy with what's going on in the world. And like I said, I did this for no recognition at all, so I do thank him for calling me out of his busy schedule."
It's unknown whether or not the President was watching the MTV Movie & TV Awards on Monday night, but for MTV fans at least, Boseman's dedication will be another reminder of Shaw's heroics, which are definitely worth remembering.