Channing Tatum Posted A Super Sweet & Supportive IG From Jessie J's Recent Concert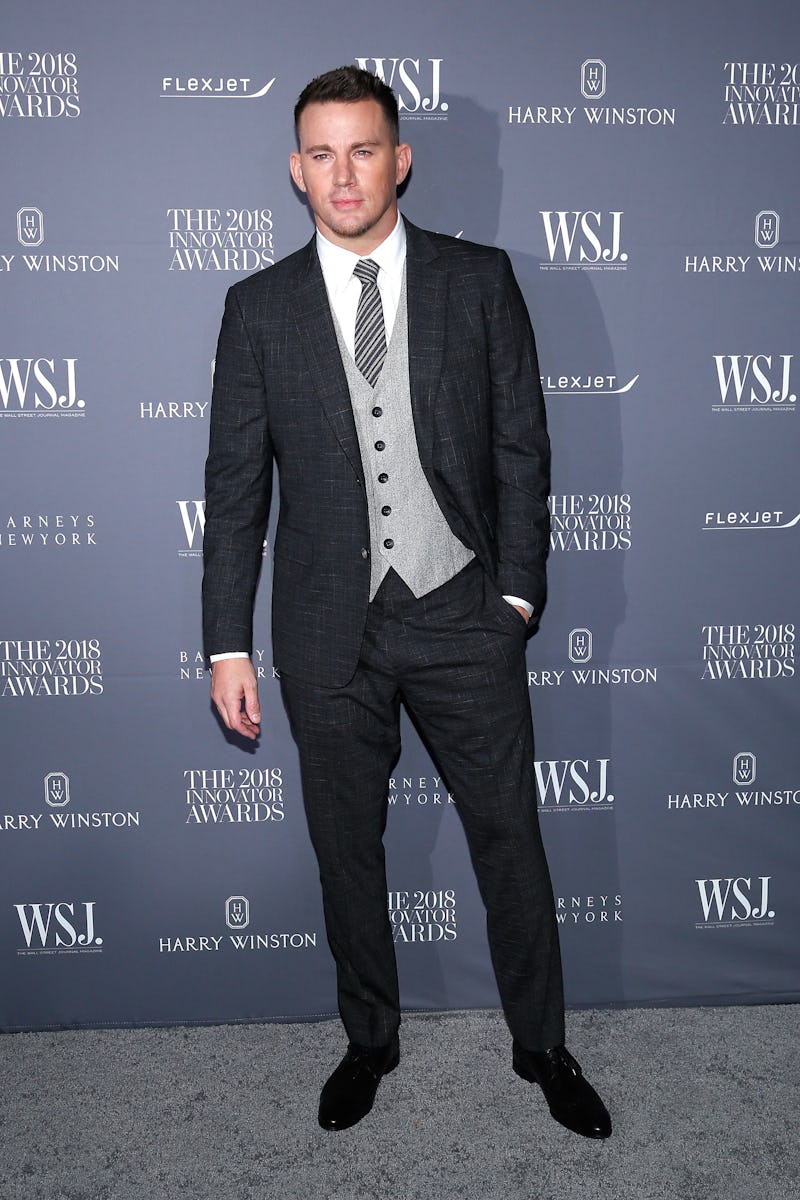 Lars Niki/Getty Images Entertainment/Getty Images
Channing Tatum and Jessie J haven't been dating for all that long. But unsurprisingly, it seems like Tatum has already stepped into his newfangled "supportive boyfriend" role. And after taking a look at Channing Tatum's latest Instagram post about Jessie J, it also seems like he's keen on seeing it through. So, to anyone wondering about the status of Tatum and Jessie J's relationship: You might want to head over to the actor's Instagram, where he's been reveling in his rumored girlfriend's standout musical talents.
Captioning a super impressive photo of Jessie J's most recent show — the lights! the decor! the outfit! — which took place at The Royal Albert concert hall in London on Tuesday night, Nov. 13, Tatum wrote sweetly,
"This woman just poured her heart out on stage at the Royal Albert Hall. Whoever was there got to witness something special. Wow."
Tatum's snapshot was dazzling, to say the least. But, to give those fans who didn't manage to snag a ticket to Jessie J's particularly "special" show a sense of just how special it really was, the actor followed up his initial IG post with a quick video from Tuesday night's R.O.S.E. Tour performance shared to his Instagram Story a bit later on in the evening.
Echoing the support he expressed in his post, Tatum's video bore an exceedingly sweet — and heartwarmingly proud — little message of its own. Captioning the clip, which touts a snippet of Jessie J flaunting those grade-A vocal chops on stage, he gushed,
"She went off tonight! #RoseTour."
Those who've been following Tatum and Jessie J's relationship updates in the news this past month might remember that Tuesday didn't mark the first of Tatum's R.O.S.E. Tour cameos. In fact, per a string of reports that have cropped up since rumors that Tatum and Jessie J were dating first started to circulate, it sounds like Tatum has been spending quite a bit of time on the tour these last couple of weeks.
According to reports from E! News, Tatum was spotted attending at least two of Jessie J's concerts since October. The first report, published Oct. 29, cited an unnamed source who told the outlet Tatum reportedly attended Jessie J's Houston show the night before. "They didn't show any PDA but Channing had a smile on his face at one point and looked very happy to be there with her," the source claimed to E! News.
Then, just days later, on Nov. 1, Tatum actually took his daughter to one of Jessie J's concerts in Los Angeles, per a follow-up report from E!.
Most of us who've been fans of Tatum's for a while now probably know already that the actor shares his daughter, 5-year-old Everly, with Jenna Dewan, his ex-wife. After almost 10 years of marriage, Tatum and Dewan broke up earlier this year. They announced the split via a joint IG post back in April, which let their followers know they'd "lovingly chosen to separate as a couple." Roughly six months later, a report from People, published Oct. 10, revealed Tatum and Jessie J had gotten together, citing another unnamed source who claimed that they were in fact a couple, but said "It's very new."
Of course, that was a little more than a month ago, so the relationship isn't quite as new these days. But if Tatum's latest Instagram activity from his lady's performance (not to mention the handful of other times he's publicly supported her recently) is any indication, it looks like their relatively newfound romance is just getting started. Anyone else really excited to see where this goes?