A Love Affair Begins In 'The Last Face' Exclusive Clip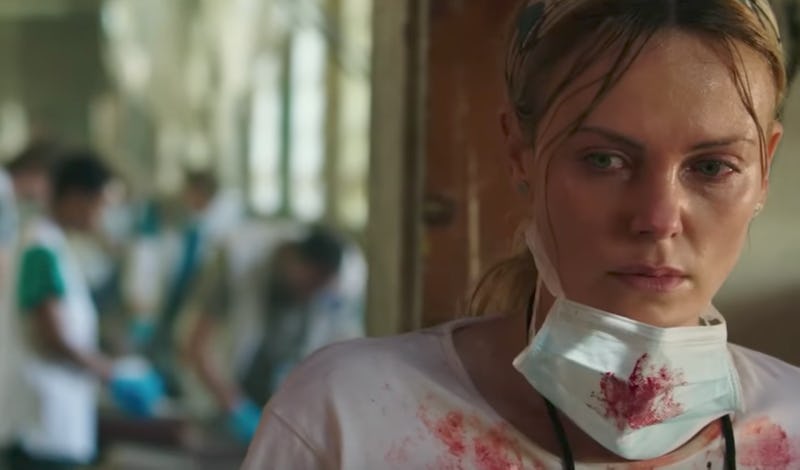 Saban Films
Sean Penn steps behind the camera once again for his newest film, The Last Face. The war-time drama premiered at the Cannes Film Festival in the summer of 2016, and is finally being released in theaters on July 28, but you can get a sneak peek with Bustle's exclusive clip of The Last Face featuring stars Charlize Theron and Javier Bardem seriously getting their flirt on.
The film begins in Liberia during the tail-end of the Second Liberian Civil War in 2003 and moves on to Sierra Leonne. War torn countries of Africa provide the setting for a romantic and tumultuous love affair between two foreign aid doctors, Dr. Wren Petersen (Theron) and Dr. Miguel Leon (Bardem). The two share a passion for bringing medicine to people all around the world, but their differing opinions in how to best serve the people they are trying to help might just tear them apart. In the clip, Wren comes to Miguel with a new assignment, resulting in some very intense eye contact and a bit of flirting — "You should try and get some sleep," says Miguel, to which Wren responds, "I'm not tired."
It's clear form the clip that, whatever happens between Wren and Miguel in the end, Theron and Bardem have some pretty hot chemistry. It's unclear if the scene in the clip occurs before or after the two start their romantic relationship, but regardless, the tension is undeniable. In case you're worried Migel and Wren are the only characters in the film, though, rest assured they are not. Absent from the clip are supporting actors Adèle Exarchopoulos, Jean Reno, and Jared Harris, who also play aid workers in the film.
The Last Face marks Penn's first time in the director's chair since his 2007 hit Into the Wild. Of course, some fans will be drawn to the film out of curiosity. After all, The Last Face was developed and filmed while Theron and Penn were still an item, something both have recognized publicly. "We were in a relationship at the time. When this movie comes out, we're not in a relationship anymore," Theron said in an interview with British GQ. "But we made a beautiful film and I can speak for him on this: we both care enough about each other to know we care about this movie together."
Fans looking to the film as a means to get a better picture of the actor and director's private relationship will be disappointed, however, but that's for the best. "Do I wish people would respect that and look at the film for what it is? Of course I do, but I know I'm not God and that's probably not going to happen," Theron added in the GQ interview.
Still, it's likely that Theron and Penn's celebrity status won't hurt the movie's chances. In fact, it might even help; if Bardem and Theorn's chemistry isn't enough to get you to the movie alone, maybe our culture's celebrity obsession will help make The Last Face a success.