Chili's New "Boss Burger" Comes With So Many Different Meats It Will Make Your Head Spin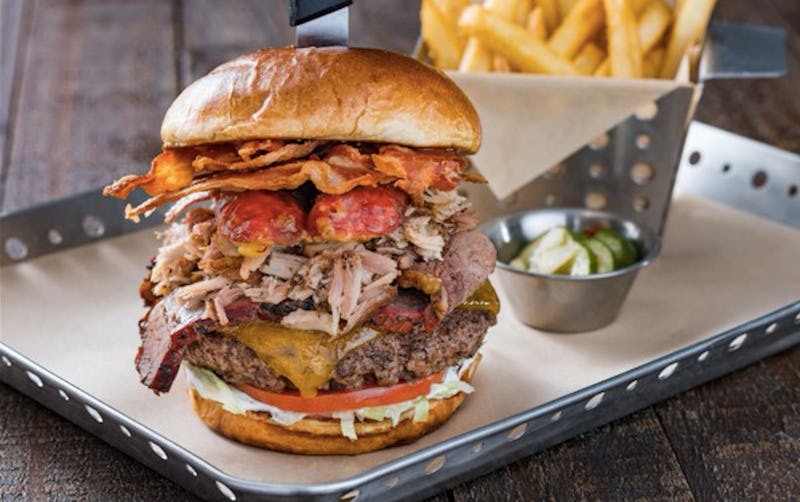 Chili's
When you're really hungry and hankering for something heavy duty, a watercress salad tossed with a light vinaigrette and an iced green tea won't cut it. You're going to need something more substantial than that. There's good news out there for all you folks with hunger pangs: Chili's just announced the Boss Burger, a giant burger topped with literally almost every meat you can think of. Yes, it's meat topped with meat.
According to their menu, the beef patty is buried under smoked brisket, rib meat, jalapeño-cheddar smoked sausage, bacon, cheddar, their house-made ranch, and BBQ sauce — plus lettuce and tomato, because, you know, you need to get your veggies in. In a statement to PEOPLE, Steve Provost, the CMO of Chili's, said, "This burger is a meal in itself and for some it can be lunch the next day." He suggested rounding up your friends and family to share the behemoth of a burger with you, or you can try to finish it yourself in what he referred to as the #ChilisBoss challenge.
PEOPLE notes currently, you can only find the Boss Burger on a test menu in certain cities, like Dallas; but a representative confirmed to them if it's well-received, Chili's will release it nationwide.
While this might be the most monstrous burger Chili's has introduced, it's certainly not the only one. Their line of Big Mouth Burgers also includes the Southern Smokehouse Burger — topped with bacon, cheddar, and onion rings (you guys, onion rings!) — and the Bacon Trifecta Burger — topped with bacon slices, bacon jam, and bacon aioli. Needless to say, Chili's embodies the philosophy, "Go big or go home," wholeheartedly.
Gigantic and over-the-top burgers seem to be a thing, these days. As Bustle previously reported, McDonald's Australia took things to the next level with their Big Brekkie Burger — a burger made with a hash brown, cheese, bacon, BBQ sauce, and a fried egg. That's nothing, though, compared to the tarantula burger currently being offered at Bull City Burger and Brewery in Durham, North Carolina. 'Scuse me while I go cry hysterically for a minute.
The most outrageous burgers don't end there, though: how about the Ulti-Meatum, which is a burger in a burger in a burger? Or the ramen burger, made with noodle buns? Or Foodbeast's 100% Everything Bacon Burger, which features a bacon-infused bun, a bacon burger, bacon-wrapped onions, a bacon-encrusted fried egg, bacon strips, and bacon bits?
Heck, even when we're not eating burgers, we're still kind of eating burgers. Just look at the sushi-burger hybrid, which is shaped like a burger but is actually sushi.
My brain is going to explode.
Why are we so obsessed with reinventing a classic American meal and coming up with such wacky variations? Let me count the ways.
You can get burgers for super cheap, which is a major bonus to those of us living that #budgetfriendly life.
You can get them quickly and without even needing to leave your car, as evidenced by me from the ages of 21 to 23, when every Saturday night was spent drunk and trying not to pass out in the passenger seat of my best friend's ride while yelling at the drive-thru person, "I want one hundred beeeellion burgers," in my best Dr. Evil voice.
It's kind of like pizza. There are a million ways you can dress up a burger, and it's pretty hard to screw it up, potentially excluding that tarantula burger. I'm still emotionally traumatized by that. It's just so different from the fate spiders in my house normally experience. (Hint: it involves a hammer and the vacuum.)
If you're feeling brave (and hungry) and you're in the mood for something extra meaty, check to see if your local Chili's is serving up the Boss Burger. Not for the faint of heart!