Chipotle Quietly Dropped Queso Nationwide While We Were All Distracted By Apple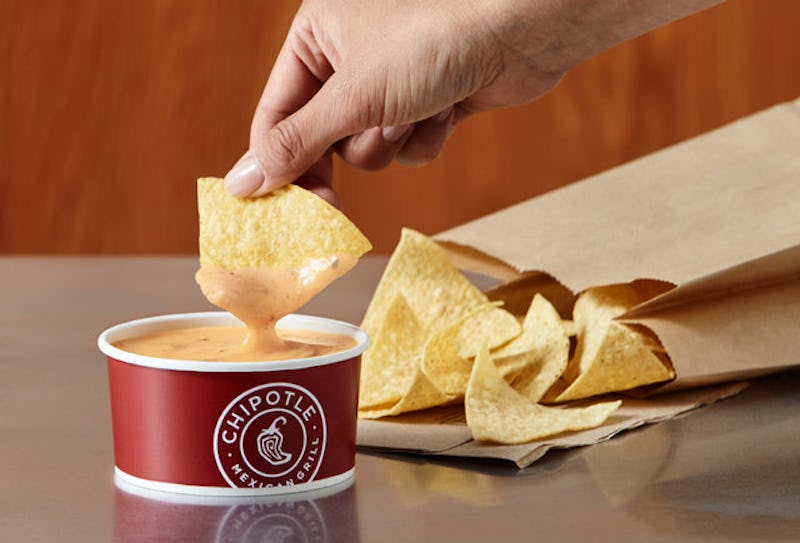 Chipotle
My fellow humans, in a week where we've all realized our low key romantic attraction to a murderous clown and been subjected to screenshots of Ted Cruz's extremely questionable "likes" on Twitter, I think we can all agree that we need a win. And as a firm believer in the old adage "cheese fixes everything" that I may or may not have just made up, I'm happy to announce that Chipotle queso is now available nationwide. Starting Sept. 12, you and your loved ones and even your unloved ones have full access to some hot, hot cheese at any Chipotle location in the U.S.
This long anticipated announcement first started generating steam in late July, when Chipotle announced that it was testing queso as a menu option in 350 of its storefronts. At first it only included locations in Colorado and Southern California, and one location in New York The company heavily hinted at a nationwide rollout should the test go well, and it seems that America has spoken: queso shall reign supreme.
So what exactly is in Chipotle's queso? The company, well known for its transparency regarding menu items and their ingredients, lists 23 all-natural ingredients on its website, including aged cheddar cheese, milk, tomatillo, tomatoes, peppers, and onions. They explain that the long delay in offering queso as a menu option was the determination to stay true to their all-natural roots.
"Unlike typical quesos, ours doesn't contain industrial additives like gums and artificial stabilizers (stabi‑what now?)," says Chipotle's website. "Starting with a base of real melted cheese, its rich, complex flavor comes from the combination of simple ingredients you're likely to recognize, and that we're proud to display below."
Chipotle CEO and Founder Steve Ells further clarified in a statement, "Although queso was the number one requested menu item, we never added it to our menu before now because we wouldn't use the industrial additives used in most quesos. Additives make typical queso very consistent and predictable, but are not at all in keeping with our food culture. Our queso may vary slightly depending on the characteristics of the aged cheddar cheese used in each batch, but using only real ingredients is what makes our food so delicious."
Customers have already taken to social media to express their excitement or react to the new menu addition.
The queso will be as versatile as the guacamole, with customers able to add it to an entrée, order it as a side in two different sizes. According to Chipotle's press release, the additional charge will range from $1.25 to $5.25, depending on the location of the store.
This isn't the first menu shakeup Chipotle has had in 2017; in April, they started testing buñuelos, a cinnamon and sugar-dipped fried tortilla dessert that came with an caramel apple dipping sauce somewhat reminiscent of the packaging for chips and a side of guac. A departure from actual traditional buñuelos, they looked and tasted a bit like Cinnamon Toast Crunch (at least that was the verdict here at the Bustle office).
The addition of queso, though, is a much bigger deal to hardcore Chipotle fans, who have been specifically requesting it for years. I'm personally concerned about whether or not America can handle the power of being able to dip their chips in both guacamole and queso, but I suppose that's what testing phases are for. In the meantime, what are you still doing here reading this post? The Chipotle nearest you has queso right this literal instant and you have a moral obligation to test it out and report on social media. Aside from rampantly killing industries that aren't fast food, that's what we millennials do best.