Chipotle's Halloween Costume Deal Is Back — With The Chance To Win Burritos For A YEAR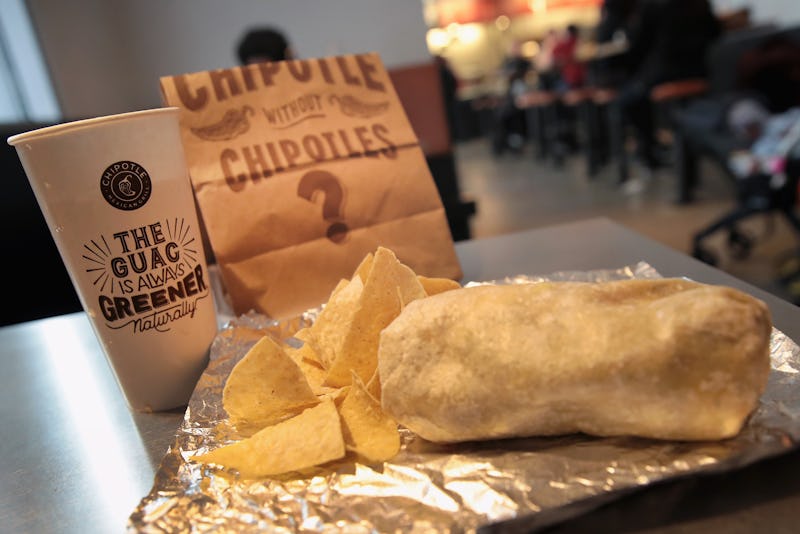 Scott Olson/Getty Images News/Getty Images
It's that time again: Boorito at Chipotle is here for 2018 — and this time, there's more on the table than just cheap burritos. An annual occurrence, Boorito usually bestows discounts on Chipotle customers who arrive at the store in costume; in 2018, however, there's a whole new element to the promo: One lucky person will win free Chipotle for a year… if, that is, their costume is good enough. If you live and breathe Halloween, now is your time to shine.
The Boorito promotion has existed in one form or another for quite some time; indeed, according to a press release for the 2016 edition of the event, it dates back to 2000. In its earlier days, you could often get free burritos during it — but as time went on, Boorito morphed from being a free burrito promo to a discounted burrito promo. The prices of the discounted burritos have also crept up a bit over the years; according to Slate, Boorito burritos were a mere $2 in 2012, but have risen a dollar or so every few years since. (Although truthfully, that's to be expected; the rise in Boorito prices has trended with the rise prices more generally, because, y'know, inflation is a thing.)
This year, the Boorito promo nets you a burrito for $4 — but even though it's not free, a $4 burrito is still a pretty good deal. Per Fast Food Menu Prices, Chipotle burritos can be as much as $10 in some states. (For the curious, steak and barbacoa are the most expensive ingredients.)
Oh, and the best part? You can dress up as anything this year. That's not always the case; sometimes, there are specific criteria your costume has to fill. In 2015, for example, you had to add "something unnecessary" to your getup, while in 2010, you had to dress as a "horrifying processed food product." Anything goes in 2018, though, so to get your $4 burrito, just head to your friendly neighborhood Chipotle anytime between 3 p.m. and closing on Oct. 31 wearing your Halloween costume — or, if you're not into the whole costume thing at all, order in the Chipotle app and use the code BOORITO. The $4 deal is good for more than just burritos, by the way; it also applies to bowls, salads, and tacos.
But as awesome as cheap burritos on a single day are, you know what's even better? Free burritos for 365 days. And that, my friends, is what the second part of this year's Boorito event promise to one lucky person. A costume is a requirement for this one — no secret codes here — but, I mean… a year's supply of free burritos is worth it, yes? Yes.
Here's how it works:
Between 3 p.m. on Oct. 31 and 1 a.m. on Nov. 1 (local time, that is — no need to be in a specific time zone for this one), dress up in your very best Halloween costume, snap a photo of yourself in it at a Chipotle location, post it Instagram in either a Story or a regular post, and tag @chipotle. Eight finalists will be chosen and featured in an Instagram Story on Nov. 1 — and from there, it's up to the general public to determine the winner: Between 9 a.m. and 5 p.m. ET, people can view the Instagram Story featuring the finalists and vote for their favorite. The winner — that is, the finalist with the most votes — will be announced on Instagram at 6 p.m. ET.
As is often the case, the whole "free burritos for a year" prize is actually presented as a ton of gift cards. According to the official Boorito rules, the Grand Prize consists of 52 Free Burrito Cards which can be redeemed at any Chipotle. Each card is worth up to $10, giving you a total of $520 in Free Burrito Cards. Technically, that means you could blow your entire burrito card supply in substantially less time than a year; if you ate one Chipotle burrito every day, you'd run out before two months were up. But 52 Free Burrito Cards averages out to one free burrito per week for an entire year, so as long as you're willing to pace yourself, you should be fine.
There's a lot of fine print you might want to read before you enter the contest, so head on over to the Boorito homepage to check it out. Oh, and if you need some costume inspiration? Here's some. And here's some more.
Have fun!