Chloe Kim Took A Break Between Gold Medal-Winning Runs To Tweet About Her Breakfast Sandwich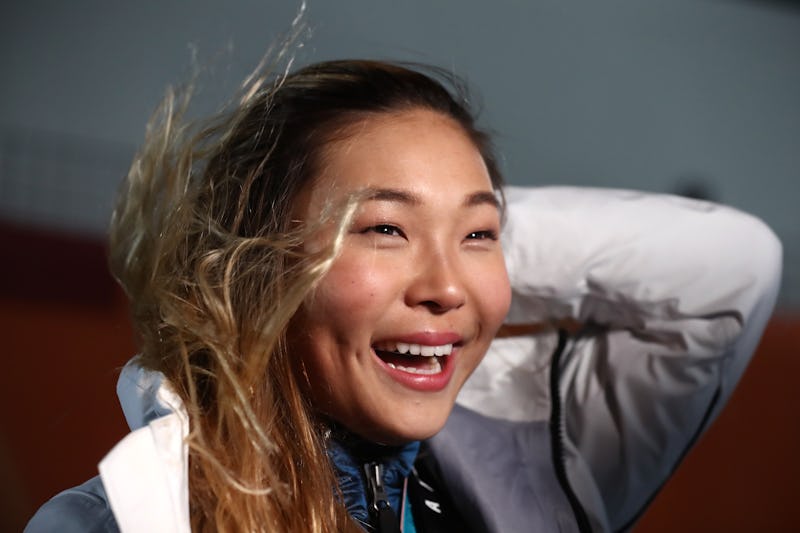 Alexander Hassenstein/Getty Images Sport/Getty Images
Chloe Kim is the queen of multitasking. The American snowboarder's Twitter has offered those back home an inside look at what it's like to compete in the Winter Olympics, and her hankering for ice cream made her feel truly relatable. But one tweet Kim posted during the halfpipe finals proves she's on another level when it comes to controlling her Olympic nerves.
"Wish I finished my breakfast sandwich but my stubborn self decided not to and now I'm getting hangry," the 17-year-old tweeted Tuesday morning (local time) in South Korea. Sure, that might sounds like a pretty average tweet coming from a teenager, but Kim posted it in the middle of her competition — a competition in which she won a gold medal. Kim finished the halfpipe event with an almost perfect score of 98.25, blowing everyone else out of the water. And while other snowboarders were attempting to outdo Kim in the finals, she was thinking about her half-eaten sandwich.
When reporters asked the teen why she was tweeting during the competition, she responded, "What else are you supposed to do?," according to ESPN's T.J. Quinn. It turns out, the Olympics are just like any other event: There's plenty of down time to idly scroll through social media. Or, perhaps, Kim wasn't too worried about her competition.
Kim's win made her the youngest female Olympic gold medalist in a snow event, according to CNN. "I'm definitely happy with how I was able to handle the pressure," she told reporters after the big win. "When you work for something for so long, and you go home with the best possible outcome, [it's] amazing." She previously told USA Today her snowboarding philosophy is all about having fun. "I do it because I love it," she said earlier this month. "I do it because I have fun, and everyone else can think whatever they want."
The 17-year-old had already earned the highest score before taking off on her final run, but she completed it any way and boosted her score by almost five points. It's safe to say she earned a victory meal, and when asked what she wanted to eat post-gold medal, she said a burger and fries, or a pizza. Kim's food-related comments have made her an Olympic fan favorite, beginning with a Feb. 11 tweet about using snacks to calm her nerves. "Oh and I also had 2 churros today and they were pretty bomb so if you ever get nervous go eat a churro," she said.
The following day, she posted that she "could be down for some ice cream rn," prompting someone to ask, "Aren't you competing right now?" In fact, she was tweeting about her sweet tooth in between her Olympic halfpipe qualifying runs.
On top of her snack cravings, Kim's Twitter also gives her fans a glimpse into her relationship with her dad. A Super Bowl ad the two filmed together portrayed him as an essential part of Kim's support system, depicting him quitting his engineering job when Kim was young to boost her snowboarding dreams. A photo she posted of the pair in December showed he also supports her occasional need for a good burger.
A love of food and drink seems to run in the family, as Kim's dad was photographed drinking a cold beer after watching his daughter snag an Olympic medal. They apparently don't to mind enjoying cold treats in the brutally cold temperatures PyeongChang has experienced during the 2018 Games.
The women's halfpipe competition was Kim's only 2018 Olympic event, so the world won't get to see any more of her snowboarding moves in PyeongChang. It's likely she'll keep up her social media presence, though, so follow her on Twitter or on Instagram if you want to keep up with her food-related musings.