The Winner Of 'The Voice' Season 12 Is...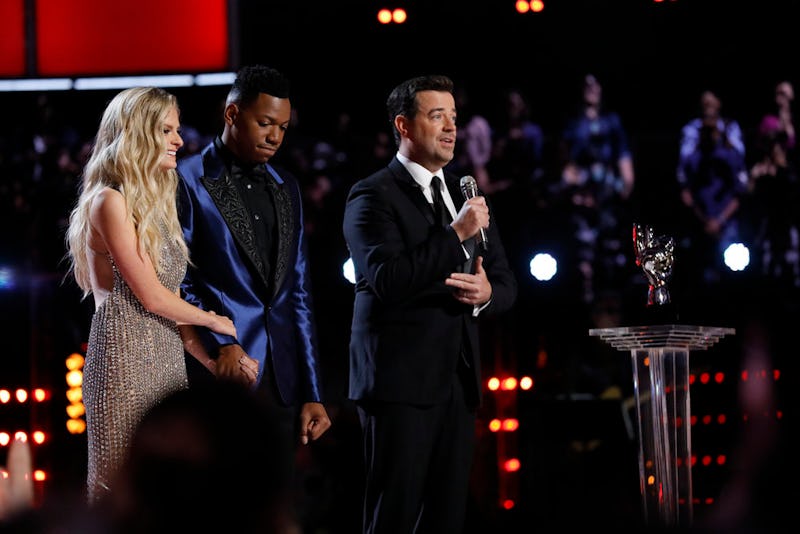 Trae Patton/NBC
It was a damn close race, but we finally know who won Season 12 of The Voice. "These are the closest results we've ever seen on this show," host Carson Daly told the audience. The official tally may not be known, but I can confidently tell you that Chris Blue won Season 12 of The Voice. This was a stunning and significant moment for the R&B singer, who staked a claim in Season 12 as one of the most tender, spiritually-inclined, and soulful singers in contention for the title.
After Daly announced his name, Blue appeared overcome with emotion. His family and Voice coach, Alicia Keys, hopped onto the stage to hug him and show him some love. There was plenty of cheering and congratulating, with Daly announcing that Blue would be singing his original single, "Money On You" as the show closed out. This was certainly a task for Blue, who quickly tried to get it together in order to properly perform.
Earlier in the season finale, Blue sang "Everybody Hurts" with Usher during a segment of the show dedicated to inspired collaborations between the Top 10 contestants and major recording artists. Before they sang this beautiful ballad, Daly told the audience that their performance was dedicated to anyone hurting right now, ostensibly in the wake of the Manchester attack on Monday evening.
For Blue, this win is absolutely a triumph and well-deserved. He has come such a long way on this show. Time and time again, has proven that he is worthy of being on that stage and that his vocal skills and vision as an artist deserve our attention.
His story began with his soulful performance of "Tracks Of My Tears," which earned him the final chair turn of the blind auditions round, courtesy of Keys. At the time, Keys happily announced that he was the last singer full stop to be admitted into Season 12 and that he would be on her team.
During this blind audition, he relayed his passionate story of his fiancée who was in remission from bone cancer while she stood by his side onstage. His mother has also come out to support him and she had been hugging him while the judges gave feedback. These two women popped up from time to time in Blue's interviews and confessionals as he reiterated how special they were to him and how his relationship to them guided him through this competition.
While Blue was always a consistent and great performer, there was a bit of a shift in how he presented himself to us when he sang "Take Me To The King" in the semifinals. That performance was, as Blue told audiences the following night during eliminations, a performance he hoped would show everyone what kind of a singer and person he was deep down. The song was meant indicate that he was a man deep in his faith but he was also passionate about pursuing his love of music; for Blue, those were the qualities he hoped would take him all the way to the finish line.
Blue also proved he was worth his salt during the entirety of Season 12. Carving out a niche in the line-up as a singer capable of whipping out some old-school techniques that fit neatly into the Motown and soul molds as well as bumping it up a notch to showcase his smooth knack for singing pop hits with ease, Blue has continued to surprise us time and time again.
This win is so well-deserved for Blue. Congrats!