Chris Harrison Has A Few Amusing Name Ideas For Arie & Lauren's 'Bachelor' Baby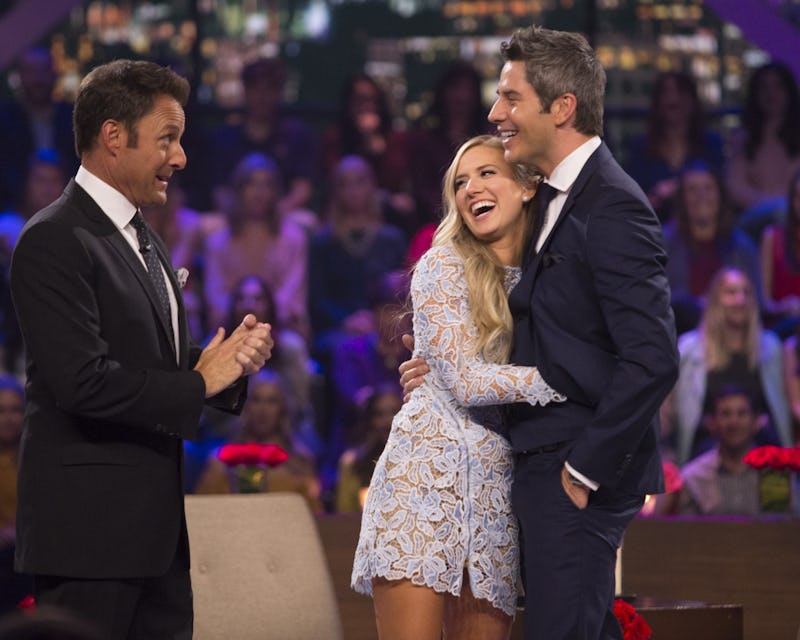 Paul Hebert/ABC
There's a Bachelor Nation baby on the way. Arie Luyendyk Jr. and Lauren Burnham are expecting their first child. Of course, host Chris Harrison shared some baby name suggestions for Arie and Lauren in an interview with Entertainment Tonight.
Chris joked, "I can't confirm this, but I heard the name is either Christina or Christopher." He clarified, "After me." Well, obviously, that was very strongly implied.
If the couple isn't feeling Christina or Christopher, the Bachelor host has another suggestion. He revealed, "I told them Harrison would be OK too." Just to be clear, Chris emphasized, "I'm making this up. This is not breaking news!" It should be, though. Why not name baby Luyendyk after the man who was there for the start of their love story?
Considering that Arie is named after his father, it would make sense to speculate that he and Lauren might name their child Arie Luyendyk III. But not so fast — that name is not on the list.
Arie and Lauren made that very clear during a recent appearance on The Ben and Ashley I Almost Famous Podcast. According to an article from Entertainment Tonight, Arie declared, "No Arie or Ariel or Aria. No plays off of Arie." The couple has not announced their baby's sex, so it makes sense they publicly ruled out any other forms of Arie's name for their offspring. The former Bachelor emphasized, "We wouldn't do that to the little one."
While the couple has ruled out at least three baby names, there are probably more variations of "Arie" that they are against as well. However, they don't know for sure which name they'll go with.
During the podcast, Lauren revealed that they actually turned to an app for some baby name suggestions. How 2018 of them, huh? She explained,
"It's kind of like Tinder for baby names. So it'll just pop up a name with your last name and you can swipe yes or no on it."
That's definitely a modern way to stay organized. Even so, this app has given them so many possibilities, they still don't know which name to choose, let alone if they decided to give their child a middle name as well. The mom-to-be confessed,
"I think I have, like, 600 no names on there. So I spend a lot of time looking at baby names because I just want to get it nailed down, but we're still not quite there yet."
She has 600 "no names," but how many "yes names" or "maybe names"?Arie revealed that they only have 20 possible "yes" choices. He shared, "She's stuck on a few, but we haven't really come to an agreement on it."
At least the future Mr. and Mrs. Luyendyk have some time to decide. In her Nov. 14 Instagram post, Lauren announced, "Our greatest adventure begins June 2019!"
Why flip through hundreds of names on an app when Christina Luyendyk, Christopher Luyendyk, and Harrison Luyendyk all roll off the tongue? Real talk, the host's suggestions may have been jokes, but they really do go with the baby's last name, don't they?