Warning: Chris Harrison's 'BiP' Comments May Cause Excessive Eye-Rolling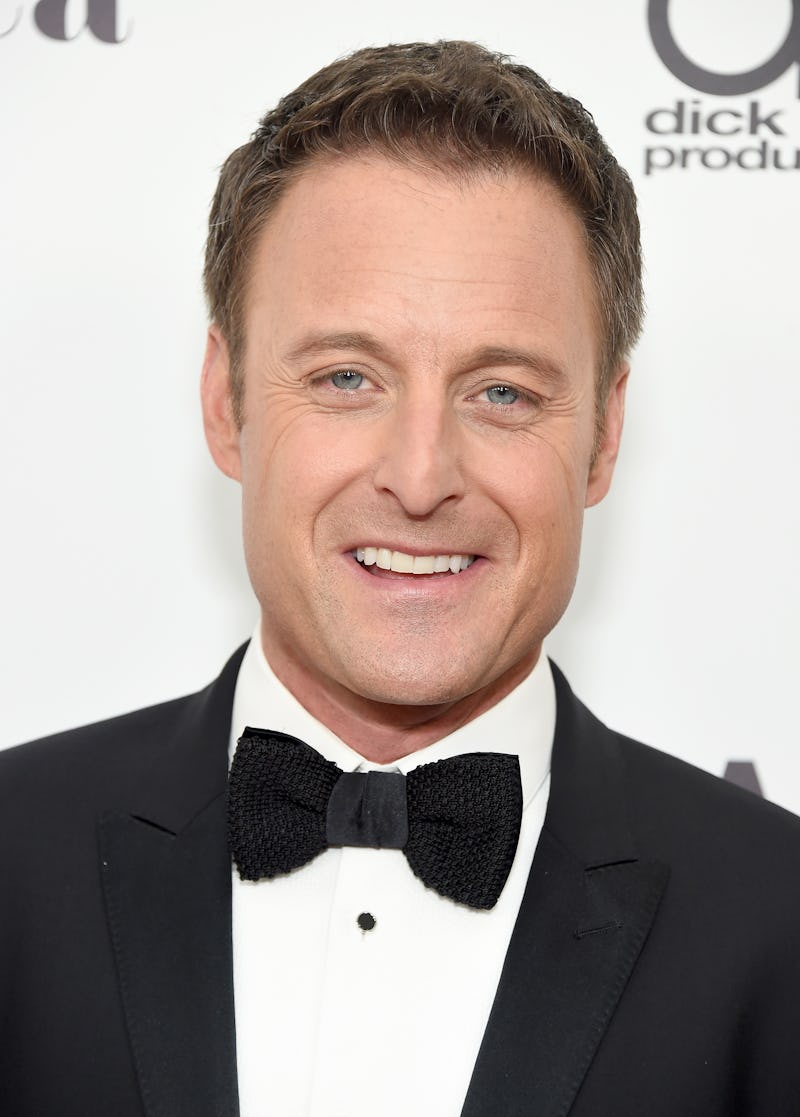 Michael Loccisano/Getty Images Entertainment/Getty Images
After all of the drama surrounding Bachelor in Paradise's Corinne Olympios and DeMario Jackson controversy, the trailer for the upcoming BiP season stirred up its own bout of dissension across the web. While fans debated whether or not the season promo handled the whole situation a little too lackadaisically, it seems as though #BachelorNation host Chris Harrison is insistent that there's nothing to be up in arms about. In fact, in a recent interview with The Hollywood Reporter, Harrison's BiP comments seem to really downplay the entire situation.
In the interview, Harrison said, "We've really learned from our mistakes, but there really weren't any major mistakes made." However, suspending production while legal teams conduct investigations of an alleged sexual assault — which garnered attention after a complaint was filed by not one, but two BiP producers — doesn't sound like anything to be taken lightly. Harrison brushing off the accounts as such is tremendously frustrating. Yes, Warner Bros.', and Olympios', investigations ultimately found no evidence of wrongdoing and that's a key fact. But instead of reminding everybody yet again that no mistakes were made, seizing this moment as an opportunity to talk about the importance of consent would've probably been a better use of Harrison's spotlight.
After the news about the alleged misconduct hit the web, many wondered what steps the production staff was prepared to make to ensure nothing like this would ever happen again. In the interview with THR, Harrison continued, "I think publicly everyone is going to want us to come out and say, 'We've changed everything!' and that it will be earth-shattering."
But, according to Harrison, there were a couple of improvements made behind the scenes, yet nothing major enough that would be translated on the small screen. Upon returning to the island once filming resumed, BiP cast member Amanda Stanton shared with Entertainment Tonight that a couple of the changes included implementing a two-drink-per-hour maximum, and having to ask the production staff for permission before having nightcaps with any one from the show. Both of which seem like fair asks, considering that heavy drinking between Olympios and Jackson reportedly played a role in sparking the misconduct claim.
Discussing the rules with the returning cast members and facilitating dialogue surrounding the incident was also part of Harrison's agenda. But at the end of the day, he doesn't think that much needed to happen behind the scenes to prevent further disturbances such as this from occurring. The host told THR,
"And as far as alcohol goes, that's never been a big thing for us. That's a big misconception of the show — that we push it, and that we need it and we want it. But that really doesn't help us. Someone being sloppy drunk and being out of it does not give us good television."
Harrison's dismissal of the extremely serious claims (whether intentional or not), paired with BiP's recent trailer, just prove that the real lesson in all of this has yet to be received. And as infuriating as the entire scenario is, fans will just have to wait until the show premieres to make sense of the nonchalant responses.