Chris Pratt & Anna Faris' Divorce Settlement Totally Prioritizes Their Son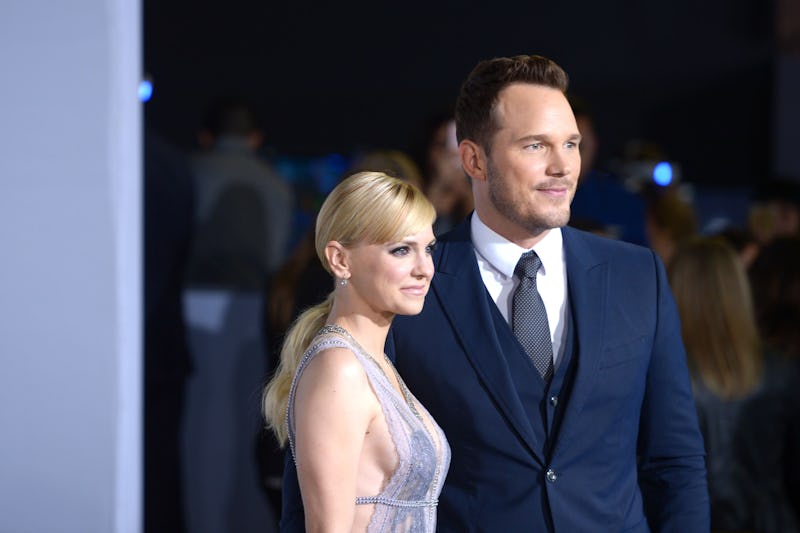 Matt Winkelmeyer/Getty Images Entertainment/Getty Images
Well, friends, there's good news and bad news. Let's start with the bad news: The bad news is that there's officially, *officially* no hope for a reconciliation. The good news, however, is that Chris Pratt and Anna Faris' divorcement settlement is incredibly amicable, according to court documents obtained by People. Actually, it's beyond amicable. The terms of their settlement are super unique for a few different reasons, but it's clear that their primary focus is their 6-year-old son Jack.
Pratt and Faris' marriage was dissolved by a private judge on Nov. 7, People reported. As per the official documents, neither Pratt nor Faris requested spousal support, and they both deemed child support payments unnecessary as well.
Furthermore, the former couple has agreed to share joint legal and physical custody of their son. Not only that, but they'll be working out a "flexible timeshare," People noted yesterday, they've decided not to live more than five miles apart from each other until he finishes the sixth grade, and taking Jack on a trip out of the country will require a written, 30-day notice.
That is like, a seriously impressive commitment to co-parenting. Especially the living situation, right? If they're not only willing — but also, legally requiring — to live within a five-mile radius of each other, then it sounds like they're not at all worried about awkward run-ins at the grocery store or whatever.
Pratt and Faris announced their plans to legally separate on Aug. 6, 2017. They both posted a joint statement on their respective social media accounts that read:
"We are sad to announce we are legally separating. We tried hard for a long time, and we're really disappointed. Our son has two parents who love him very much and for his sake we want to keep this situation as private as possible moving forward. We still love each other and will always cherish our time together."
TMZ reported that the pair filed for divorce a few months later, during which time they cited "irreconcilable differences" as the reason for their split. Even though they'd continue to take steps towards the dissolution of their marriage, they always maintained an united, friendly front.
Faris made her first public, post-split announcement appearance at the Prime Time Emmy Awards in September 2017, where she and her Mom costar Allison Janney presented an award together. Pratt didn't attend that year, but when TMZ caught up with him after the show, he had nothing but nice things to say.
"I know she did great," Pratt told TMZ of his ex. "Anna did an amazing job. She rules. Her and Allison, they both looked great."
Pratt and Faris have also been spotted hanging out together with Jack on several occasions, further proving their commitment to co-parenting. There's no doubt that "divorce sucks," as Pratt told Entertainment Weekly back in April, but — based on the details of their divorce settlement, combined with their post-split actions and words — they've clearly found a way to get through it, stay friends, and prioritize their son's best interests over all.