Chrissy Teigen Is John Legend's Biggest Supporter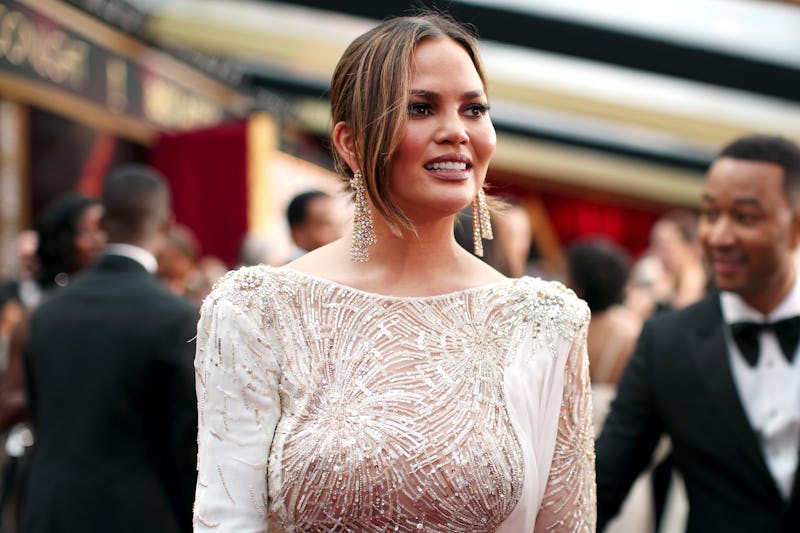 Christopher Polk/Getty Images
Considering she's become the queen of memes with her reaction faces, fans are likely wondering: Is Chrissy Teigen at the 2017 Oscars? As soon as it was announced that her husband John Legend would be performing songs from La La Land at the ceremony, it was practically guaranteed she would be by his side — or at least fans like me sure hoped so. And this wish came true when Teigen and Legend arrived together on the red carpet on Sunday, looking all kinds of fabulous. (Don't worry, no green fingers this time.)
Leading up to the Academy Awards, Teigen dished some Oscar insight on her Twitter page, including what a lengthy process getting ready really is. According to the model, she planned to start hair and makeup at 8:30 a.m. — well before the actual ceremony. That's because, as Teigen wrote, there are a lot of clients, and they rely on touch-ups later. She also tweeted a photo of Jimmy Kimmel with the Oscars' seating chart, revealing Alicia Vikander would be seated right in front of her. Naturally, Teigen offered to give the star a back rub, like the kind soul she is.
Whether or not a back rub happens, TBD. But at least it's likely that Teigen will help keep the award show amusing. I'm already anticipating the camera panning to her when Legend performs. But while I wait to see what actually happens during the Oscars, I'll be busy admiring the couple's picture-perfect red carpet photos.
And this candid is absolutely adorable:
She also already awarded a very important Oscar to the best baby... Luna, of course.
While she's already stealing the show, I'm crossing my fingers for another signature Teigen face at some point in the night.
But honestly, none will ever top the one above.