Chrissy Teigen's Latest Comments Show Her Exact Thoughts About Having More Kids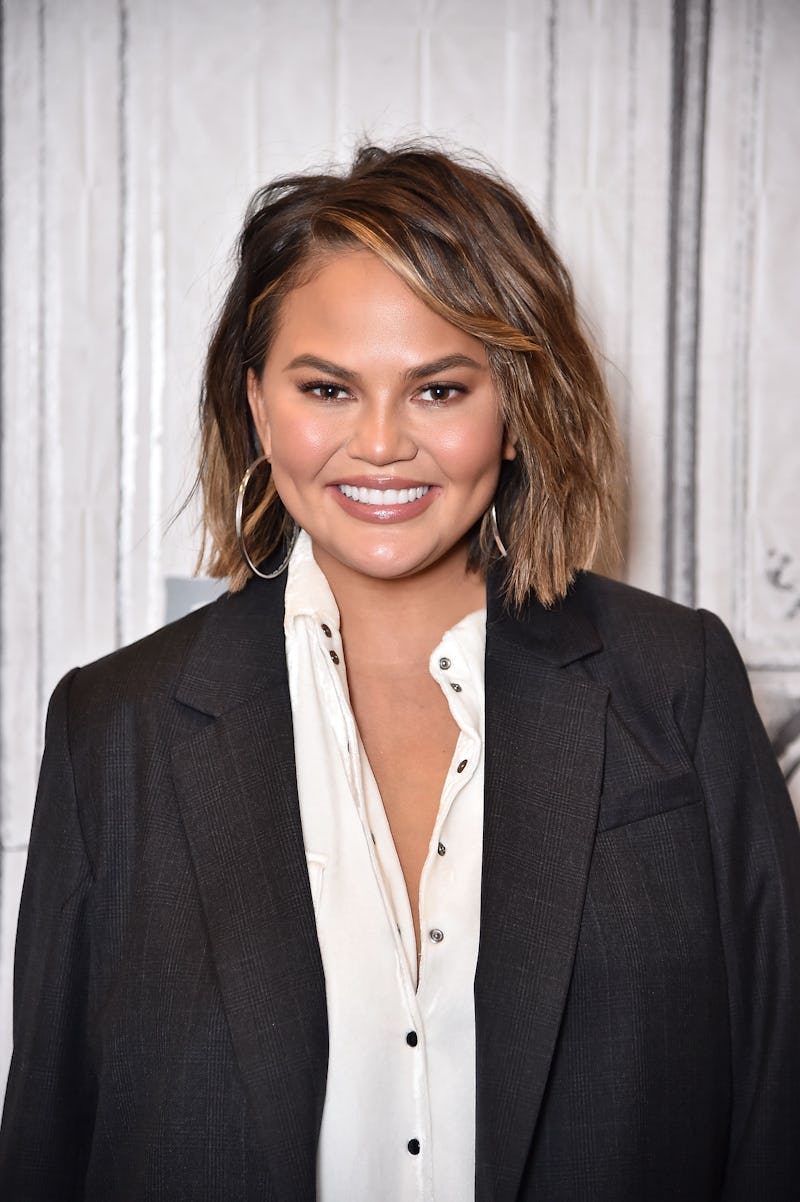 Theo Wargo/Getty Images Entertainment/Getty Images
Even though Chrissy Teigen just gave birth to her second child four months ago, her fans are eagerly asking about the possibility of baby number three. Chrissy Teigen admitted that she's open to having more kids with husband John Legend in a Sept. 26 interview with People. She's just not ready to take that on right this minute.
This is perfectly understandable, since her daughter Luna is 2 years old and her son Miles is just 4 months old. They just became a family of four. They have plenty of time to think before becoming a family of five or six or seven — or whatever number of kids they desire to have.
As per usual, Teigen was very candid during her People interview about her family plans. She admitted,
"Are we ready right now? No! I really love having two, but I think when I'm 70, I'll look back and say, 'Oh, I wish I had more.' I can't see myself regretting having a ton of kids."
She did not specify how many kids she means by a "ton," but whenever she and Legend figure out their plans, she's bound to share the news with her very loyal supporters and followers.
Teigen and Legend conceived their two children using in vitro fertilization, which is most likely how they would have their future children as well. Even so, in that same People interview, Teigen could not help admitting, "it'd be awesome" if she was able to conceive naturally in the future. She confessed,
"I can't even fathom it because it's never happened to me. I'm totally fine with it not happening because I've been in a position where we've been able to control it — the timing and scheduling. It would be chaos otherwise — but I love chaos too."
And so do her fans and every other person who keeps asking for baby number three, as if they're a part of the Legend (Stephens) family.
The cookbook author revealed she and her husband are on the same page when it comes to the possibility of expanding their family. She shared, "John wants however many kids I want. That's the good thing with John — he is down for it."
During an August appearance on the radio show Big Boy's Neighborhood, Legend was asked about having more kids. The Grammy winner shared, "I think so, we'd like to. We can do three."
Before Miles was even born, a then-pregnant Teigen discussed having baby number three during an interview with Us Weekly. She joked, "I think I do want to have another baby after this and then get hot." The model said,
"I just want to go babies, back to back to back, but then I think maybe I want to have my 30s, really live in my 30s and not just be pregnant throughout them."
Considering that Miles is so young, there really shouldn't be a need to rush to have baby number three, but clearly the couple is being asked about this a lot. They have been very open with their fans. When and if baby number three is on the way, they will let people know whenever they are comfortable.