Chrissy Teigen's Tweets About #WomenBoycottTwitter Will Infuriate You & Inspire You At The Same TIme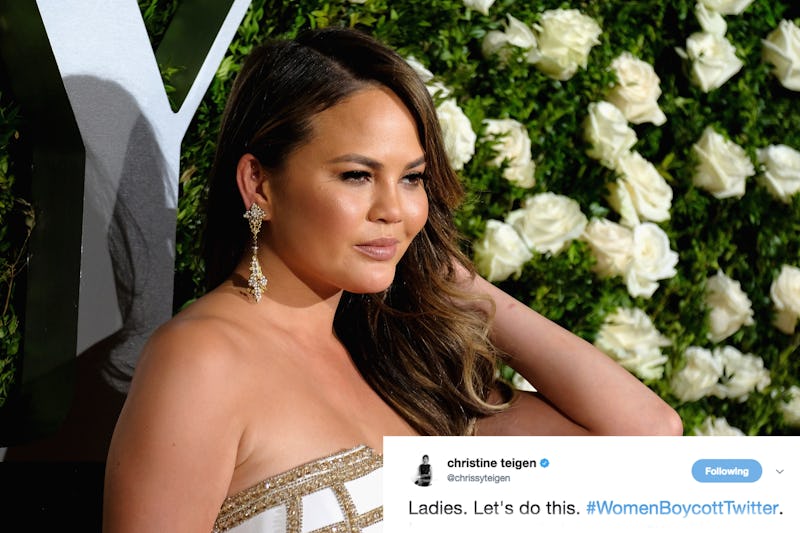 Getty Images
After Twitter temporarily suspended Rose McGowan's account for initially unknown reasons, the social media company unintentionally created a crusade. The "Women Boycott Twitter" movement was born, and one of the most notable participants of this Oct. 13 boycott is Chrissy Teigen. One of the reasons that the model is so beloved is due to her outspoken nature on social media, but Teigen explained why she is boycotting Twitter in a series of tweets on the eve of the event. Even though she didn't directly name McGowan, she showed that, by avoiding Twitter for a day, she stands in solidarity with victims of sexual assault.
Update: In a statement to Bustle, a Twitter representative said,
Twitter is proud to empower and support the voices on our platform, especially those that speak truth to power. We stand with the brave women and men who use Twitter to share their stories, and will work hard every day to improve our processes to protect those voices.
Earlier: Since the news broke that Twitter locked McGowan out of her account on Oct. 12, many people have pledged to support the Charmed actor by doing #WomenBoycottTwitter. For people who don't use the social media site infrequently or at all, this lack of action may seem like a small matter. But it's meant to be a symbolic day-long protest of the company for — as many users have noted — blocking a woman like McGowan, who was using the platform to speak out against sexual assault, while not blocking a man like President Donald Trump, who has been interpreted as using the platform to threaten nuclear war.
Twitter's official statement about McGowan's account being temporarily locked revealed that it was because she shared a private phone number in a tweet, which violates its Terms of Service. But that explanation wasn't good enough for many Twitter users — including McGowan.
McGowan is back on Twitter now, but her suspension still led to #WomenBoycottTwitter. Other celebrities beyond Teigen have noted that they will not be tweeting on Friday the 13th, but Teigen's strong social media and explanation about why she's participating makes her absence from Twitter particularly notable. She is doing the boycott because she wants Twitter to be better, as she noted when she wrote, "Ladies. Let's do this. #WomenBoycottTwitter. Not because of hate but because I love this platform and know it can be better" at 11:19 p.m. ET on Oct. 12.
She also gave her reasoning behind why she's boycotting in two tweets, saying it's "to stand with the victims of sexual assault, online threats and abuse. And to boycott the fact our demented, p*ssy grabbing president can tweet nuclear threats of war I can't even see." In her tweet about the president, Teigen is referring to the fact that Trump blocked her on Twitter in July 2017, so she is unable to read what he writes anymore.
Teigen also noted that her boycott may last more than day — and perhaps forever.
But although the #WomenBoycottTwitter movement has received a lot of support, there has also been criticism because some believe that the protest encourages women to be silent. But Teigen explained her viewpoint on that when she wrote, "These sites only work and are only able to make money when we use it. I will never be silent. I'll be elsewhere."
That elsewhere may be Instagram, where she has over 14 million followers versus her nearly 8 million on Twitter.
Unsurprisingly, Teigen's #WomenBoycottTwitter tweets sparked misogynistic comments about her, which instantly proved her point that Twitter has a problem with how it monitors "online threats and abuse," since she was called a b*tch multiple times.
To keep herself in check, the last tweet Teigen shared on Oct. 12 was a photo of her turning off her push notifications so that she would not be prompted to open the Twitter app.
As previously mentioned, Teigen didn't refer to McGowan in her series of tweets, but McGowan is the one who inspired this women-led boycott. And while it's easy to feel disheartened about the way women are treated in the world by Hollywood producers, the American president, and a leading social media site, this silence on Twitter is one way that women like Teigen feel that their voices can be heard.