Chrissy Teigen Supports Kim K's Clapback To Lamar Odom In The Chrissy-est Way Possible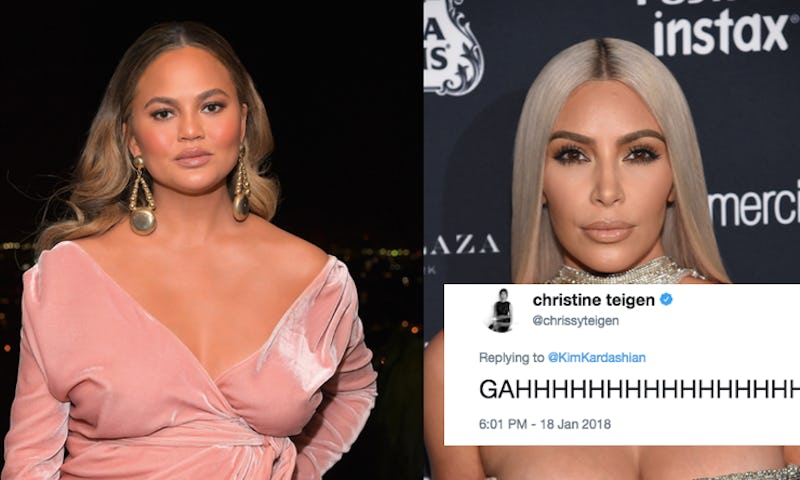 Charley Gallay/Getty Images Entertainment/Getty Images; Dimitrios Kambouris/Getty Images Entertainment/Getty Images; Chrissy Teigen/Twitter
If there's one thing you know about Chrissy Teigen, it's that she's always going to keep it real, and in this particular case, support her friends in that act as well. With that said, Teigen responded to Kim Kardashian's clapback at Lamar Odom, and basically, she said what the rest of the internet is thinking.
The whole situation began when a clip of Odom's upcoming appearance on BET's Mancave — via Us Weekly — showed the basketball star talking about his past relationship with Kim's sister, Khloé Kardashian. When discussing how Odom knew their relationship was over, he said, "I understand when it's over, it's over. When she was with her second or third NBA ball player, I could see that." It's been reported that Odom went on to praise Khloé throughout the duration of the interview, but this particular dig didn't sit well with Kim.
The wife and mother of three took to Twitter to let the world know just how she felt about Odom's comment, retweeting the clip and writing: "Or second or third brothel." Kim's response referenced Odom's reported infidelity within his and her sister's marriage, highlighting how cheating marked the end of their relationship and had little, if anything, to do with her sister's dating history post-Odom.
And Teigen, being the kind of friend that she is, couldn't help but interject with her own cosign on Twitter.
However, according to Teigen, her excitement got the best of her in the moment. As a result, her enthusiastic response to Kim's clapback resulted in a bit of a typo. But don't worry, her follow-up tweet helped her win over the internet yet again.
Kim's clapback was obviously in defense of her family, but it goes without saying that it doesn't wipe away the seriousness of Odom's 2015 brothel incident, in which he almost lost his life. The basketball player was found unconscious that October in a Nevada brothel, and the event resulted in Odom being hospitalized for three months following. According to TMZ, a blood test showed that Odom reportedly had cocaine in his system, and it was a setback on his road to recovering from a substance abuse issue.
Odom's Mancave appearance, however, was a total 180 from previous comments he'd given about what ultimately led to his and Khloé's divorce. While speaking with Us Weekly in a March 2017 interview, Odom said, "If there is one thing I regret when I was married, it was having multiple affairs with different women." And when it came to him working on getting sober, Odom added at the time, "I wasn't trying to repair my marriage; I was just trying to get high. My life was all about drugs at that point."
Fans who followed the Odoms' story on Keeping Up With the Kardashians know that the entire situation was taxing on the couple, as well as the rest of the family. So, seeing Odom respond coldly to Khloé in the Mancave clip caused a lot of confusion on the internet, which adds even more context to Kim's and Teigen's reactions. And let's just say, fans totally agree with their stance on the issue.
This isn't the first time Teigen has supported her friend on the internet. The supermodel came to Kim's defense when folks tried to make light of her 2016 Paris robbery. The supermodel was über supportive of Kim when the news first broke about the scary moment, and once learning more about the incident, Teigen said, "She's so sweet and open and honest, and you just don't think that something like that could happen to you."
With her latest instance of standing up for Kim, Teigen has proven once again that she refuses to sit idly by in situations involving friends. And seriously, she totally deserves some kind of award for her never-ending contributions to the internet.