Chrissy Teigen Compared Luna Getting A Sibling To Something EVERY Bravo Fan Has Experienced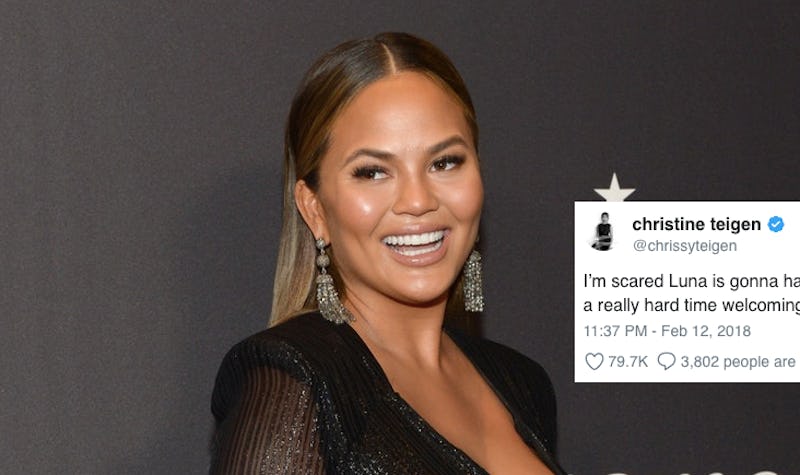 Tara Ziemba/Getty Images Entertainment/Getty Images
Parenthood comes with all kinds of trials and tribulations. When it comes to Chrissy Teigen, she worries Luna will hate her baby brother after he arrives. That's a legitimate concern, because when you welcome a new family member it's definitely a major adjustment for everyone, including a firstborn child who's been used to not having a sibling or competing for attention. It's a fear that seems to have been on Teigen's mind and so much so that she tweeted about it. Of course, the Cravings author also managed to relate her worry to an issue most every Bravo fan has experienced.
"I'm scared Luna is gonna hate her baby brother because I have a really hard time welcoming new bravo cast members," the model tweeted Monday. Leave it to Teigen to not only make her concern relatable, but to insert humor and incorporate her love of Bravo. For those who don't know, she is a superfan. Now, it's hard to say for certain if Teigen really is scared that Luna will hate her brother and is using Bravo humor to discuss it or if she's making a joke. Either way, she totally has a point.
Every time a new season of a Bravo reality series premieres and features a new cast member, it's hard to fully welcome them. It usually takes awhile to get used to a new Bravolebrity and it can be a major adjustment for fans. Also, there's always the chance viewers aren't going to like the newest cast member, which could result in a horrible season for that viewer. It's not always a good thing when someone new pops up on Bravo.
For example, when Peggy Sulahian joined Real Housewives of Orange County in Season 12. She wasn't the best addition and made an already terrible season even worse. It was hard for fans to even get through the original Housewives series. Fans were even rejoicing after it came to an end. However, sometimes someone new becomes a Housewife and it's the best thing the series could've ever done — i.e. Erika Jayne. When she joined the Real Housewives of Beverly Hills in Season 6, Erika made clear she was the perfect addition pretty much right away.
Then, there are individuals who have to prove themselves. It sometimes takes a little longer to get used to them, like Vanderpump Rules' James Kennedy. He showed right off the bat that he's not the greatest person and it was like, "Do viewers really need another person to hate on this show?" But, after a lengthy adjustment period, DJ James Kennedy proved he was right where he belonged — and served up some noteworthy drama. That doesn't mean he's beloved or a fan-favorite, but he absolutely deserves to be on Pump Rules for entertainment purposes.
Anyone new who joins a Bravo series really is kind of like Teigen and John Legend giving Luna a baby brother. They're adding this person to their family and they're not quite sure how Luna is going to react. There's a chance she'll need some time to adjust and assess the situation, like Bravo fans, to determine if she really likes her baby brother or not.
Teigen and Legend will probably do their absolute best to ensure Luna and her brother get along. Plus, Luna is only one (she turns two in April), so it's totally different for a child to meet someone new compared to an adult, but the situations are also similar in the sense that there is always an adjustment period and you have to figure out if you're going to get along or not. Who knew Bravo could be so relatable when it comes to expanding a family? Of course, Teigen was the one to point it out.