Chrissy Teigen's Tweets About Trump's Fake Awards Show Will Make You Wish It Was Real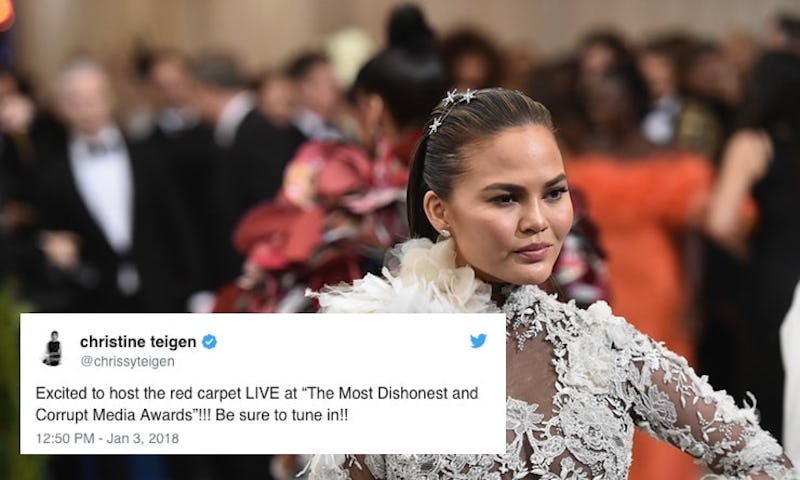 Mike Coppola/Getty Images Entertainment/Getty Images; Chrissy Teigen/Twitter
No one would blame you for thinking President Donald Trump's tweet about the "The Most Dishonest & Corrupt Media Awards Of The Year" was a joke. Though, at this point, it seems like it actually isn't, since his Jan. 2 tweet teased, "Monday at 5:00 o'clock" for the awards. But Chrissy Teigen's tweet about The Most Dishonest & Corrupt Media Awards is most definitely a joke. In fact, it's one that may actually make you wish it was a real awards show. On Wednesday, Jan. 3, she tweeted,
"Excited to host the red carpet LIVE at 'The Most Dishonest and Corrupt Media Awards' !!! Be sure to tune in!!"
Her closing line was clearly a dig at Trump's own tweet, which ends with the ominous "stay tuned" after he declares that the award show's categories "will cover Dishonesty & Bad Reporting in various categories from the Fake News Media." Given the president's previous criticism, there are probably some journalists, especially from the "failing" New York Times and the "dishonest" Washington Post, that are already working on their faux acceptance speeches.
Teigen's announcement might be fake, but fans were more than happy to play along. Some even went as far as to offer some suggestions for the pre-show to the not-so-prestigious awards, including what Teigen should wear. A clear sign that fans were taking this joke very seriously.
Of course, their suggestions included a few meme-worthy getups, including something from Steve Harvey's closet. "Please borrow Steve Harvey's New Year's Eve wardrobe," one fan tweeted. While another couldn't help but share a photo of Harvey's "legendary robe," which was a very white wrap jacket to keep him warm in that New York City cold.
Someone else suggested she take a fashion tip from Kellyanne Conway and her Inauguration outfit — a red, white, and blue Gucci jacket. "I recommend that jaunty little toy-soldier number that @KellyannePolls wore to the Inauguration," the fan suggested, tweeting a photo of Conway next to a nutcracker that appears to be wearing a very similar outfit.
No surprise, Teigen had some thoughts of her own on what she could wear. "I'm honored to be wearing Jean Paul Galliano couture for CNN!" she tweeted, only to realize that wasn't actually a designer. "lol I totally merged two designers whoops u right," she tweeted minutes later.
Those designers were Jean Paul Gaultier, who designed Madonna's legendary cone bra, and John Galliano, who designed Nicole Kidman's famous chartreuse silk gown for the 1997 Oscars. Even knowing this, Teigen kept with the joke tweeting, "I prefer the little known jean-paul galliano."
After all, what would be better than wearing a fake designer to a fake awards show?
Of course, it would be unlikely that Teigen would really get an invitation to this show, if it does indeed exist. In July, Trump apparently blocked Teigen on Twitter because, as she claims, she tweeted that no one liked him. Specifically she wrote, "Lolllllll no one likes you."
To be honest, that block was a long time coming since Teigen has gone after Trump time and time again. Even she admitted she wasn't surprised he blocked her, but that he blocked her for this. "After 9 years of hating Donald J Trump," she tweeted, "telling him 'lol no one likes you' was the straw."
Now, she's having a little fun going after Trump again. While Teigen and her followers got a good laugh, there was one fan who wondered if something good could actually come out of this. Twitter user @welcometonezone tweeted a suggestion:
"what if you turned it into a real live carpet event where you highlight all the failings of Trump and the GOP for 2017, and then put up hotlines/web links for people to donate to real causes at the end?"
No word yet if Teigen will actually run with this idea. But what Trump and Teigen's tweets make clear is that 2018 is probably going to be as bananas as 2017. And there's nothing fake about that news.