Chrissy Teigen Just Won The Internet With This Video From Trump's Fake News Awards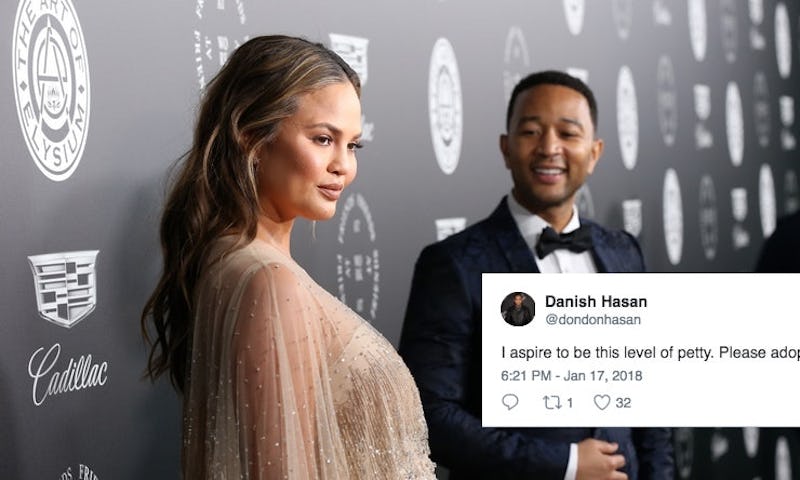 Phillip Faraone/Getty Images Entertainment/Getty Images; dondonhasan/Twitter
At this point, most people know they can depend on Chrissy Teigen to deliver the most hilarious and real tweets about today's news. And on Wednesday, Teigen's video from Trump's "Fake News Awards" was no different. In case you're a bit late to the party, the model has had quite the time indulging in Trump's fantasy of having "the most dishonest & corrupt media awards of the year." And though Trump followed through with posting a list of Fake News Awards winners on Wednesday night, there hasn't been a legitimate ceremony — a fact that Teigen has hilariously mocked.
At the beginning of January, the president tweeted about wanting to celebrate the "fake news media" for their dishonesty and bad reporting throughout his term, and as you probably already guessed, the tweet didn't go over too well with his critics. Teigen, who was just blocked by Trump in July 2017 after trolling him over the past nine years, didn't hesitate when it came to joining in on the fun. And on Jan. 3, responded to Trump's ridiculous tweet with an announcement of her own — telling fans that she was excited to be hosting the red carpet for Trump's, hopefully fake, event.
Teigen's response led to a flood of hilarious tweets from fans, suggesting which designers the model should sport, and even a few note-worthy topics she should cover while on the red carpet — like the various failures of the Trump administration and the GOP over the past year. Teigen's latest video referencing Trump's pseudo-event shows the model sitting next to empty nominee seats. And yes, in Teigen's world, that totally includes CNN and MSNBC.
The Jan. 17 video garnered a slew of other hilarious responses as well — so much so, that you'd totally hope it were an actual thing after reading.
Teigen totally won the internet with this video, but this isn't the only time she's earned praise for being social media's saving grace. The wife and mom has done everything from putting Trump in his place multiple times (and being blocked for doing so) to even defending those who weren't in safe positions to speak out about important issues. Most recently, Teigen took to Twitter to comment on the former USA Gymnastics team doctor Larry Nassar, who was sentenced to 60 years in prison for alleged sexual misconduct, and she encouraged women to come forward with impact statements against him.
Being the social activism champ that she is, Teigen offered support to former Olympian McKayla Maroney, in the form of paying for her potential $100K fine if she were to speak out about Nassar's alleged abuse. The athlete settled a lawsuit against the USA Gymnastic's team in 2016, and as a result is reportedly unable to comment on Nassar publicly. Upon catching wind of what could potentially be keeping Maroney from making her own statement against Nassar, Teigen crafted the most perfect response.
Teigen's generous offer set off a chain reaction with other celebrities, and before long, actor Kristen Bell, and famed television producer Michael Schur, aka Ken Tremendous, offered to split the potential fine in thirds with Teigen. After the conversation spread, the USA Gymnastics team announced they would not seek payment if Maroney did speak out, according to ESPN.
Encouraging others to speak up against wrong and to stand up for what they believe in is Teigen's M.O., and seriously, can you even begin to imagine what life would be like if we had more of her? With all of the misfortunes taking over the media right now, having multiple Teigens running around would be just the thing to continue to lift all of our spirits.
Hopefully, the entertainer's latest response to Trump's awards show isn't her last. Even if a legitimate ceremony never happens, Teigen's tweets about it are the next best thing — if not, even better.