Chrissy Teigen Commented On Logan Paul's Awful New Video — & No, She's Not Defending Him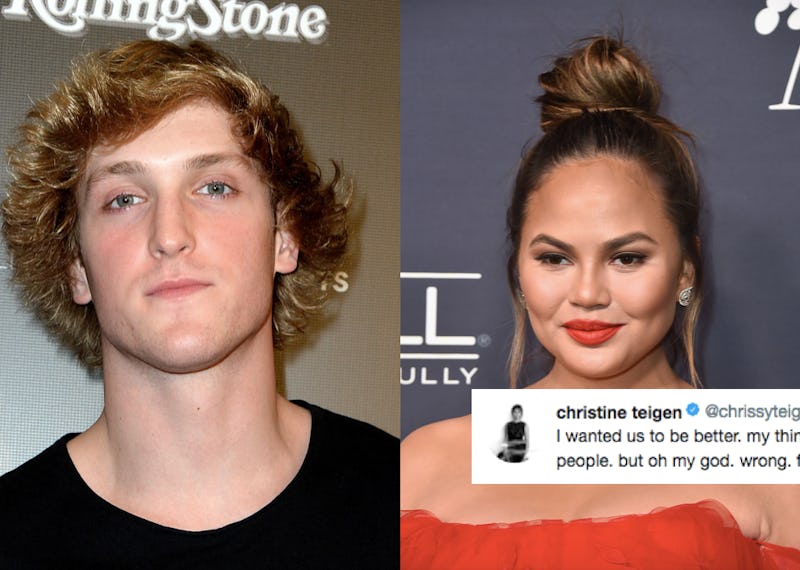 Gustavo Caballero/Getty Images Entertainment/Getty Images; Frazer Harrison/Getty Images Entertainment/Getty Images; Chrissy Teigen/Twitter
In general, trying not to judge someone based on a single action tends to be a decent way to approach life. However, there are always exceptions, as Chrissy Teigen's comments on Logan Paul's latest video prove. Teigen came under fire on Tuesday, Jan. 2 for tweets that suggested Paul's career shouldn't be ended because he posted a video of what appeared to be a dead body in Aokigahara forest (a place known as Japan's suicide forest). At the time, Teigen made it clear that she wasn't defending Paul's actions, but rather raising a larger moral question about whether or not a mistake should end someone's career. Teigen also suggested that as a celebrity, she's experienced being on the other side of internet mob mentality as people have tried to end her career in the past.
However, in light of Paul's latest highly disrespectful video featuring footage of him making light of Japanese culture and generally being offensive for shock value, Teigen has clarified her initial comments. The 32-year-old model has made it clear that she is not interested in defending someone like Paul, and that she was mistaken in thinking that he had made a single error in judgment.
Paul is a YouTuber who has largely built his career around bad behavior and attempting to shock or disgust viewers with his stunts. To make matters worse, his core audience consists of young people who may not fully understand why his actions are so wrong. Paul has since removed the video from YouTube, and issued an apology stating that he "does not expect to be forgiven." (Here's an article with resources if you find Paul's initial video triggering.)
In a series of tweets on Friday, Teigen made it clear that she regrets ever trying to build a conversation around the vlogger's deplorable actions.
For Teigen's part, it seems her goal was never to defend Paul. At the time, she even tweeted, "I'm not concerned about his personal well being at all. I think this is a longer conversation about...and I hate this phrasing but...us as a society." But as the Cravings cookbook author has now made clear, she chose the wrong person to build her argument around.
In theory, Teigen was right that far too often the internet can succumb to a kind of hive mind reaction when someone does something that is morally wrong, but not illegal. However, in the case of Paul, the issue runs much deeper. Not only was his decision to post the video in the first place a terrible one, but Paul also has a history of problematic behavior, as the footage below from the rest of his trip to Japan illustrates.
After seeing more of Paul's exploits, Teigen quickly acknowledged that she chose the wrong person to use in her example. Furthermore, Teigen offered an apology for suggesting that Paul's career shouldn't be impacted because of the insensitive video that he posted. Teigen tweeted,
"I wanted us to be better. my thinking was around us trying to be kind, forgiving people. but oh my god. wrong. f*cking. hill."
Clearly Paul wasn't the right celebrity to build an argument around forgiving people for making bad decisions. However, Teigen's mea culpa is an example of a person owning their mistake, sincerely apologizing, and seeming to have learned from their actions. While some Twitter users were calling for Teigen "to be canceled" along with Paul after her initial series of tweets, the model is someone who does deserve to be forgiven for making an error in judgment.
Teigen's only mistake was in trying to promote kindness over reactionary behavior at an inopportune moment, but Paul's misdeeds go far deeper.
If you or someone you know are experiencing suicidal thoughts, call 911, or call the National Suicide Prevention Hotline at 1-800-273-8255.