Chrissy Teigen Just Shared The Absolute Cutest Video Of Luna Helping Miles With His Bottle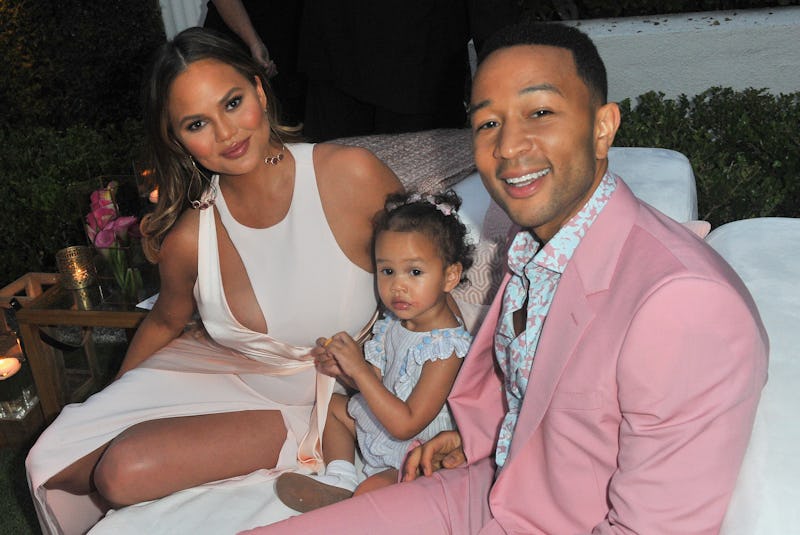 Jerod Harris/Getty Images Entertainment/Getty Images
Warning: an overload of cuteness is ahead. On Instagram on Tuesday, Chrissy Teigen posted a video of Luna helping feed Miles, and it's the sweetest thing you will watch all day. The way Luna comes to her baby brother's aid and makes sure he drinks his milk shows not only does Luna take her big sister duties seriously, but that she cares about Miles a great deal. Yeah, she's the best big sister ever.
As you can watch below, the siblings are sitting on the couch. Well, Miles is more propped up as Luna holds up the bottle to his mouth. While adorably staring at his sister, Luna feeds her brother. Then, she wants him to give it a try all on his own. Luna let's go of the bottle, but seeing as Miles is only six months old, he drops it. But, don't worry, Luna to the rescue!
She immediately grabs his hands and then repeatedly tells him, and in the sweetest voice ever, "Hold it with two hands, Miles." Not too long after this, the video ends.
A description doesn't do Luna and Miles' interaction justice. She's so gentle and calm with him in this moment, which speaks to how Teigen and John Legend have raised their kids.
Ever since Miles' birth in May, Teigen and Legend have shared the cutest photos of Luna with her brother. It seems like they bonded pretty much from the beginning, even though Teigen at first worried Luna wouldn't like her brother.
In February, the Cravings: Hungry For More author tweeted,
"I'm scared Luna is gonna hate her baby brother because I have a really hard time welcoming new bravo cast members."
Well, it sure looks like they get along just fine, which is probably a huge relief for Teigen.
Legend also previously opened up to People about how Luna was adjusting to Miles. In May, the A Legendary Christmas singer told the magazine,
"[Luna's] used to having us to herself. I think she's just starting to realize though that he might be competition. So in some ways it's good because she's stepping her game up. She's being more loving, she's singing louder, and dancing harder. She's making sure we don't stop paying attention to her."
Well, everyone's definitely paying attention to her feeding Miles, that's for sure.
After Miles was born, the singer spoke with Access about how he and Teigen love watching Luna and Miles spend time with each other. "We love having two kids," he said. "It feels more like a family. It's really exciting to see them interact with each other and for us, as a couple, to take care of two kids, it's very exciting."
As Luna and Miles' parents, it has to make Legend and Teigen feel great to see the two play with each other the way do. Plus, when Luna sweetly tries to feed Miles his bottle and then her baby brother stares back her with so much love, well, they have to be overjoyed to have such loving children. When the time comes, let's hope they share videos of Luna feeding Miles solid food, because you know you want your heart to melt even more than it already has.