Even Mr. Robot Loves Him Some 'Bachelor'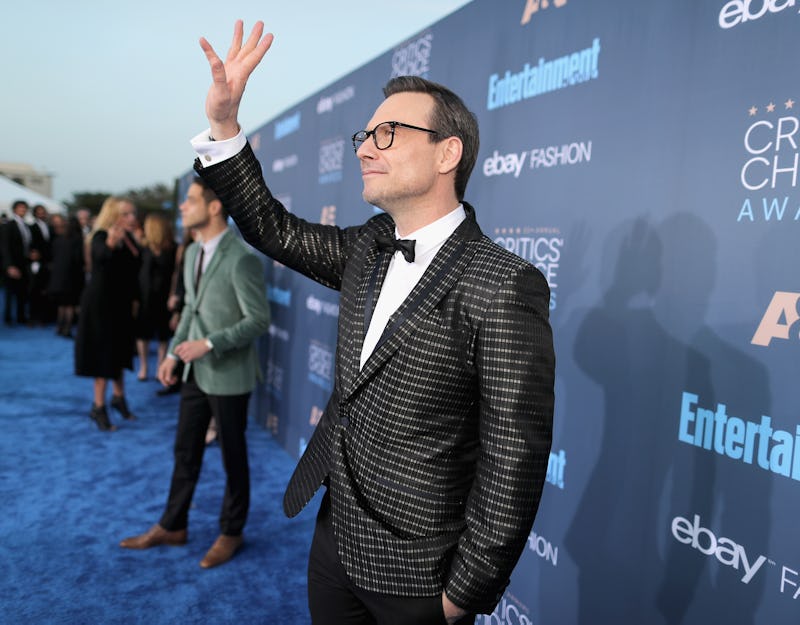 Christopher Polk/Getty Images Entertainment/Getty Images
Mr. Robots: they're just like us. On Tuesday's episode of morning chat show LIVE with Kelly, guest co-host Christian Slater told Kelly Ripa he spent his Monday night doing what many of us did: Slater watched all three hours of The Bachelor. After Ripa said she doesn't follow the reality series, the Mr. Robot star was more than happy to tell her all about Vanessa Grimaldi, Raven Gates, Corinne Olympios, and, of course, Nick Viall. Later on, Ripa, saint that she is, asked Slater to write down his prediction for The Bachelor finale, put it in an envelope, and keep it sealed until Bachelor Nation finds out who Viall proposes to. Yep, Mr. Robot made a Bachelor prediction. My heart feels just like it did when a Vanderpump Rules clip showed up on an episode of Mr. Robot (i.e., it is so full).
I do not know what Slater scribbled onto that sheet of paper, but I 100 percent support his prediction. Why? Because it is Mr. Robot. I'm not about to go against Mr. Robot. (I mean, hi. Have you watched Mr. Robot? That guy is not to be crossed.) Cannot wait to hear Mr. Robot's prediction.
After talking to the audience about Viall's season of the Bachelor, Slater brought up Bachelor in Paradise, the crown jewel of summer television. And this paved the way for what might be the greatest idea of all time: "They've got to make action figures for these guys."
The Bachelor action figures? Slater, you've done it again. If Bachelor action figures existed, I would buy the whole lot of them. Oh, and then I'd buy an elegant china cabinet so I could give them the display case they deserve. I might even decorate the cabinet with a few long-stemmed roses. You know, just to show the action figures I'm here for the right reasons.