Christina Ricci Loves Wednesday Addams As Much As You Do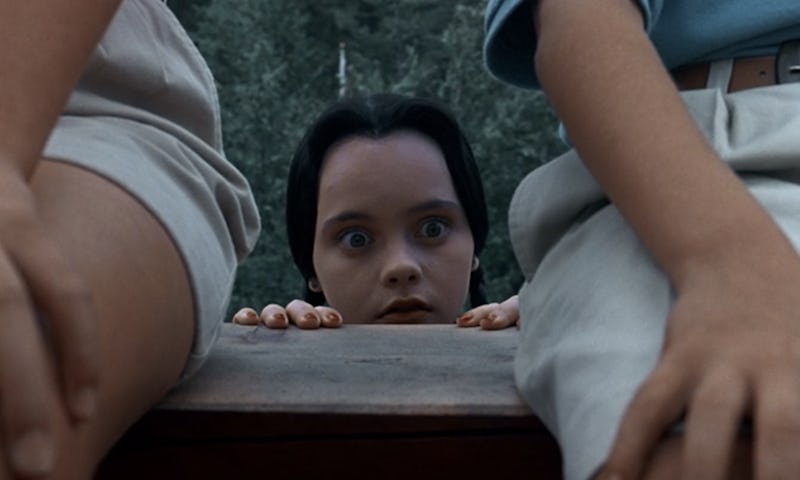 Paramount Pictures
The Addams Family originated in the 1930s as a series of illustrations by the artist Charles Addams. When '90s kids think of The Addams Family, however, they think of Christina Ricci. Unsurprisingly, Christina Ricci's comments on playing Wednesday Addams in The Addams Family and The Addams Family Values prove that she loves the character just as much as you do. The actor was barely 10 years old when she took on the role of the Addams daughter, and it quickly defined her for an entire generation. Whereas the 1960s-era Wednesday was equal parts sweet and strange, Ricci's Wednesday was darker and distinctly more psychopathic. And, thanks to the young actor, audiences it found delightful.
Her dry delivery and wise-beyond-her-years attitude only added to Wednesday's overall spookiness. All '90s kids wanted to befriend her, but knew better than to try. Ricci made Wednesday the girl everyone loved and feared with her depth, humor, and timing. Wednesday Addams could have been a one-note weirdo, but with Ricci in the role, she became an icon. And in a recent interview with the A.V. Club, Ricci acknowledged her character's icon status:
"Those movies have clearly had the biggest impact on my career and life. I spent a lot of my childhood working on them and promoting them, and I've spent the rest of my life talking about them! So both of the Addams Family movies, they're huge in my history."
They're huge in fans' histories, too, girl!
On the subject of Wednesday Addams in particular, Ricci added:
"I feel very inextricably bound to her, because I feel, like, who can say how much influence being that person at that age for the amount of time that I was her, the amount of positive reinforcement from playing that character."
So, is she admitting that she's more than a little Wednesday Addams, or that Wednesday has a lot of Christina Ricci in her? According to the actor, it's a little of both. "It's like a chicken-or-egg debate," she said. "Did I influence her as a character, or did she as a character influence my personality?" Sometimes it's hard for even the actor herself to tell the difference. "The way memory works in childhood, it all blurs. So I don't have a sense of who I was or what I felt like before I was an actress, essentially." A gloomy sentiment delivered matter-of-factly? Wednesday would be so proud.
The interview wasn't only about the Addams Family films, though. The A.V. Club caught up with Ricci to pepper her with questions about a lot of her stand-out roles — and Ricci's got a lot of those. Did you want to be Kat Harvey from Casper? Good, because she called it "a great experience." Oh, or her guest appearance in a little thing called the two-part bomb episode of Grey's Anatomy that aired after the Super Bowl in 2006? The actor totally goes there, saying, "It turned into more than I thought it was going to be, for sure."
Ricci didn't just talk about her career highlights, however. In fact, Ricci's reflections on Black Snake Moan might even make fans reconsider her role in the controversial film. "I made that movie because I'd been working with RAINN — the Rape, Abuse & Incest National Network — for a long time, and to play this survivor of sexual assault was really important to me, and to show the cyclical effect that sexual abuse has was important to me," she explained.
Ricci also told A.V. Club that she "couldn't do anything else" besides an actor, and if that means being remembered as Wednesday Addams, then she's more than happy for it.