Christine & The Queens' Live Lounge Featured These 2 Iconic Women & It Was Everything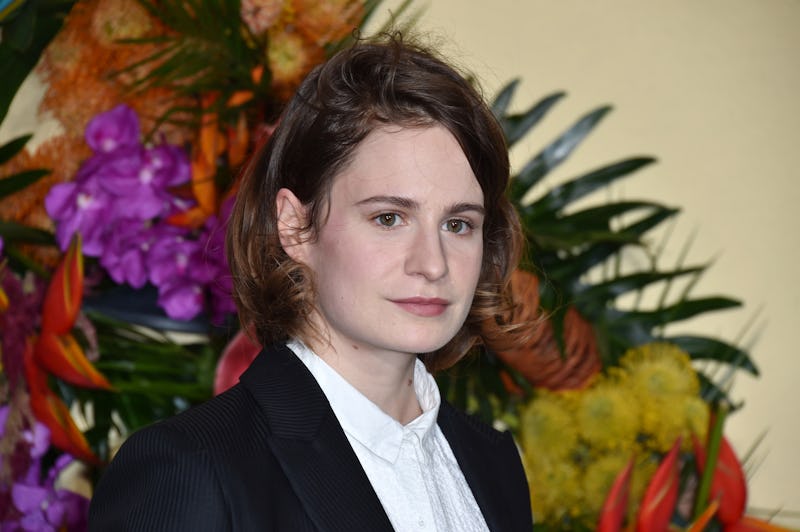 Pascal Le Segretain/Getty Images Entertainment/Getty Images
Not to be dramatic, but Christine & The Queens might just be the best thing that's happened to the world ever since puppies were invented. Having released her second album this year to huge critical and commercial acclaim, Christine, aka Héloïse Letissier, is poised for superstardom. She's the trojan horse of pop who's breaking down the parameters of gender and sexuality, in the catchiest way possible. And when you think she just can't get any cooler, she's always at least one step ahead. This time, Christine & The Queens did a Live Lounge mash-up of Kate Bush and Rihanna for BBC Radio 1, and it was as sonically pleasing as it sounds.
In between playing a couple of shows at London's Eventim Apollo in support of her sophomore album Chris, the French singer paid a visit to Radio One's Live Lounge, where the very best covers are done. She's made a couple of appearances there before, like when she put her unique twist on Beyoncé's "Sorry" back in 2016, and then again in early 2017, where she covered Maroon 5's "What Lovers Do". Sharing their excitement ahead of her arrival, BBC Radio 1 tweeted: "She's back! @QueensChristine returns for #R1LiveLoungeMonth and you can hear her live at 12pm 👞👞✨What would you love to hear Chris cover?"
Chris herself got people speculating with her retweet. One user thought she'd go for a bit of "Mambo No.5," while another demanded she do "A FRENCH VERSION OF THANK U, NEXT." But no one could have guessed what Chris had up her denim sleeves. Ever wondered what would happen if Kate Bush met Rihanna? Well, here's the result.
Bravo, Chris. A cover of one of the best singles from Rihanna's 2016 album Anti — the ultra slick "Kiss It Better". *Chef kiss*. She gave it her trademark theatrical spin, with some extremely emotive (and entertaining) faces, and then slipped in a bit of Kate Bush for good measure. "It's me, Cathy, I've come home and I'm so cold," she sings with a sneaky bit of autotune. If you don't know the source of those words, they come from Kate Bush's 1979 hit single "Wuthering Heights", and they sound so good sung over some RihRih.
Bringing Kate Bush and Rihanna together? Well, that's the brain of a pop genius for you. According to Stereogum, Chris explained after the performance: "It's so much about longing and being haunted by someone […] The two songs just answer themselves beautifully."
All in all, it seems like Chris has had an extremely successful time here in the UK. Her Live Lounge performance had Twitter in raptures, while her gigs in the capital have been getting rave reviews from critics at publications including the Independent, Evening Standard and NME. Not bad.
So she's won the love of the critics, the DJs at Radio 1, and her evergrowing fan base. Hopefully, her ingenious Rihanna and Kate Bush mashup will win your love too — if the multi-talented star hasn't already.