Trump Lays Into NBC's Chuck Todd With A Creepy New Nickname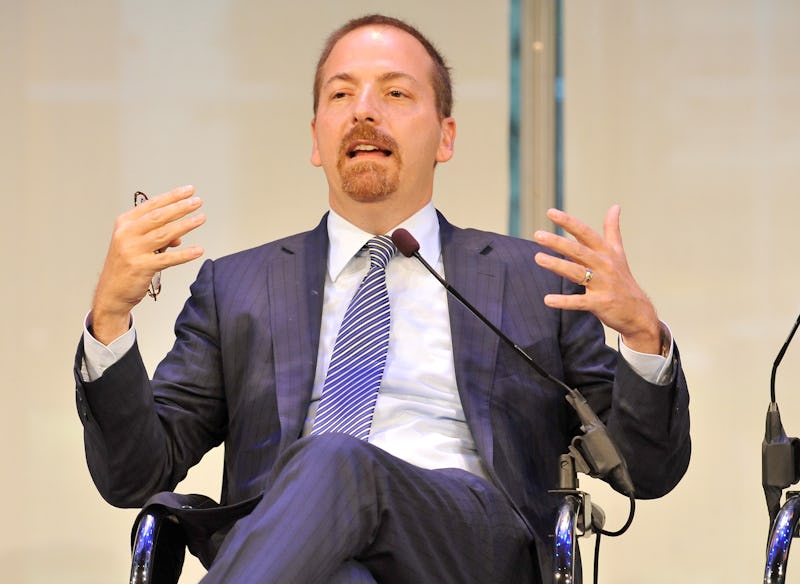 D Dipasupil/Getty Images Entertainment/Getty Images
While campaigning for Republican congressional candidate Rick Saccone in Pennsylvania on Saturday, Donald Trump once again went in on the "fake news" media, going so far as to call NBC News Political Director Chuck Todd a "sleeping son of a bitch." After a clip of the speech was shared by theWashington Examiner, a lot of people were stunned by the president's words. The news anchor himself said Trump's use of "vulgarities" creates "a challenge to all parents."
When recalling an appearance he made on NBC's Meet The Press in 1999 — during which he talked about the need to "take out" North Korea — Trump mentioned Todd, who now hosts the show. He called him "sleepy eyes Chuck Todd," adding, "he's a sleeping son of a bitch, I'll tell ya." The Republican supporters gathered inside the airplane hangar in Moon Township began to cheer.
While the audience seemed to enjoy Trump's remarks, Twitter, and Todd's colleagues, had a different reaction. "Pres Trump at a Penn rally calls my colleague and friend Chuck Todd a "sleeping SON OF A BITCH," NBC News anchor Tom Brokaw wrote. "Really classy. Explain that to your children."
Todd showed a sense of humor about the situation at first, tweeting, "Don't miss @MeetThePress tomorrow! I know folks may be tired in the morning due to springing forward, so set those clocks and DVRs now before your eyes get too sleepy." However, when talking to NBC News4, he said of the president, "It creates a challenge to all parents when he uses vulgarities like that."
"I bring my kids up to respect the office of the presidency and the president," he added. "I don't allow them to say anything negative, ever, about the president."
Trump's comments about Todd were among several other controversial remarks made during his campaign speech. He also suggested using the death penalty for drug dealers and once again referred to Elizabeth Warren as "Pocahontas."
Part of the reason Todd might seem unusually laid back regarding the jab is because Trump's been calling him "sleepy" for years. There are tweets dating back to 2011 in which the president refers to the NBC host as "sleepy." In one, Trump writes that Todd "falls far short of the late great Tim Russert." Russert was the longest-serving moderator of Meet the Press.
Last April, Trump tweeted that he wanted "Sleepy Eyes Chuck Todd" to "start talking about the Obama SURVEILLANCE SCANDAL and stop with the Fake Trump/Russia story."
The "sleepy eyes" comment aside, Todd said he thought Trump's speech in Pennsylvania overall showed confidence. "I think yesterday's rally is a reminder he's feeling great," he said. "This is the presidency he always wanted." He added that the president was "unleashed" at the rally, "which is why he went after his favorite targets in the media."
Trump also attacked CNN, calling it "fake as hell," when discussing the way the network covered his agreement to meet with North Korean dictator Kim Jong-un. "A certain anchor on CNN, fake as hell, CNN, the worst," Trump said. "Their ratings are lousy, by the way and compared to Fox, and a certain anchor, female, said, 'This is really something. He would go down as a truly great president if this happened.' They couldn't believe it.'"
He also called MSNBC "third rate," NBC "horrible" and "heading down the tubes," and eventually decided that "NBC is perhaps worse than CNN." This is part of a long history of Trump attacking the free press, which we've seen has real repercussions. Authoritarian regimes began attacking CNN after Trump tweeted the network represented "our nation to the WORLD very poorly."
But despite Trump's attack on him and his show, Todd said he still extends an invitation for Trump to appear on Meet the Press. "He's welcome on Meet the Press on any Sunday he wants," he told News4. "Any Sunday he wants."