Now You Can Get Entire Trays Of Cinnabons Shipped Straight To Your Door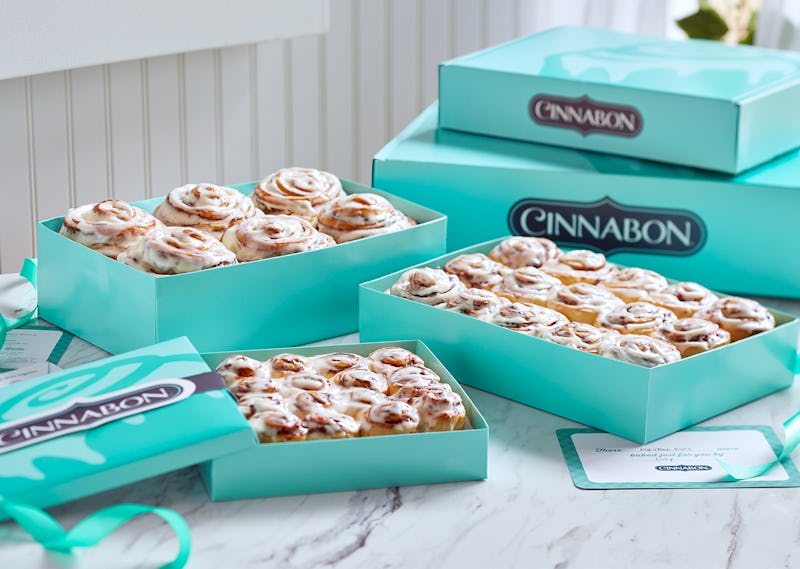 Courtesy of Cinnabon
Nothing says "happy holidays" like the gift of warm baked goods — and hey, guess what? Cinnabon has just made gifting delightful bites of deliciousness to your favorite people wonderfully simple: Starting today, you can ship Cinnabon cinnamon rolls anywhere in the United States with the aid of the bakery brand's new online store. Not only that, but shipping is both free and overnight. How's that for a tasty surprise?
"The holiday season is our biggest season of the year and there's nothing quite like the sensation of walking into a Cinnabon bakery during this time," said Kristen Hartman, president of Cinnabon, in a statement provided to Bustle. "Many of our fans want to share that experience with family and friends who may live across the country. We're so excited to bring our Cinnabon gifting platform to life so our guests can share the Cinnabon bakery experience they love, as well as an irresistible and memorable gift this season."
Say it with me: YUM.
It's worth noting that for several years now, it's been possible to get Cinnabon straight-up delivered in some places without going through all rigmarole of arranging for shipping. In 2015, the company partnered with Postmates; you can see a list of places Cinnabon delivery via Postmates is available here. What's more, these days, Cinnabon delivery can also be facilitated by other gig economy services — like DoorDash, for instance.
All of these services make ordering Cinnabon not dissimilar from ordering a pizza — and speaking of, you can actually order Cinnabon and pizza at the same time, too: As of October of this year, Pizza Hut has Cinnabon Mini Rolls on the menu.
Availability of services like Postmates and DoorDash depends on where you're located, though; you're more likely to have access to them if you live in a more populated or urban area, which, y'know, limits how useful they might be. But that's the beauty of Cinnabon's new online store: You can ship cinnamon rolls anywhere in United States now. Also, there are no delivery costs — overnight shipping is free. All you have to pay for is the box (or boxes) of treats itself.
Three different option are available: The Classic Cinnabon Roll package, the MiniBon Mini Surprise package, and the BonBites Bite Sized Happiness package. The Classic package includes six full-sized Cinnabon rolls, plus some extra frosting for those who like to live on the edge; the MiniBon package comes with 15 MiniBon rolls; and the BonBites package has 16 BonBites inside. (I'll admit that I am not totally sure what the difference is between MiniBons and a BonBites; I assume that BonBites are even tinier than MiniBons, but that's purely conjecture on my part. When it comes to Cinnabon, I'm kind of a "go big or go home" type — it's a full-sized cinnamon roll or nothing for me.) All of the boxes are under $50; they range from $39.99 for the BonBites package to $49.99 for the MiniBons one.
And did I mention how pretty they are?
Gorgeous on the outside; delicious on the inside. It's everything I've ever wanted out of life.
In order to ensure that they make it through the transportation process, the rolls are all frozen immediately after being baked and frosted. When you're ready to eat them, all you have to do is warm them up: Classic rolls should be microwaved on a microwave-safe plate for 30 to 40 seconds on high (although you'll also want to add 10 seconds for each roll if you're heating more than one up at once); MiniBons get 15 to 20 seconds on high, plus four more seconds for each additional roll; and BonBites should be microwaved for 10 to 15 seconds on high. There are apparently additional heating instructions included with each package, too, so if you're on the receiving end of a box, make sure you read it carefully.
The rolls might thaw during shipping, which is fine; they can be stored at room temperature for up to 24 hours. If you don't devour them in that time frame, though, make sure you stick them in the freezer for safekeeping; they can be stored frozen for up to 30 days. Just don't keep them in the refrigerator — as the Cinnabon website puts it, "They don't like it in there."
Cinnabon has positioned the online shop as a gifting platform — the implication being that you're meant to surprise someone you love by sending them a box of Cinnabon treats when they're least expecting it — but there's no reason you can't include yourself in the list of recipients, of course. Feel free to give yourself the gift of freshly-baked cinnamon rolls for the holiday. Or, y'know, do it just because. Treat yourself, am I right?
Check out Cinnabon's online shop here. Happy gifting!