Clay & Angela's Latest Photos Together Prove This 'Bachelor' Couple Is Still Going Strong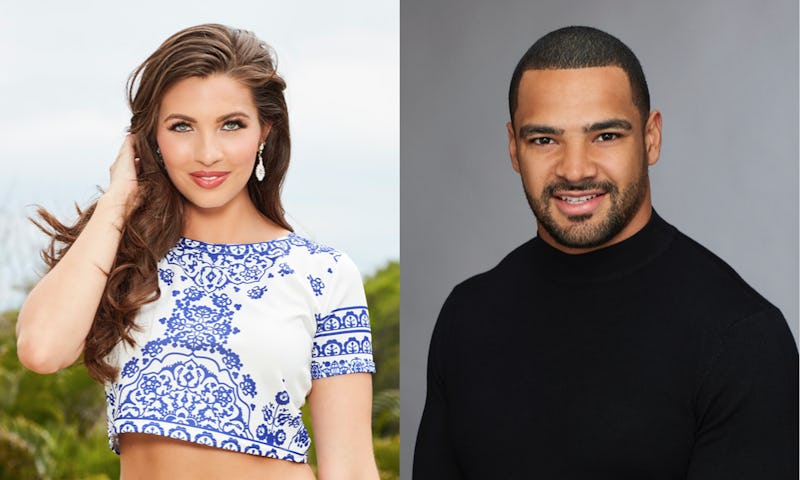 ABC/Craig Sjodin (2)
Unfortunately, most contestants don't actually find love on the series in the Bachelor franchise. However, the shows' alums hang out all the time, making it possible to make off-screen connections beyond DM-ing back and forth. Most of the time, Bachelor news is filled with breakup after breakup. Thankfully, Clay Harbor and Angela Amezcua's relationship looks like it's still going strong and they're making spending time together a priority. So, Bachelor fans can rejoice — no breakup here. In fact, it seems like things are moving in the opposite direction for this duo.
Fans didn't get to see Clay and Angela's relationship play out on TV, but they did get to know him during Becca Kufrin's season of The Bachelorette. Meanwhile, Angela appeared on Bachelor in Paradise Season 5. They walked out of those shows without a relationship, but that must be how it was meant to be, since they ultimately found each other. Thanks to social media, their fans get to follow along with every update. And yes, they are still very much together and they make it a point to see each other whenever they can.
Recently, the couple spent time together in Chicago with the one and only Venmo John, also known as John Graham. All three Bachelor Nation alums shared photos from the trip.
Clay even joked they would use a photo of the trio for a Christmas photo and that he was actually the "third wheel" in the photo. John and Angela did costar on the same BIP season together, but then again, John and Clay were both on the same Bachelorette season. Short story long, anyone can be the third wheel in this scenario.
This past weekend, Angela shared a couple's photo from their time in Chicago outside of the Adler Planetarium.
Aside from the sparks emanating from the actual photos, their captions are just so loving. Along with one of his photos from their Chicago outing, Clay wrote, "Drinks: $100 Dinner: $150 Dancing with This One: Priceless." It just doesn't get much sweeter than that.
They're also hitting some serious relationship milestones. As seen in other photos they shared, Clay took Angela to visit his hometown and hang out with his family.
They even rocked coordinating outfits, and actually managed to make it a non-cheesy moment.
Even though they found love away from the reality TV show, they still incorporated the Bachelor journey into their romance — or at least they've joked about it. Clay shared a photo of the two of them in September and captioned it with some Bachelor lingo. He quipped, "Hometowns went well. Definitely think I'll make it to next week." He definitely got that rose, for sure.
When you think about it, it even feels like the two are living out their own season of The Bachelor or The Bachelorette. However, this one is mostly one-on-one dates, with an occasional appearance from their Bachelor Nation pals. They have been traveling around the country together. They even kissed in front of a waterfall. That's just the epitome of a Bachelor date right there.
It's so nice to have some good news in Bachelor Nation for a change. Even without the reality TV show, Clay and Angela are still going strong. Their followers are probably just hoping they end up with each other's final roses.