Clues From The New 'Game Of Thrones' Photos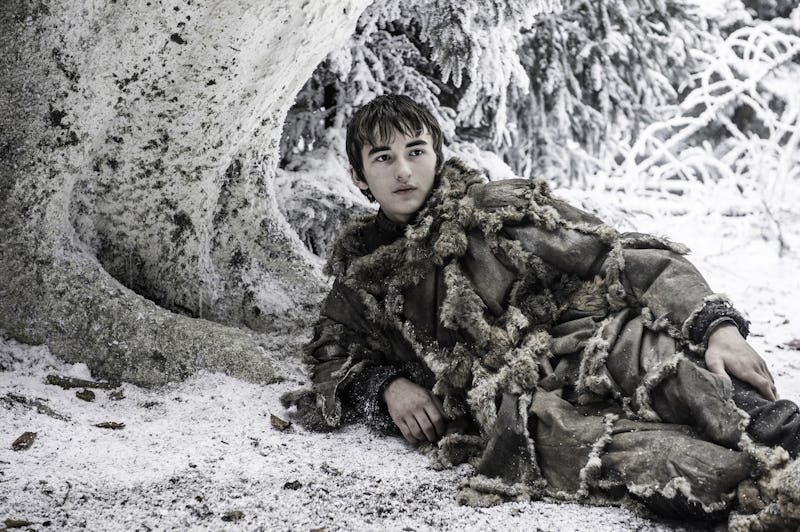 Helen Sloan/HBO
Is a Stark family reunion coming? It certainly seems so. Season 7 of the widely popular HBO show Game of Thrones is almost here (the first episode airs on July 16), and us fans are being overwhelmed with all of the new promotional material. Just yesterday it was the new — and first — full trailer for Season 7, and now we've got some more behind the scenes photos thanks to Entertainment Weekly. If you're like me than you're probably wondering exactly what clues about the upcoming season you can find in these new Game of Thrones photos. Now, although they don't contain any major reveals, there are definitely a few details to consider.
The four actors who portray the surviving members of the House Stark, Kit Harington (Jon Snow), Maisie Williams (Arya Stark), Sophie Turner (Sansa Stark), and Isaac Hempstead Wright (Bran Stark) did a cover shoot for EW, with each of actors receiving their own cover, and a fifth cover that features them all together. Lucky for us they released those — as well as a handful of behind the scenes photos — online earlier today, and fans are pretty much freaking out over the family reunion. Why? Because it suggests that the four of them could finally be reuniting in the upcoming season.
In Season 6 Jon and Sansa reunited for the first time, but other than that, the remaining members of the Stark family have been separated for the majority of the show. In his interview, Wright was asked about the topic and responded by saying that he thought a reunion "would be nice." The actor joked,
"All the Starks could have a meal that didn't end in one of them getting murdered."
In addition to their cover shots, the behind the scenes photos EW released also give us some clues about the upcoming season.
First, in both the cover and behind the scenes shots Arya is rocking a new look. She's been training as an assassin, and certainly looks comfortable in her new gear. Additionally, in another photo we see her riding a horse that looks like it could be from Winterfell outside of a castle gate. This definitely suggests that she could be on her way to finding Jon and Sansa.
Then there's Bran, who wasn't in the new trailer, but the actor who plays him is included in the photos. He's sitting on top of what looks like a pile of small rocks in a gorgeous outdoor location. Could it be Northern Ireland where the show shoots its Winterfell and Castle Black scenes? I'm thinking it might be, which suggests that Bran (who was north of the Wall last season) is also heading to Winterfell.
Will the remaining members of the Stark family reunite in Season 7? Well, unfortunately the only way we'll know for sure is to watch when the show returns this summer.