Clues That Vanessa Grimaldi Wins 'The Bachelor'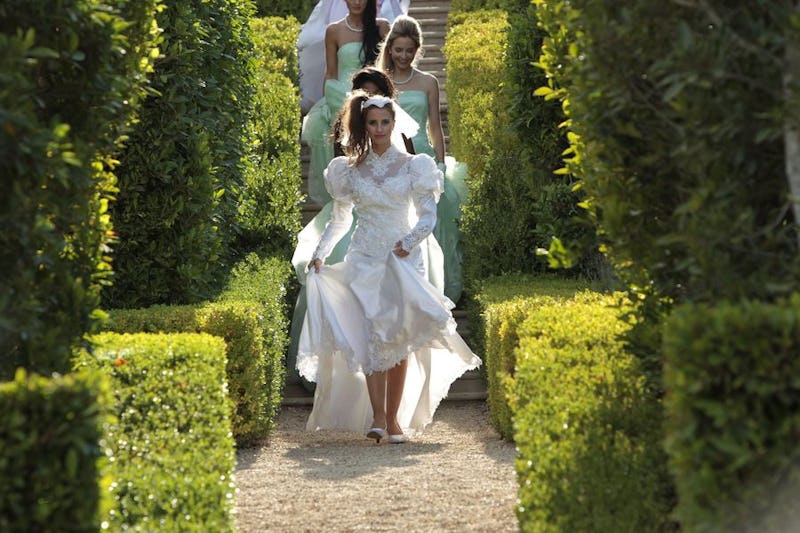 ABC/Rick Rowell
The Bachelor is getting serious. Well, as serious as a nationally televised dating show gets. The group of women that Bachelor Nick Viall is dating has shrunk, and only six contestants remain. There have been a few frontrunners this season but none more in the lead than Canadian special needs teacher Vanessa Grimaldi. She has stood out from Episode 1 by being well rounded and direct. Upon meeting her in the premiere, Nick said, "That's a keeper." Based on all we've seen so far, I believe that Vanessa will end up with the final rose. And, here are the clues that Vanessa wins The Bachelor.
Of course, there are a handful of dynamic women left for Nick to choose (six of them to be exact), or he could end up walking out of the show solo. Maybe he proposes and his lady isn't into it. Maybe he chooses not to propose at all. But, I think he will, and I think he will to Vanessa — who I think will say yes. I mean, no, I don't know for sure, but speculation is everything in a show like this. And I've compiled all the evidence possible to support this educated guess.
Their Magical First Date
Let's start with their one-on-one date. Vanessa and Nick took to the skies for their first date, and it was truly magical. A zero gravity plane outing is a special one, and the fact that Nick wanted Vanessa to be on such a unique experience shows a high level of interest. The activity on this date was next level cool, even with the high standards of dates on The Bachelor.
During it, Nick couldn't keep his hands off Vanessa, seemingly already in love with her (as he showed in the throwback Instagram above). Vanessa got sick on the date and Nick took care of her in a way that turned her throwing up into the likes of a romance novel. Then, the dinner portion of the date got emotional. Nick teared up while speaking to how quickly he was starting to care for her and how that made him less terrified about the entire process. It was a Bachelor date that could make even skeptics believe in televised love.
Power Reversal
The thing that makes me believe Vanessa could take the whole thing is the way in which Nick doesn't seem to hold all the power in their relationship. As the Bachelor, Nick holds a lot of power in general. All romantic relationships have some power dynamic, but on the show there is an unevenness to it all. With Vanessa, however, Nick doesn't feel completely in charge as he often seems nervous to hear her opinion. Vanessa is able to openly speak her mind and still collect roses. While Nick hasn't followed all of Vanessa's tips, he does consider everything she has to say and seems to really think about it.
Vanessa Has A Lot Going For Her
Vanessa has a rich and fulfilling life that has been highlighted on the show. She's a special needs educator with a passion for what she does. Nick has always been into driven, independent women, and Vanessa fits that to a T.
Stand Out Connection
There are so many great women this season. More than ever, the show cast a variety of dynamic, driven ladies to collect roses. Yet, even among a great group of women, Vanessa's connection with Nick stands out. There's a certain spark that is visible even through the television screen. Nick seems to be the most caring version of himself with Vanessa, while Vanessa continues to be bold and confident. While Nick has had a variety of dates both good and bad, the date with him and Vanessa still stands out — even though it was early on.
I'm not sure I see a stronger connection than that between the two of them. But, either way, I hope that both Vanessa and Nick are happy. Whether they found love in front of the cameras or will have to do it the old fashioned way not on national TV, I wish them nothing but the best — but I still think I'm right in betting on her.