Cole Sprouse's Expert Trolling Of Lili Reinhart Will Leave 'Riverdale' Fans Swooning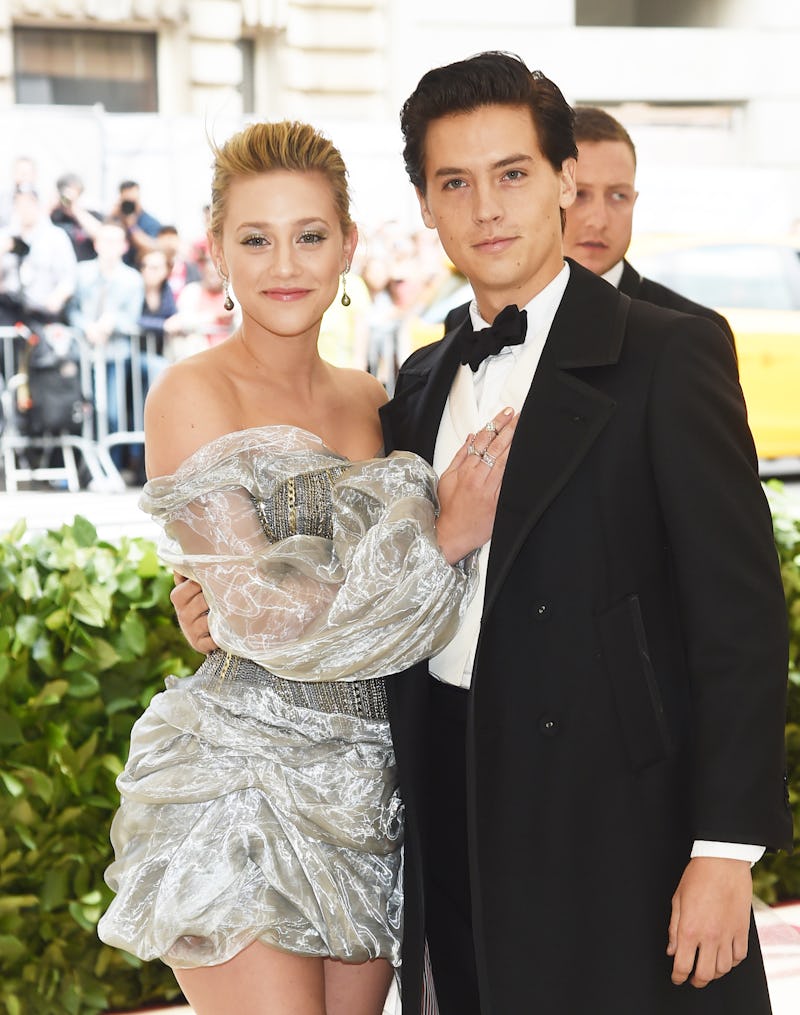 Jamie McCarthy/Getty Images Entertainment/Getty Images
Riverdale High's favorite couple is at it again. In the latest iteration of hilarious social media trolling by various members of the Riverdale crew — looking at you, Jughead and Betty — Cole Sprouse trolled Lili Reinhart on Instagram again over the weekend, as reported by Cosmopolitan. Or, alternatively, Reinhart trolled Sprouse. (Those who've seen their recent social media exchange know the jokes definitely came from all sides.) Either way, there was some serious trolling afoot in the comments section of Reinhart's newest Instagram post, which she shared with fans Saturday night, Oct. 13.
"I hope you don't mind," wrote Reinhart, seeming to address Sprouse — who she's almost definitely in a relationship with, judging by their social media activity and public appearances, though Reinhart has been very clear about her desire to keep the details of her love life out of the public eye — in the IG post's clever caption. But wait, what exactly is she getting at here? To that end, the post's accompanying photo sort of speaks for itself. For anyone who's yet to see the newly-minted IG gem, Reinhart's photo features Sprouse posing shirtless on the beach, looking exceedingly sun-kissed with a camera and a straw hat in his hand.
Sound familiar? Fans of the duo and their notoriously under-the-radar relationship know this isn't the first time a shirtless snapshot from the likes of Reinhart and Sprouse's personal photography endeavors has made it onto the social media platform. In fact, about a month ago, Sprouse sent the internet into a full-on frenzy when he posted a topless picture of Reinhart to Instagram in honor of her birthday. "Both the birthday and the gift," wrote Sprouse in the post's sweet caption, before calling Reinhart his "little muse," not to mention his "love."
Rumors about the possibility of a real-life love affair between the Riverdale stars, whose fictional counterparts are dating on the show, have been floating around for what feels like forever. Well, courtesy of Sprouse's birthday post — which trailed a similarly mushy one from Reinhart on Sprouse's birthday back in August — those rumors kicked into high gear.
And, if their latest social media interaction is any indication, it looks like Reinhart and Sprouse are taking full advantage of the public's obsession with their maybe relationship: Are they? Aren't they? What does it all mean?!
While both neglecting to answer any one of the above questions directly, but somehow simultaneously answering them all (OK, maybe answering them all), Sprouse commented on Reinhart's new picture of him with a little humor, wrapped up in some appropriate irony. Echoing the interrogative cries from Riverdale fans far and wide over these last handful of months, Sprouse responded in truly the most perfect way. "Are you guys dating," he wrote, sans punctuation.
Anyone familiar with the Riverdale cast's social media antics as of late know that, when it comes to trolling the internet about Reinhart and Sprouse's relationship, they usually tend to play a pretty sizable part in fueling this proverbial rumor fire. So it shouldn't come as much of a surprise that Skeet Ulrich, who plays Sprouse's fictional father on Riverdale, was quick to join his TV son in the new post's comments section. That said, Ulrich's comment made no mention of Reinhart and Sprouse's relationship. Instead, in pretty typical trolling fashion a la the Riverdale cast, Ulrich wrote, "It's not my favorite hat but I don't mind," conceivably referencing that straw hat Sprouse is holding in Reinhart's photo.
Again, it seems important to note here that neither Reinhart nor Sprouse has ever officially confirmed the existence of a romantic relationship between them. Still, their social media flirtation — not to mention the recent wave of intimate photos and equally intimate messages — does seem to kind of give them away. That, or Reinhart and Sprouse are some of the most cunning internet trolls the world of social media has ever seen.