The Thing That Almost Made Colton Lose His Cool At The 'Bachelorette' "Men Tell All" Is Not OK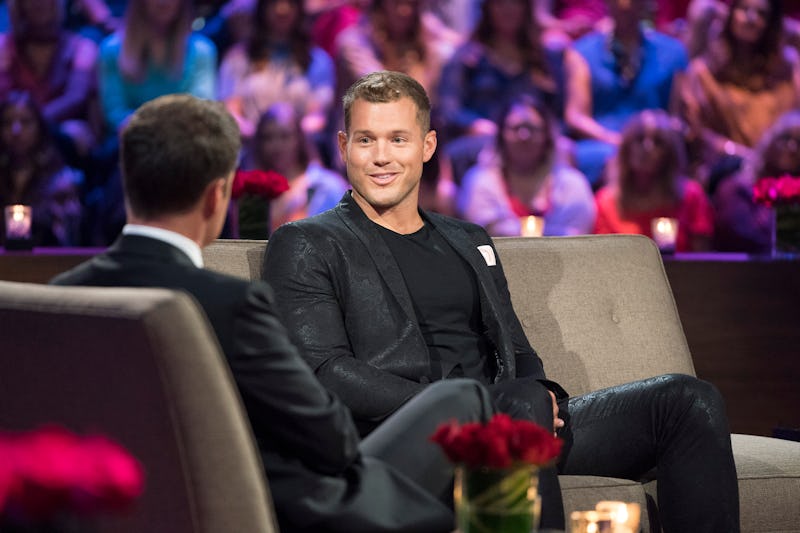 ABC/Paul Hebert
After all the heat he's taken this season, you'd think the other contestants could lay off for one night, but apparently Colton Underwood was bullied for his virginity on "The Men Tell All" special of The Bachelorette. In a clip from the July 30 broadcast, the former NFL player is at the center of the drama, fielding insults from multiple contestants from this season. In an interview with Entertainment Tonight, Colton said he was "triggered" by the abuse he received, and given the circumstances, it's hard to take issue with his word choice.
Colton made it all the way to Hometowns on Becca Kufrin's season of The Bachelorette before being sent home. But even though the 26-year-old made no secret on the show about the fact that he is a virgin, it hasn't stopped his fellow contestants from trying to shame him over it during the upcoming special. "Some comments caught me off guard and really triggered something in me," Colton told ET on the night of the taping. He said that he "felt like he spoke his truth" during taping, but added:
"[It] took a lot of self-restraint to stay seated [after Jean Blanc's comment]... I can't even understand where that comment comes from and in the manner that it came off was so disrespectful."
He offered no further details about what exactly the self-proclaimed "Colognoisseur" said to get so deep under his skin, but a report from Variety stated that, in a heated moment, Jean Blanc lashed out at Colton. Jean Blanc reportedly told Colton he was "acting like a p*ssy even though you've never been inside of one." It's unclear whether or not these remarks will make it into the televised episode, but other insults made towards Colton about his virginity have been shown in recent promos.
One such promo clip for the July 30 episode included the men questioning Colton about his oft-discussed relationship with Tia Booth. During the discussion, an off-camera voice says, "If I'm playing girls, at least I'm sleeping with them." It's unclear who is speaking, though the way the promo is edited makes it look like it came from Jordan. Colton retweeted the promo on Saturday, captioning it, "Welcome to 2018...where a 'sick burn' consist of calling a man out for not sleeping around. Got it."
It won't be clear until the "Men Tell All" airs exactly what was said, but it's clear from Colton's interview that the conversation is extensive. And that even in the wake of the disrespect he says he's received, he's still trying to take the high road. As he told ET:
"I can respect that they have their opinion. I hope that at least I started a dialogue and I started a conversation in which they can understand what makes me, me. And I'm not here to prove a point, I'm not here to defend myself, I'm not here to say I'm better than anybody else. What I am here to do is be true to who I am, and The Bachelorette has helped me do that. So I can't thank them enough."
It's a refreshing attitude to have about the show, which has had trouble navigating the topic of sex in the past. Bachelor Nation can be notoriously tight-lipped about sex on the show, hiding intimacy behind euphemisms and tropes like the Fantasy Suites. So any time it's brought out into the light and discussed openly, that's a step forward. Just as it was a milestone for former Bachelorette Kaitlyn Bristowe to acknowledge on-camera that she had slept with runner-up Nick Viall, it's huge for Colton to openly acknowledge his virginity.
Sex is a huge part of any serious relationship, whether that means the having of it or the not having of it, so we should all be applauding the work that the former footballer is doing to break down the obstacles standing in the way of this conversation. And if you don't believe that, take it from Chris Harrison himself, who told ET:
"There's a double standard, isn't there? Why is it different that when a woman talks about it, it's respected, and then when a guy talks about it, he should be shamed? ... We will probably be talking about [this] now because of Colton."
Why indeed? What it comes down to is owning one's own sexuality, and in the same way that women shouldn't be shamed for having "too much" sex, men shouldn't be shamed for having "too little." These are outdated tropes getting in the way of people who are just trying to live their lives, and it's disappointing to see them cropping up so prominently in 2018, especially from Colton's fellow Bachelorette contestants.