Colton's Latest Tweet Proves The 'Bachelor' Star's Thanksgiving Was More Awkward Than Yours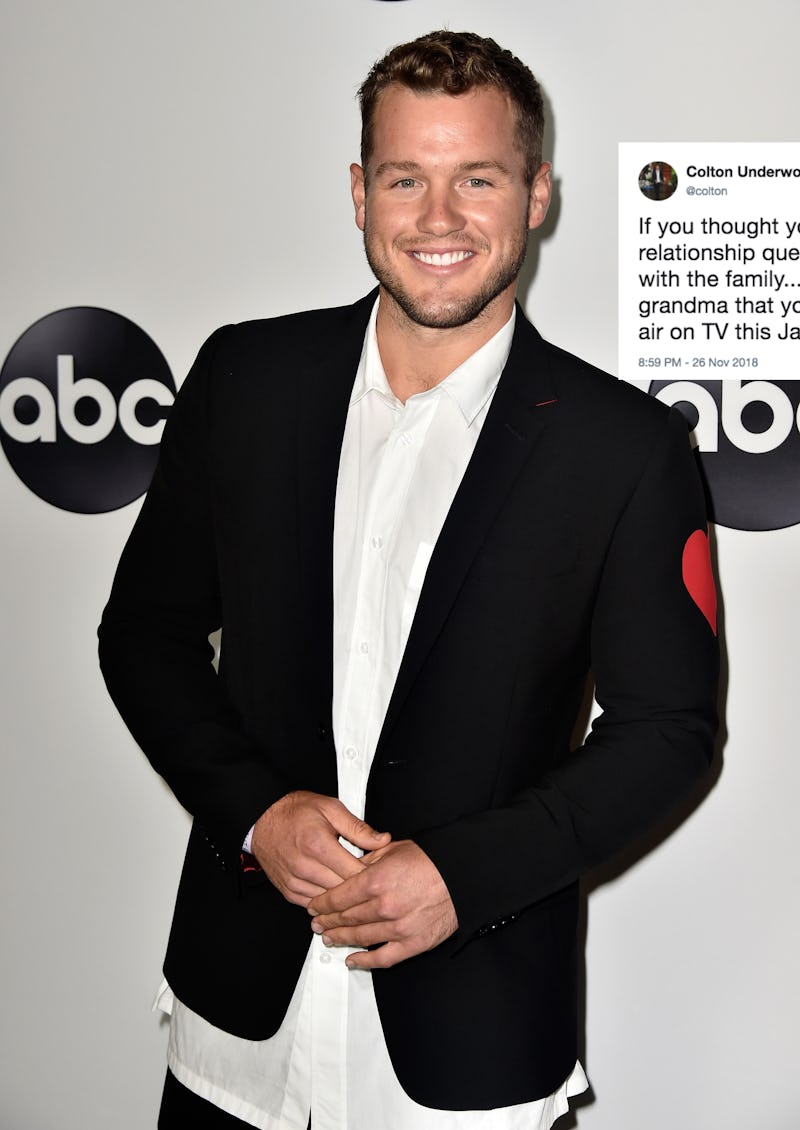 Frazer Harrison/Getty Images Entertainment/Getty Images; Colton Underwood/Twitter
Awkward questioning about your love life is a staple at Thanksgiving dinner, right? At least for most people anyway. (Anyone who cannot relate is a truly lucky individual.) Even the Bachelor himself got stuck in an uncomfortable conversation. Colton Underwood's tweet about his grandma and The Bachelor proves his Thanksgiving was probably more awkward than yours. Approximately 30 times more awkward than yours.
Being the Bachelor seems like a fun time, but just imagine the aftermath. On Monday, Colton tweeted,
"If you thought you had it bad trying to dodge relationship questions over Thanksgiving with the family.... imagine explaining to grandma that you dated 30 women and it will air on TV this January."
Yikes. That really does sound like a tough conversation to navigate. Then again, he was also a participant on Becca Kufrin's season of The Bachelorette and Season 5 of Bachelor in Paradise. So it probably wasn't his first time having an uncomfortable Bachelor-focused conversation at a family gathering.
Anyway, just imagine being a fly on the wall during Colton's Thanksgiving dinner. The outcome of his season is currently devoid of spoilers. Complete strangers want to know how it ended up and what went down along "the journey." Of course, his own relatives cannot help being curious about his Bachelor experience.
Plus, who can forget about him skillfully jumping that fence during the first trailer for his season. That alone warrants a significant chunk of dialogue at Thanksgiving dinner.
Fellow reality star Jason Tartick can relate to Colton's discomfort. He chimed in to mention his own conversation discussing his time on The Bachelorette with his grandparents.
That's a fair point — Colton was also on Becca season of The Bachelorette. Therefore, it's very likely that he had this same conversation with his own grandparents as well.... plus the conversation about The Bachelor... and maybe one about Bachelor in Paradise drama. Sure, Jason can (somewhat) relate, but Colton most likely endured three rounds of familial questioning.
It feels like The Bachelor shows have been on TV forever, but that's actually not the case. Believe it or not, there are some people who are a little out of the loop, especially when it comes to the friendships within the cast. Blake Horstmann, who was in the final two on Becca's Bachelorette season, jumped in with his grandparents' confusion about these guys with a shared "ex" becoming close friends.
In his grandparents' defense, it is an objectively odd concept. However, it's just become the norm in the Bachelor franchise. Let's be honest, friendships formed between the contestants often outlast the romantic relationship with the lead and the final rose recipient.
Jason summed it up with an all-encompassing hashtag: #bromance.
As strange as it may have been to talk to his grandmother about dating 30 women, that definitely wasn't the last time that Colton would have that conversation. His season of The Bachelor starts on Jan. 7. Soon enough, he will start promoting the show and talking about the "journey," probably for the rest of his life.