Why Colton Has What It Takes To Be The Next Bachelor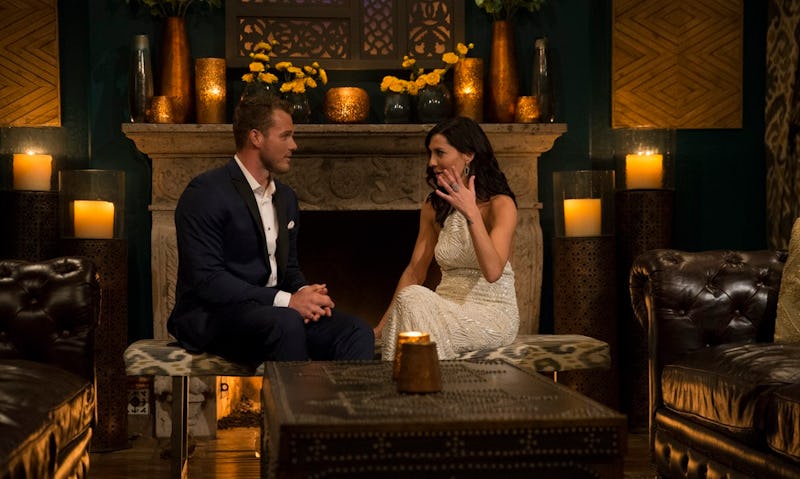 ABC/Paul Hebert
Becca's season of The Bachelorette is approaching its halfway point, but some fans are already looking to the future and wondering which of her suitors could soon find himself distributing the roses rather than receiving them. Colton is one contestant who has gotten a lot of camera time lately, and it's got viewers wondering what his future might look like if he doesn't snag the final rose. Will Colton be the next Bachelor? Given what audiences have seen of the charismatic suitor, it's certainly not out of the realm of possibility.
When he stepped out of that limo and greeted Becca, Colton felt like a genuine contender who could win her heart. The former professional football player loves dogs and is the founder of a charity dedicated to helping cystic fibrosis patients. It doesn't hurt that he's also super attractive.
However, not all of the attention Colton has received has been positive. In fact, some details from his past have made Becca question whether or not he's really there to be with her. It all started when Colton sat down with Becca and revealed that he had dated Tia Booth, Becca's friend and fellow Bachelor contestant from Arie's season, before he found out he'd been chosen as a contestant for Becca's season. "Prior coming onto this in January, I had a relationship with Tia," Colton told Becca. "And I wanted to make sure to explain, sort of, that we had a weekend together, and we had a good time, but for me, the timing wasn't right to grow what was a spark into a flame. If my feelings were strong enough, I wouldn't have came on this. And I think that, what I know of you, we could have a ton, whereas it wasn't there with her."
It's important to note that Colton was the one to come clean with Becca about the relationship, and he told her early in the season. But this obviously wasn't great news for Becca, especially since she did feel a connection to him almost instantly. She didn't know if she could get past his romantic history with her friend; after all, it wasn't too long ago that Arie broke Becca's heart.
Soon after Colton's confession, Tia appeared during one of the group dates and shared her side of the story with the Bachelorette. "We never really had like, an established conversation about what we were, he just… told me early, like within a few days of talking to him, he told me about applying for the show," Tia told Becca during the group spa date. "I was like, 'What are the odds of him actually making it?'"
Evidently, those odds were pretty high. It's unclear whether or not Colton was under the impression that Tia would be the Bachelorette when he applied, considering she was one of the favorites to fill the role prior to Arie and Becca's breakup. Becca decided to keep him around and trust that his feelings for Tia were in the past, but did that decision also give producers time to groom him to become the next Bachelor?
Bachelorette spoiler warning: Thanks to the renowned Bachelor spoiler Reality Steve, it doesn't seem likely that Colton leaves this season of The Bachelorette engaged to Becca. But it also seems that Colton will make at least one more appearance in Bachelor Nation after Becca's journey ends. Reality Steve recently tweeted photos showing Tia and Colton on an apparent date with Raven and Adam; according to Reality Steve, the outing took place during filming of Season 5 of Bachelor in Paradise. This certainly suggest that Colton's relationship with Tia is far from over.
The fact that he's sticking around in the Bachelor franchise suggests the producers think Colton has appeal, which could definitely work in his favor. If things with Tia don't pan out in Paradise, it's possible Colton could transition into eventually becoming the Bachelor. After all, that's what happened to Nick Viall. Nothing has been officially confirmed thus far, but it wouldn't be surprising if Colton's search for love is only just getting started.