Cyntoia Brown Has Officially Been Released From Prison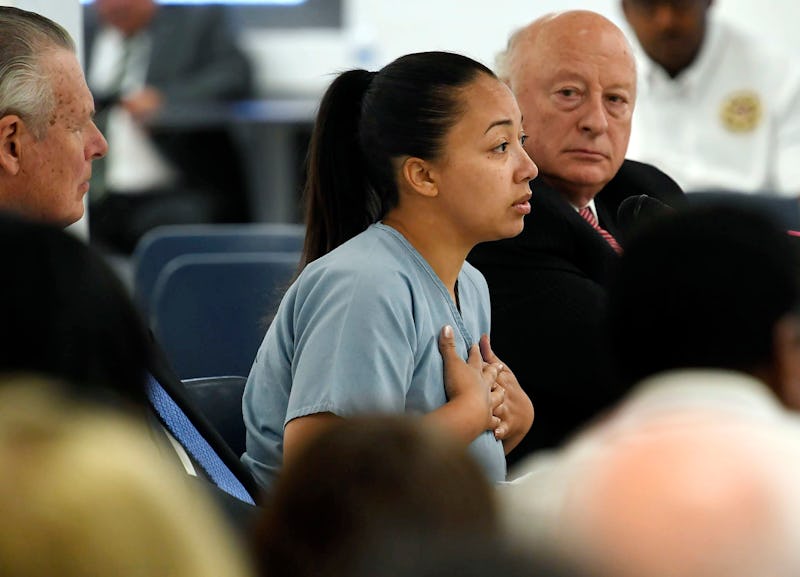 Lacy Atkins/Shutterstock
A Tennessee woman who'd been given a life sentence at age 16 for killing a man who she said forced her into prostitution is now free. On Wednesday, Aug. 7, Cyntoia Brown was released from prison after serving 15 years behind bars. Gov. Bill Haslam had granted clemency to Brown, who is now 31, in January.
Brown's case sparked a national conversation about criminal justice reform and child sex trafficking in recent years. Her case first rocketed to national attention with a 2011 documentary, Me Facing Life: Cyntoia's Story.
"I learned that my life was — and is — not over," Brown said in the documentary, as quoted by CNN. "I can create opportunities where I can actually help people."
Then a number of celebrities, including Ashley Judd, Rihanna, and Kim Kardashian, who's made a passion project out of prison reform work, advocated for Brown's release after a local investigative report about her case went viral in 2017.
She was convicted of murder and robbery in 2006 and subsequently sentenced to life in prison, meaning she wouldn't have been eligible for parole until she was 67. A juvenile court had ordered Brown to be tried as an adult, and prosecutors argued that she killed the 43-year-old man she said bought her for sex in a robbery attempt, not because she was acting in self defense.
Tennessee's own laws around child sex trafficking have changed in the more than a dozen years since Brown was sentenced, and the state no longer prosecutes minors for prostitution.
"If you look at Cyntoia's original transcripts, they are peppered with the phrase 'teen prostitute,'" Derri Smith, the founder and CEO of End Slavery Tennessee, a nonprofit that works with human trafficking survivors, told CNN earlier this year. "Well we know today there's no such thing as a teen prostitute ... because this teen may think that she decided this was her idea to be raped multiple times a day and give money to someone else, it's pretty clear there's an adult behind that who's manipulating and exploiting her."
Brown was said to be a model inmate while in prison, according to The New York Times, and earned an associate's degree through Lipscomb University, a private Christian college. She later earned a bachelor's degree through the Tennessee Prison For Women in May, according to The Tennessean. She also helped counsel at-risk youth through Tennessee's Juvenile Justice System, according to CNN.
The Tennessean reported that Brown is now out on parole for 10 years, during which time she must either be employed or enrolled in an educational program. She must also participate in counseling sessions, and complete at least 50 hours of community service, which will include continuing to work with at-risk youth, according to the newspaper.
Supporters have set up a GoFundMe page, "Cyntoia Brown - Second Chance Fund," to help her transition to life outside of prison.
"I'm blessed to have a very supportive family and friends to support me in the days to come," Brown said in a statement upon her release, as quoted by The Tennessean. "I look forward to using my experiences to help other women and girls suffering abuse and exploitation."