Daniel Radcliffe's Response To Johnny Depp's Controversial Casting Is Worth A Read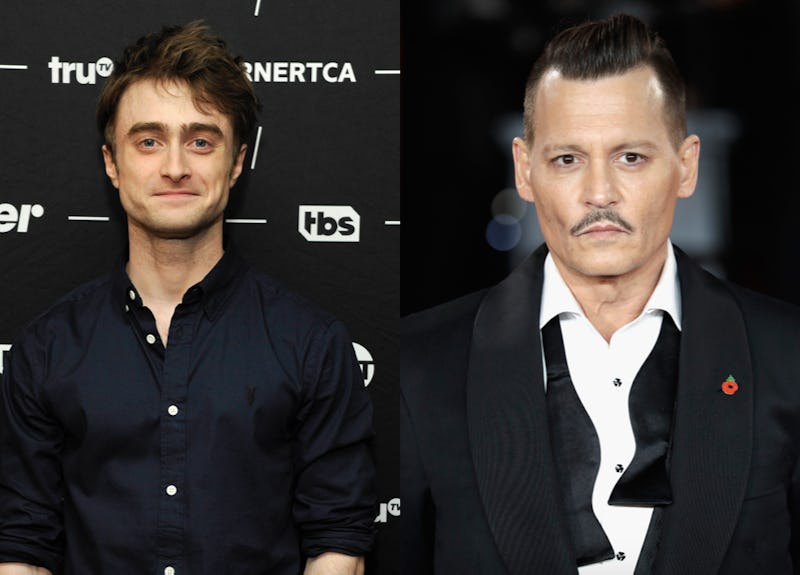 John Sciulli/Getty Images Entertainment/Getty Images; John Phillips/Getty Images Entertainment/Getty Images
Whatever point of view you may hold on the matter, one opinion you'll definitely want to hear is Daniel Radcliffe's response to Johnny Depp's Fantastic Beasts casting. And it isn't just because the actor played Harry Potter for eight magical movies either. In speaking about the divisive casting choice, Radcliffe actually offers an incredibly thoughtful perspective on the matter.
There was immediate controversy regarding Depp's role as Gellert Grindelwald in the upcoming Harry Potter spin-off, Fantastic Beasts: The Crimes of Grindelwald. And while some fans were supportive of the actor, others were notably enraged about his casting, given the abuse allegations made by Depp's ex-wife, Amber Heard. (He initially denied the allegations through a lawyer, but later released a statement with Heard that noted, "Neither party has made false accusations for financial gains.")
Speaking to Entertainment Weekly recently, Radcliffe noted that he wanted to be supportive of the movie's producers who gave him "a great start in life and an amazing job." He added, "It's a very hard thing for me," when asked about the controversy concerning Depp. Radcliffe further responded:
"I can see why people are frustrated with the response that they were given from that … I'm not saying anything that anybody hasn't already said — and this is a weird analogy to draw — [but] in the NFL, there are lots of players arrested for smoking weed and there is other people's behavior that goes way beyond that and it's tolerated because they're very famous players. I suppose the thing I was struck by was, we did have a guy who was reprimanded for weed on the [original Potter] film, essentially, so obviously what Johnny has been accused of is much greater than that."
The Harry Potter actor that Radcliffe was referring to in his statement is Jamie Waylett, who played Vincent Crabbe in six of the movies. In 2009, however, Walett was arrested for allegedly growing 10 marijuana plants, and was dropped from the remaining two parts of The Deathly Hallows as a result. It's an interesting parallel for Radcliffe to draw, but as Entertainment Weekly points out, unlike Depp, Waylett faced consequences for his alleged behavior — he was arrested and plead guilty. Compared to Depp's star power, Waylett was also a virtual unknown. This likely made his removal from the final movies a little easier than it ever could be to do the same with Depp.
It's also worth adding that Radcliffe's analogy concerning the NFL's disproportionate punishments concerning marijuana use and domestic violence also feel poignant and justified. In 2015, for instance, Josh Gordon was banned for a year after a failed marijuana test, while Ray Rice received a two-game suspension after footage surfaced of him allegedly striking his then-fiancée unconscious in an elevator and subsequently being arrested.
Amid the allegations that Depp had been emotionally and physically abusive to Heard, the couple split in May 2016 and had quickly settled their divorce by August that same year. Depp and Heard released a joint statement confirming their settlement to TMZ that read:
"Our relationship was intensely passionate and at times volatile, but always bound by love. Neither party has made false accusations for financial gains. There was never an intent of physical or emotional harm. Amber wishes the best for Johnny in the future. Amber will be donating financial proceeds from the divorce to a charity."
In November 2017, following an outcry of skeptical fans who weren't convinced that the actor belonged in the movie, director David Yates defended Depp in an interview with Entertainment Weekly. Calling the controversy "a dead issue," Yates said of Depp, "I can only tell you about the man I see every day: He's full of decency and kindness, and that's all I see."
In December, author J. K. Rowling also released a divisive statement in response to the controversy, which some fans found frustrating. Rowling revealed that the allegations surrounding Depp "deeply concerned her," as did her "inability to speak openly with fans about this issue." Something that she described as being "difficult, frustrating and at times painful." Rowling's statement continued:
"The agreements that have been put in place to protect the privacy of two people, both of whom have expressed a desire to get on with their lives, must be respected. Based on our understanding of the circumstances, the filmmakers and I are not only comfortable sticking with our original casting, but genuinely happy to have Johnny playing a major character in the movies."
The issue isn't a simple one, nor is it something that must be easy for writers, filmmakers, and actors to have to address in a manner that's both professional and public. However, Radcliffe should be applauded for providing a response to the controversy that feels honest and full of integrity while also maintaining a certain amount of diplomacy on the matter.
Rather than focusing his opinion squarely on Depp and the allegations against him, Radcliffe instead took the opportunity to highlight how society responds to abuse allegations at a systemic level. Particularly with individuals who hold a certain modicum of power within wealthy industries like the NFL or, indeed, Hollywood. However you feel about Depp's casting in The Crimes Of Grindelwald, there's no denying that Radcliffe's response to the matter may be the most astute one we've had yet. One that will hopefully open up a more considerate dialogue concerning the issue in the future.