This Dating App Uses Your Voice In Profiles, Not Pictures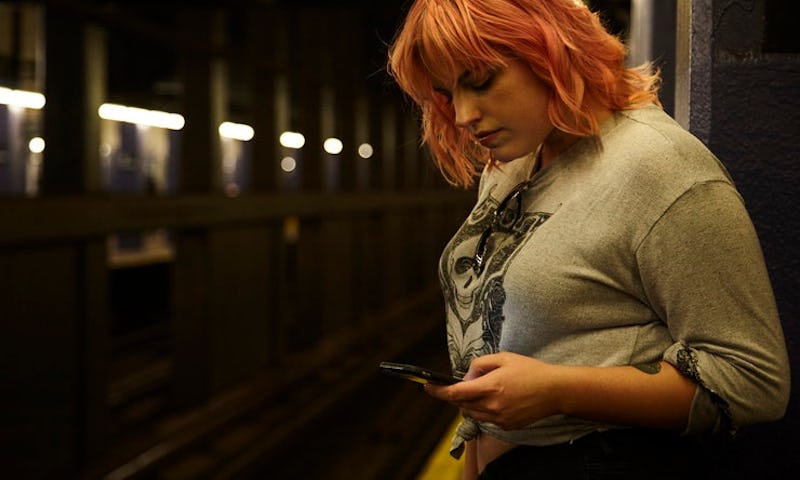 Hannah Burton/Bustle
Just when you thought everything has been tried when it comes to dating apps, this new one definitely differentiates itself from the competition. And, if you're the type of person who doesn't like writing a dating app bio and cannot decide what pictures to use in your profile, this may be your dating app dream come true. Instead of written profiles and pictures, this new dating app has you use your voice to woo a potential match. It's called Waving, even though it's all about voice. Now, you may already be accustomed to using voice recordings with other apps, such as Happn or Facebook Messenger. TBH, I think they make for great additional features when it comes to getting to know somebody — you get to hear the nuances in their voice, and so on. But a dating app that is all about voice recordings is something different altogether.
"Waving is the only dating application solely based on the voice," Waving's creator, Florian Hébrard, aka Ziph0n, tells Bustle. "The voice can reveal the beauty, kindness, and true personality of a person — you will not be influenced by a misleading image or context. Words are all-important and appeal to your imagination. Moreover, as Waving is based on the voice of users, the number of bots and fake profiles are greatly reduced."
How Waving Works
Like other dating apps, you can first set up your preferences, like age range, once you've created your account — which you can do via Facebook or by using your email address. But before you start swiping, you will want to record your profile, since that is *all* a person will have to go on.
Here's How To Create Your Profile
Basically, think of your voice recording as a verbal version of the written profile you have on other dating sites and apps. If you don't have a written dating app bio on other apps, now's the perfect time to think up what it would say. On Waving, maybe you'll talk about how you reduce your carbon footprint — and stay in shape at the same time! — by riding your bike to work every morning, or maybe you'll tell a funny story that happened on the last vacation you took. I imagine that the more engaging your voice profile is, the better. As someone who used to write people's online dating profiles, the way somebody markets themselves is everything, and a voice recording is a great method for doing so. Plus, you can probably gauge someone's energy level and personality from the way they speak, too. And, don't worry — you can always delete and rerecord your profile if need be. Phew, right?
Start Swiping
Yep, after you start listening to people's profiles, it's time to start swiping right or left based on what you heard. One big bonus of Waving seems to be that it will guarantee that people will actually have a profile. Like me, I'm sure you've seen people on dating apps who have photos, but no written profile. Personally, I think this is a pet peeve, as dating profiles are natural conversation starters.
After You Match With Someone, Start Chatting
Once you match with someone on Waving, you can then start chatting — but not with your voice. Now's the time to type messages, though Ziph0n says a lot of users are asking that the voice recordings continue once people match, so he will add this in a future update, in about a week. As a big fan of voice recording features on other platforms, like Happn and Facebook, I think leaving voice messages versus having to type them out adds a dimension of efficiency. Plus, as I mentioned earlier, they can help you gauge someone's personality.
Another perk is, you *can* send photos to each other once you start chatting, so your dating app connection doesn't have to be all voice-based.
You Can Also Send A Chat Request
If you want to differentiate yourself from other profiles, you can send another Waving user a chat request. This would be the equivalent to a "wink" or a "crush" on other dating sites and apps. "Chat requests are when you can't wait to match with someone," Ziph0n says. "For example: I swipe right on you to like you, and then I need to wait for you to see my profile and like me so we can chat together. But if I can't wait to chat with you (and to have a better chance to chat with you), I send you a chat request by explaining why I like you. On your side, you'll get a notification saying you got a chat request that you can accept or decline."
The Inspiration Behind Waving
As for the creation of Waving, Ziph0n — who is just 20 years old — says it was six years in the making. "I used several dating applications in the past and they were all the same — all were based on the same concept and were full of bots and fake profiles," he says. "Seeing the current dating application market and realizing that this would not be evolving in the near future, I decided to create a unique and revolutionary dating application: Waving. The design of Waving, including a real-time audio visualizer, was imagined in order to complete this dating app's experience. I wanted it to be as perfect as possible."
It sounds like a great perfect idea — matching with someone based on their verbal persona — and hopefully dating app users will give it a chance. Of course, physical attraction often plays a part in who someone's attracted to, so it's good that the app lets you send photos once you and another user start chatting. I'm curious, too, how one's pictures will align with their voices — or not. After all, your match may be completely different than the person you imagined in your head. Then again, this happens even when you know what the other person looks like in advance, but then they do or say something that doesn't line up with who you thought they were. Overall, Waving seems like the You've Got Mail of dating apps or old-school personal ads — getting to know someone based on personality first.
At the moment, Waving is only on iOS, but it will be coming to Android in 1-2 months, Ziph0n says.In any case, Waving sounds intriguing and worth a right swipe, so to speak, in terms of originality and "Why the heck not try it out?"-ness. However, the true test will be people downloading and using it, so that there will be enough matches for users. Time will tell.