Don't Worry 'Bach' Fans, Dean Promises That He Can Make Decisions Now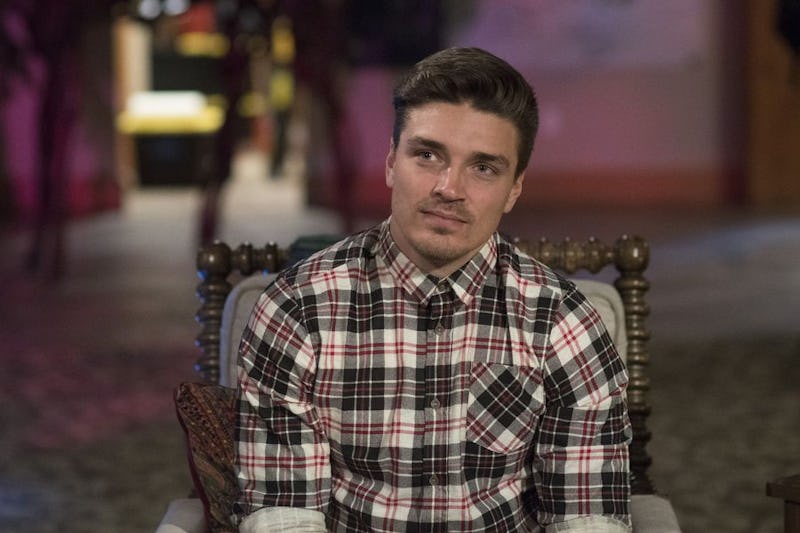 Lorenzo Bevilaqua/ABC
The Bachelor Winter Games seems to be the perfect mix of old and new faces on The Bachelor. Americans get to meet the international faces of the franchise while also seeing those return players we loved so much. One of the latter is Dean Unglert, aka Deanie Babies, aka the villain of Bachelor In Paradise 4. Dean wanted a third chance at love, and The Bachelor Winter Games was happy to give that to him. But, it's truly going to be a fresh start for him, because Dean addressed his Bachelor in Paradise behavior behavior on Winter Games — and he's owning up. (He also proved he knows how to choose now; he picked spaghetti for dinner when he was torn between that and ramen.)
We first met Dean on Rachel's season of The Bachelorette, and he was a Grade-A cutie patootie squeezable muffin. Then 25, Dean skewed young for Rachel, but they were into each other and had a connection. When Rachel let Dean go after meeting his family (which was traumatizing for Dean, Rachel, and literally all of America), viewers were sad for him but confident the series would see Dean again. He was a shoo-in for Bachelor In Paradise — those beautiful blue eyes needed to gaze off into a beautiful blue ocean. But Dean got to Paradise and promptly shot himself in the foot because he chose to get involved with two women at the same time and lead them both on. Oh, Dean — why?
Everyone's had a situation where they should have been more honest, and this was Dean's. He was hanging out with Danielle Lombard and Kristina Schulman and essentially playing both sides against the middle. Dean's behavior here probably cost him contention for The Bachelor role (producers defaulted to Arie, which, don't get me started), and now that Dean's on The Bachelor Winter Games, Dean's gonna have some 'splaining to do about his behavior on his last show if he wants to bring home any women.
Spoiler alert — According to Us Weekly, Dean is reportedly happily dating Lesley Murphy, whom he met on The Bachelor Winter Games. These two got on like a house on fire, but since everyone who loves The Bachelor saw Dean's stupidity come to life in Paradise, there's no way Dean couldn't explain his actions to Lesley on the show. If I were Lesley, I would want to know what Dean was thinking and if he had learned from that display of boneheadedness. In an interview with Us Weekly, Dean confirmed that he's learned his lesson from Paradise. He said:
"I had a bad experience on Bachelor in Paradise, but I learned a lot over that experience so it was nice to be able to go on with a new perspective and really be able to focus on how to improve and not be as much of a sh*thead as I was the first time around. It wasn't even about redemption. It was just a matter of applying the lessons that I've learned into successful dating."
Honesty is key in these sorts of situations, and it's nice to see that Dean knows how he came off and knows that he needed to change and fix it. He's young, and this is all a part of getting older. The cat is fully out of the bag when it comes to Dean and Lesley's coupling. In that same Us Weekly interview, Dean said that he was "incredibly happy" and talked about what he wants in a partner, saying, "I like someone that is adventurous. Someone that has a lot of personality. Someone that can help make decisions for me because I'm incredibly indecisive. I need someone like that in my life. I'd say those are the three most important things." Dean even has his own podcast, "Help! I Suck At Dating," so I think it's safe to say he's moving on.
Lesley seems to check those boxes, and it's nice that she and Dean are so happy together. Dean has clearly learned his two-timing' lessons from Paradise, and he's on his way to an adult relationship with a really great woman.