Demi Lovato's Sister's Birthday Message For The Singer Will Make You Emotional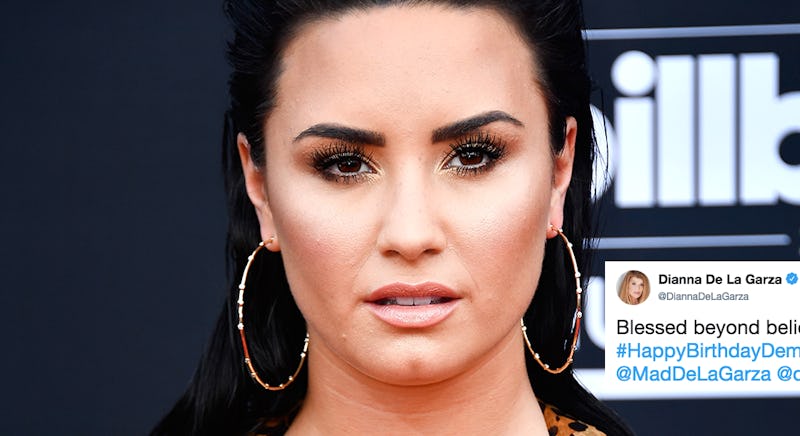 Frazer Harrison/Getty Images Entertainment/Getty Images; DiannaDeLaGarza/Twitter (screenshot)
Demi Lovato's 26th birthday is Monday, Aug. 20, and her family is marking the occasion on social media. Madison De La Garza, Demi Lovato's sister, posted a birthday message to the singer via Instagram that is so heartfelt and moving.
De La Garza posted a sweet photo of the singer and herself as kids on Instagram and she wrote the following in the caption:
"today could have been one of the worst days of my life, but instead i get to spend it thanking God, the incredible doctors, demi's team, and everyone across the world who offered their support - without all of these people i wouldn't have my big sister anymore."
De La Garza's message seems to refer to Lovato's recent hospitalization. The singer was taken to the hospital on July 24 for a reported overdose. At the time, a rep for Lovato issued a statement to Bustle, saying, "Demi is awake and with her family who want to express thanks to everyone for the love, prayers and support." After news of the hospitalization broke, fans and fellow celebrities shared their support for Lovato during her recovery.
In the rest of her Instagram caption, De La Garza listed some of the reasons she looks up to Lovato as a big sister. She wrote:
"i've been thinking about how i wish that everyone could see the silly little things that she does, like how her nostrils move when she says certain words and when she brushes my hair behind my ear when i'm trying to sleep, because those are the things i'm thankful for today. they seem so small, but those little things make up my sister - not a singer, not a celebrity, and definitely not what she's been described as in the media - she's a daughter, a friend, and my big sister... and i am so, so thankful that i can tell her happy birthday. #happybirthdaydemi ❤️"
Lovato and De La Garza's mom, Dianna De La Garza, reposted her daughter's message as screenshots on Twitter, using the hashtag #HappyBirthdayDemi and she tagged Lovato's Twitter handle. "Blessed beyond belief today.." Dianna wrote in the tweet.
After Lovato's hospitalization, the singer canceled the rest of her tour. Lovato is reportedly being treated at a rehab facility, according to TMZ.
Lovato wrote the following message to her fans posted to her Instagram account on Aug. 5:
Lovato's 26th birthday falls on the same day as the 2018 MTV Video Music Awards, and it's not clear how the ceremony will honor the singer. At a VMAs press event last week, Bustle asked VMAs executive producer Bruce Gillmer about a Lovato tribute during the ceremony and he said, "It's tricky with a stage like this, with a show like this. Because sometimes we struggle between — should we use the platform for the greater good, or should we be presenting an opportunity for escapism?"
Gilmer continued: "Because, you know, the fans are bombarded with news and messages 24/7, and we give them a two-hour break."
Whether or not the awards show recognizes Lovato, there has been an outpouring of support for Lovato from fans ever since the news of her hospitalization broke. And her mom and sister's social media posts on Monday show that Lovato has plenty of support from her family during this difficult time, too.
If you or someone you know is seeking help for substance use, call the SAMHSA National Helpline at 1-800-662-HELP (4357).
Additional reporting by Celebrity Editor Jamie Primeau.