Why Taylor & Derek's 'Bachelor' Wedding Probably Won't Happen For A While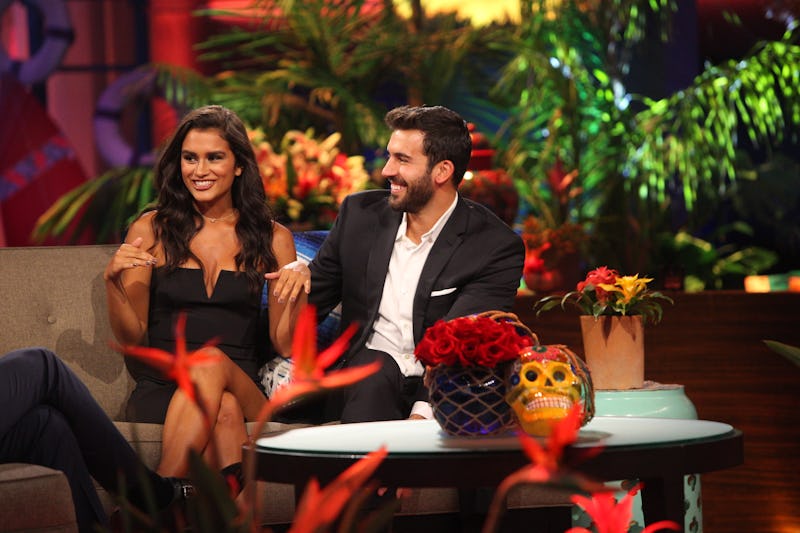 ABC/Paul Hebert
With a fresh new year and Arie Luyendyk's season stretching out before us, it's time to take stock of Bachelor Nation. (A State of the Nation speech, if you will.) At the top of our list of things to check in on is Derek Peth and Taylor Nolan wedding updates. It was an unforgettable moment when Derek and Taylor got engaged on the finale of Bachelor in Paradise Season 4, but almost from the moment they met they've seemed like a match made in heaven. So, how soon can we expect a walk down the aisle?
The star-crossed lovers haven't set a date yet, but the wedding may still be a ways off. In fact, there's a high chance that 2018 sneaks by without a ceremony, because these two aren't even living together yet. Derek did recently make a big move when he uprooted from his native Iowa at the beginning of December. But the transplant was to New York City to pursue a career at a company called Laurel Road, not to Taylor's hometown of Seattle.
The pair had talked about the possibility of the financial advisor relocating to Washington State in a September 2017 interview with PEOPLE. The mental health professional told the magazine that Derek was "open to coming to Seattle," but they both emphasized that cohabitation likely wouldn't happen anytime soon. "We're not looking to necessarily go straight to living together," the Iowa native warned, and Taylor agreed, adding, "We probably won't see that for a while."
For now, the couple seems content to focus on their respective careers while they build their relationship. But that isn't to say that they don't see each other. Their Instagrams document frequent visits in Seattle and now the Big Apple, as well as joint vacations like a December 2017 trip to Hawaii for Derek's birthday.
In short, even though the first half of this couple's relationship went by at record speed, they're taking things one step at a time. Just because the engagement process was a whirlwind doesn't mean that moving in and getting married needs to follow suit. But, even though Derek and Taylor haven't gone on the record about their specific plans, they did tell PEOPLE that they're open to a televised wedding. And that actually gives us quite a bit of information, because it means we can base our speculation on the couples who have come before.
Jade and Tanner Tolbert and Carly and Evan Bass both met and married on their respective seasons of Bachelor in Paradise, so we can use their experiences to predict Taylor and Derek's timeline. Jade and Tanner got engaged in June 2015, on Season 2 of the reality spin-off, and were married a little over seven months later in a special timed to correspond with Valentine's Day 2016. For their part, Evan put a ring on it during the Bachelor In Paradise Season 3 finale, filmed in June 2016, and he and Carly were wed a year later in June 2017 in a ceremony that aired as part of Season 4.
A wedding date on either Valentine's Day 2018 or Summer 2018 feels pretty rushed for a couple that isn't even living together yet, no matter how quickly they got engaged. But a Valentine's Day 2019 ceremony feels more feasible. That would likely be filmed in January 2019, about a year and a half after Taylor and Derek's engagement, which would give them time to move in on their own schedule while also getting married at a romantic time of year that Bachelor Nation has already proven partial to. (It's also right around when Bachelor couple Sean and Catherine Lowe were married in 2014.)
Or, you know, Derek and Taylor could still surprise all of us and take the plunge in Summer 2018. In an interview with Hollywood Life in September 2017, the pair revealed that they were "trying to take a little bit of a step back and have our own romance without cameras." But when asked whether that meant no wedding on Bachelor in Paradise Season 5, they teased fans with a couple of non-answers. "Maybe after some time we will be open-minded to it but nothing right now," said Taylor. Derek added, "We are not saying no, we are just saying, we are going to think about that."
Basically, cross your fingers and stay alert for more updates. Even though there's no wedding in the cards right now, things could change with this adorable couple at the drop of a hat.