This Sweet Detail About Derek & Taylor's Engagement Will Make 'BiP' Fans Swoon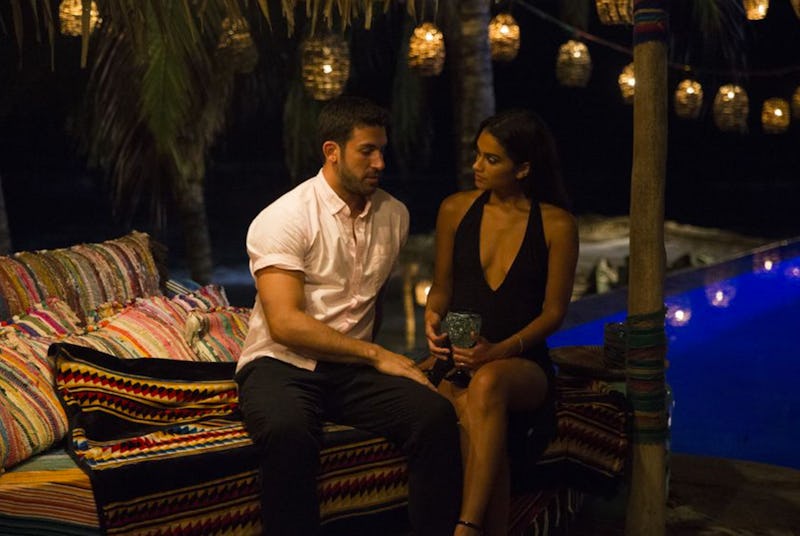 Paul Hebert/ABC
A handful of hours before the Season 4 finale of Bachelor in Paradise would air, People confirmed the thing that was spoiled some weeks ago. BiP's Derek Peth proposed to Taylor Nolan, and on Monday, the publication shared a photo of the engagement ring. According to E! News, the Neil Lane creation is apparently valued at $60,000. Zoinks, that's a lot of clams. Did Derek have to pay for Taylor's ring? Did that 60 grand come out of the BiP contestant's pocket, or is it part of the show?
Assuming The Bachelor franchise's deal with Lane didn't change before BiP Season 4, Derek most certainly did not have to fork over a wad of cash for the piece of jewelry. Traditionally, a contestant on The Bachelor/The Bachelorette/Bachelor in Paradise doesn't have to break out their checkbook when it comes time to pick out an engagement ring, but there are some stipulations. According to Radar Online, there's apparently a clause in the Bachelor/ette contract that states that the engagement ring belongs to ABC for two years. If the couple splits before 24 months pass, they are contractually obligated to return to the jewel to the network. Beyond that, the ring is theirs.
And what a tasteful and pretty ring Taylor's is.
So if someone were to sign up for the show just because they wanted to get a free honker of a diamond ring, it's not as simple as "win the whole shebang." As Bachelor/ette host Chris Harrison told Us Weekly in 2016, "There's some rule, after a certain number of years, you get to keep it anyway. But after months ... it goes back." So, what becomes of the broken engagement engagement rings that have to go back? In a 2017 interview with Entertainment Tonight, Harrison presented a theory regarding what happens to the returned pieces of jewelry. He joked,
"[The rings] go to heaven. I really don't know, because obviously Neil Lane gives these rings, but I think we own the rings at a certain point. Well, not me. I'd be cashing in my diamonds and living in Hawaii."
He continued, "The rings that are given back go back to [the production company] Next Entertainment or whoever. There is probably a vault or a bucket of just rings." Go ahead and sing "Bucket of broken Bachelor rings" to the tune of Green Day's "Boulevard of Broken Dreams." You will not regret it.
According to People, Derek didn't get to sit down with Lane. However, the jeweler did speak with the show's producers to get a feel for what the couple is all about before creating the sparkly confection. Now, if you've had your fill of spoilers and sincerely do not want any other details about how the rest of the final episode unfolds, then turn away now. There are even more Bachelor in Paradise spoilers ahead. But if you would like to know when Derek popped the question to his BiP love interest, please stick around.
Ready for the spoilerific deets? OK, here we go: It sounds like Derek actually did not propose while the cast was still in Mexico. As Bachelor mage Reality Steve spilled, Derek and Taylor don't leave Paradise affianced, but the couple does eventually get engaged. According to Us Weekly, Derek apparently proposed to Taylor two Wednesdays ago while filming the BiP aftershow. Reality Steve says no one got engaged while staying at Paradise's beachfront villas.
As far as BiP twists go, Derek and Taylor getting engaged is the opposite of a surprise. Spoilers aside, they've been The Couple of Season 4, a constant pairing in this ever-changing cast. If anyone on this show was going to end up affianced, it was these two.