Why Derek & Taylor Are The Next Jade & Tanner On 'BiP'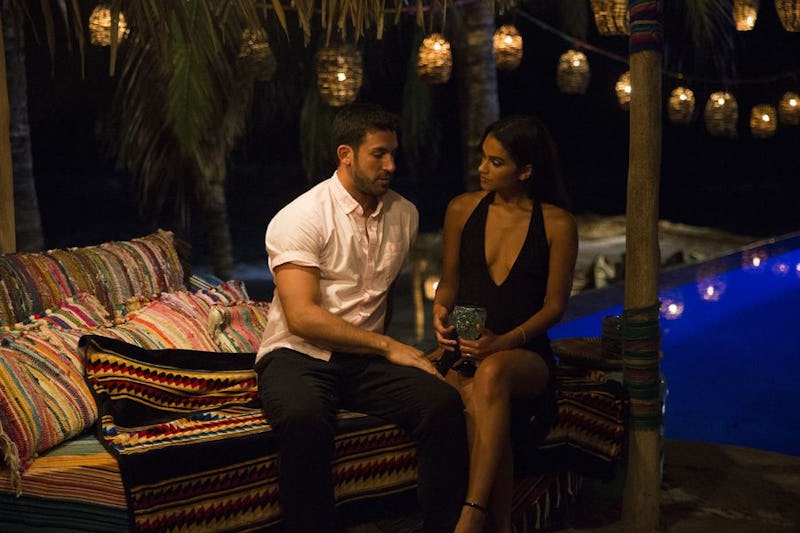 Paul Hebert/ABC
This season of Bachelor In Paradise has been… complicated, to say the least, and, because of that, the relationships on the show have taken a backseat to other dramas. Actually, there are virtually no solid relationships on Bachelor In Paradise right now, probably because everyone is treating it like an eighth-grade dance — men on one side of the island, and women on the other. The bromances are historic, but I don't know if we can say the same for the romances. Except for Taylor and Derek, that is. Do Taylor and Derek get engaged on Bachelor In Paradise?
Like Tanner and Jade before them (who just had a baby, so that's a mark of a successful Bachelor In Paradise couple), Taylor and Derek were like magnets from the first moment of Paradise — instantly attracted. There's no question who is getting the rose when it comes to them. They're in it to win it, and I don't see anything shaking these two apart. But did they get engaged on the show? Well, probably not. Of course, nothing solid has been revealed just yet, but because the Bachelor In Paradise filming was shorter than usual because of the production shutdown, it would be very surprising if anyone got engaged at the end of this. Most fans can suspend belief for The Bachelor and The Bachelorette getting engaged after knowing each other for, like, eight weeks, but definitely not two. Taylor and Derek are too emotionally intelligent to rush into something like that.
What fans can deduce, though, is that Taylor and Derek are almost definitely still together. Ever since the great Kaitlyn Bristowe/Shawn Booth Snapchat debacle, Bachelor Nation contestants are especially careful to not reveal major spoilers on their social media. However, Derek has been subtweeting and tweeting at Taylor in a flirty way. Here, he offers playful support for his sweetie:
And here, he realized what a bonehead he would have been to listen to Wells' advice for breaking up with Taylor:
In the wake of Taylor Swift's new single, Derek realized that his life is awash with Taylors and he loves it:
Taylor's Bachelor bestie Dominique Alexis came into Bachelor In Paradise later in the season, and she was excited, to say the least. But, Derek may have felt the teensiest bit jealous...
Derek could have taken second place, but he didn't, meaning that Derek is probably still Taylor's number one.
Derek and Taylor are the OTP of Bachelor In Paradise 4, but due to the show's short shooting schedule (and the fact that they just met, really), there is no logical way that these two are engaged to be married. I mean, they could defy logic, but Taylor is a former mental health counselor — she's probably not gonna rush into anything after just a couple of weeks. What they are, it seems, is happily together following their time in Paradise, so maybe we'll be watching a Taylor/Derek wedding on Bachelor In Paradise 6 or something.