Joan Crawford's Career After 'Charlotte' Never Got Better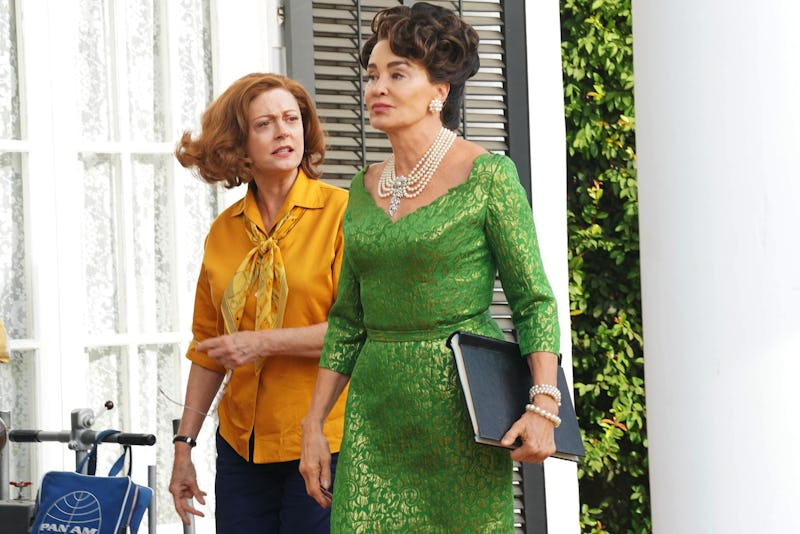 Byron Cohen/FX
Feud already hinted at the troubles on set of Hush...Hush Sweet Charlotte (and when I say "hinted at" I mean "gave very clear indications of") during the episode "Hagsploitation." But the April 16 episode, "Abandoned!," will show the complete deterioration of relations on set that led to Joan Crawford leaving the production of Hush…Hush, Sweet Charlotte. Although Crawford didn't technically quit the movie that was supposed to be her second film with Bette Davis, Feud shows that she made it impossible for the movie to continue with her. As any film buff knows, Hush...Hush, Sweet Charlotte was finished — with Olivia de Havilland in Crawford's part — so what became of Crawford's career after Charlotte? While the screen legend continued to work in the '60s, her career was never the same.
Rather than focus on who is to blame for the bad blood on set during the production of Hush...Hush, Sweet Charlotte, I will focus on the facts as presented in Feud and as proven by history. Crawford was unable to continue filming the movie because of illness (whether this illness was created to stop the film from being made or legitimate is up to you, although Feud makes a very clear case for the former). So Robert Aldrich replaced Crawford with de Havilland and that's how the 1964 movie was able to be completed. Yet, Feud also indicates that by de Havilland stepping into this role that she had a hand in destroying Crawford's career. I'm more inclined to think that Crawford played an awfully big part of that herself, but I also don't know if all the drama surrounding Hush...Hush Sweet Charlotte was directly responsible for what happened to Crawford's career afterward.
As Feud showed with Crawford being in the horror B movie Strait-Jacket, her career didn't really get the jump-start she had expected after What Ever Happened to Baby Jane? was released in 1962. Hush…Hush, Sweet Charlotte was released on Dec. 15, 1964 and Crawford passed away on May 10, 1977. In those 12 years, Crawford was only in 11 more titles, including the TV pilot that turned into a standalone TV movie — Della — also from 1964.
Within those 11 titles is a mix of movies and TV (something that Jessica Lange's Crawford looks down upon Susan Sarandon's Davis for doing) and one of those projects even deleted Crawford's scenes. As for how the actress personally felt about her later career, Crawford panned all the films she made after What Ever Happened to Baby Jane?. Karina Longworth, creator and host of the Hollywood history podcast "You Must Remember This," wrote in Slate that Crawford was quoted as saying about all of her films following Baby Jane: "They were all terrible, even the few I thought might be good ... I made them because I needed the money or I was bored or both."
The last film Crawford worked on was 1970's Trog, which currently has the very rotten rating of 17 percent on Rotten Tomatoes (to be fair, there are only six reviews). You can see for yourself when you watch the trailer for this sci-fi horror film below exactly why Crawford was probably less than thrilled with the caliber of roles she was being offered in her later career.
After Trog, she did appear as a guest star on the television series The Sixth Sense (no, not the M. Night Shyamalan movie) in 1972. Crawford retired after that, never appearing on screen again before her death in 1977 and mostly keeping to herself. Multiple sources have that her last public appearance was in 1974 at the Rainbow Room for a party honoring Rosalind Russell. In the video footage at the event, an interviewer asks Crawford if she'd ever work in another film. Her response perfectly articulates the major theme of Feud since she says, "They don't write for ladies anymore! But I have news for you, we're here to stay."
Crawford's career certainly never got better after she was replaced in Hush...Hush, Sweet Charlotte, but considering where her career was at the beginning of Feud, maybe it wouldn't have improved even if she had been in that film. What is for sure though is that the end of her acting career is a sad testament to how little aging actresses — even those that were once major stars — were respected in Hollywood in those days.