Fans Think Khloé Kardashian Just Confirmed Her Pregnancy On Instagram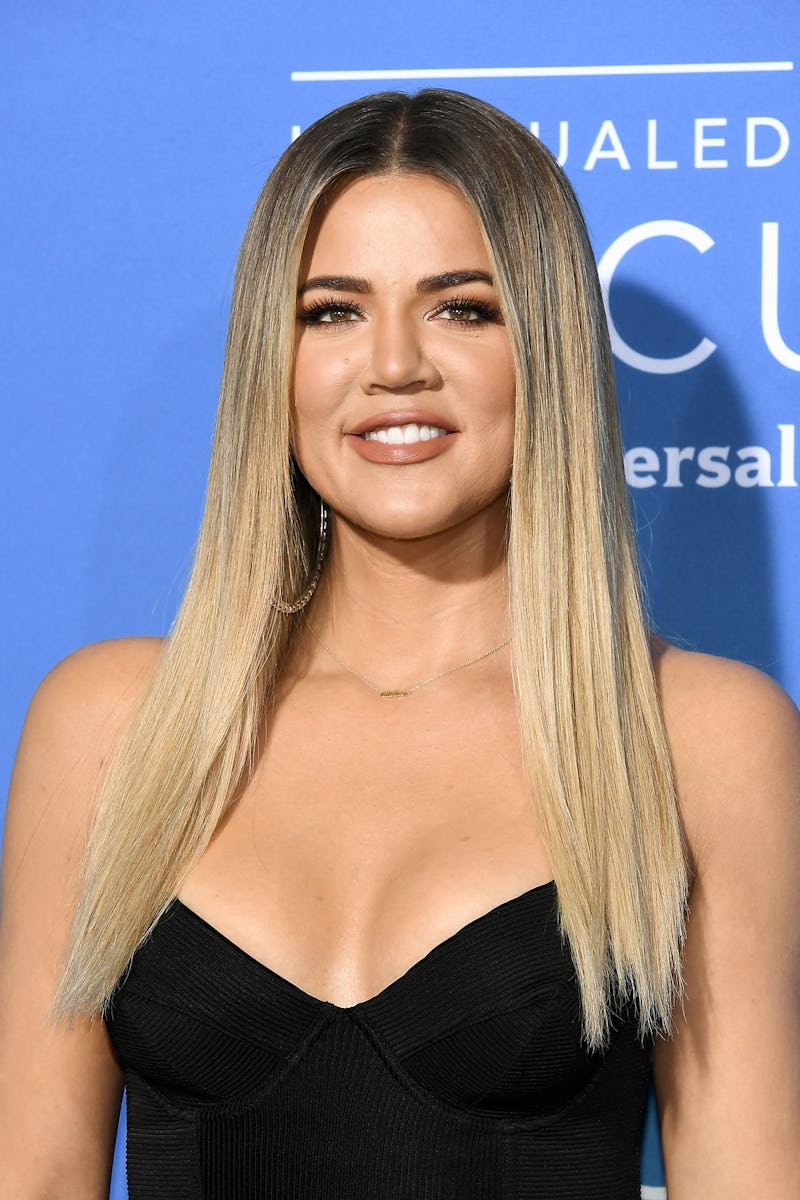 Dia Dipasupil/Getty Images Entertainment/Getty Images
These pregnancy rumors certainly aren't slowing down, and some fans think Khloé Kardashian confirmed her pregnancy by calling Tristan Thompson "daddy" on Instagram, as BuzzFeed reports. On Thursday, the 33-year-old Keeping Up With the Kardashians star posted two photos promoting her Good American line. As shared by BuzzFeed, Thompson reportedly commented on the images, "[five heart-eyed emojis] DAMM [face palm emoji] [male sex symbol]", which apparently caught the eye of Kardashian who supposedly responded, "hey daddy [four heart emojis]".
The word "daddy" caused some fans to freak out, because it obviously means she really is pregnant. Yes, it could easily be a nickname, but where's the fun in that? Also, is there anything to Thompson including that gender sign? Does this mean they're having a boy?
This isn't the first time the Revenge Body star has referred to her NBA player boyfriend as "daddy." Over Halloween, Kardashian and Thompson dressed up as Game of Thrones characters, which she shared on Snapchat. She captioned one shot of Thompson, "That's daddy." As you can imagine, this caused many to speculate that she really is expecting her first child.
If that isn't enough, in September, People called back to a time in June when Kardashian posted a collage of Polaroids on her Instagram story of herself and Thompson celebrating her 33rd birthday. One of the photos was captioned, "Dad + Mom". Granted, pregnancy reports hadn't come out yet, meaning this really could have just been nicknames they have for each other.
In September, Us Weekly reported that Kardashian was pregnant. At the time of the report, Bustle reached out to Kardashian's rep and Thompson's agent for comment, but didn't receive an immediate response. The couple has yet to confirm or deny the pregnancy rumors.
Kardashian again using the word "daddy" isn't the confirmation fans want or need, because she has done this so many times before, but, hey, at least it's something? Plus, it still has a few people excited.
Per BuzzFeed, after Kardashian reportedly commented with "hey daddy", Instagram users began noticing. One person seemingly replied, "hey daddy you say [winking face with tongue]." Another person reportedly wrote, "I caught the hey daddy! Gah! So happy for you Khloe! [baby bottle emoji]" Like most of her fans who are dying to know, someone else supposedly responded, "Please please pleasssseeee if the pregnancy [rumors] are true or false." Seriously, just tell everyone already.
As you can see below, there are some who remain convinced Kardashian saying "daddy" means she's confirming her pregnancy.
This Gif Says It All
Yep.
*Fingers Crossed*
At this point, it would be disappointing if she wasn't pregnant.
It's Totally A Boy
Hmm...
There's a good chance Kardashian (and her sister, Kylie Jenner, who is also reportedly pregnant) will reveal her baby bump in the 2017 Kardashian Christmas card. Since Dec. 1, Kim Kardashian and some of her family members have been teasing their holiday card by sharing a new image every day. It seems to basically be a countdown to the Kardashian Christmas card, and could include Kardashian and Jenner pregnant — or so many think.
As of Friday, Dec. 8, the photos released have only featured Kim, North and Saint West, Kourtney Kardashian, Mason, Penelope, and Reign Disick, and their grandma, MJ. It's pretty convenient Jenner and KhloMoney haven't been spotted yet, don't you think? They could very well be waiting until the last minute to show them.
Whatever the case, Kardashian and Thompson will not be escaping pregnancy rumors anytime soon, especially if she keeps calling him "daddy".